SimplyHired vs iFreelance – A Quality Review


vs
SimplyHired vs iFreelance
Are you looking for a nice job? Are you tired of traditional ways of finding jobs? Don't worry! Freelance and employment websites are thriving every day. This review will review two of the most practical websites for you, job seekers and employers.
What Are Employment Websites? What Are The Reasons To Have Them?
How did people find a job before? Well, it was not an easy process.
First, you needed to buy a newspaper and save phone numbers.
Then, you had to call and make an appointment with the human resource department.
Next, you had to present yourself to the manager.
A few years later, social media started to change everything. It was much easier to search for jobs and contact employers.
Now, websites are one of the biggest sources of jobs for job seekers. You can sit behind your desk and wait for the perfect opportunity. There are more and more websites offering jobs. Therefore, this has become a big industry.
Some Of The Most Well-Known Employment Websites
Just like freelance websites, employment websites are getting huge attention. Here, we review some of the most popular employment websites for you:
Jobs2Careers
The website was founded in 2010. Amazingly, more than nine million people visit the website monthly. It offers part-time and full-time jobs. Also, it provides gigs.
The next item available on the website is "Interview like a Superstar" and "Crush Salary Negotiation." The former teaches you excellent tips for the interview session. Also, the latter gives you suggestions on how to discuss money-related topics.

Snagajob
This is an online marketplace, but there is a difference here. This website is for hourly work. It was founded in 2000 by Shawn Boyer. You should know that it's a private company. Now, there are 300,000 employers available on the website. The number of monthly visitors reaches more than 14 million, which is great for commercial purposes. Snagajob's high-demand jobs are cashier, grocery stock clerk, customer service, warehouse associate, cleaners, delivery driver, healthcare, and truck driver.

Careerbuilder
The number of employers offering jobs is lower than other websites like Snagajob. In fact, it has nearly 100,000 employers. But the number of visitors is higher. Each month, nearly 20 million internet users who are looking for jobs visit the website. Schneider, Driveline, KFC, Amazon, and PartyCity are some of the top hiring companies. Job seekers can build a resume on the website too.

ZipRecruiter
This one is one of the top five in terms of monthly visitors. It has more than 26 million visitors each month. This one is perfect for small and medium-sized businesses as it has different services for them. This website has a unique feature. It has a trending section for different factors. These factors include job titles, job types, categories, cities, and companies. For example, concerning the trending job titles, you can see the vaccine nurse, video game tester, Swahili translator, psychic readings, and game tester are the top five jobs available. By trending cities, you will see that Houston, Las Vegas, Los Angeles, San Antonio, and Denver are cities with the most projects and jobs.
 
Monster
This is one of the oldest players in the market. It was founded in 1995. The job listings are amazing as it offers more than 5 million available jobs. The number of visitors with nearly 30 million per month is huge too.  Amazon, UPS, IBM, and CVS health are the top companies hiring at Monster now.
Everyone can browse jobs based on categories, titles, job locations, and company jobs. For example, popular categories include legal, accounting, engineering, healthcare, and human resources jobs. Or, by job titles, work from home, receptionist, online teaching, medical assistant, and delivery driver jobs are the popular job titles.

Glassdoor
This website is good for finding jobs and has good reviews of companies, their salaries, etc. You must definitely check this website as it is trendy with more than 50 million monthly visitors.
Indeed
This website was founded in 2004. Worldwide, it has nearly 260 million monthly users! This is one of the most user-friendly and simplest websites for job seekers and employers to navigate.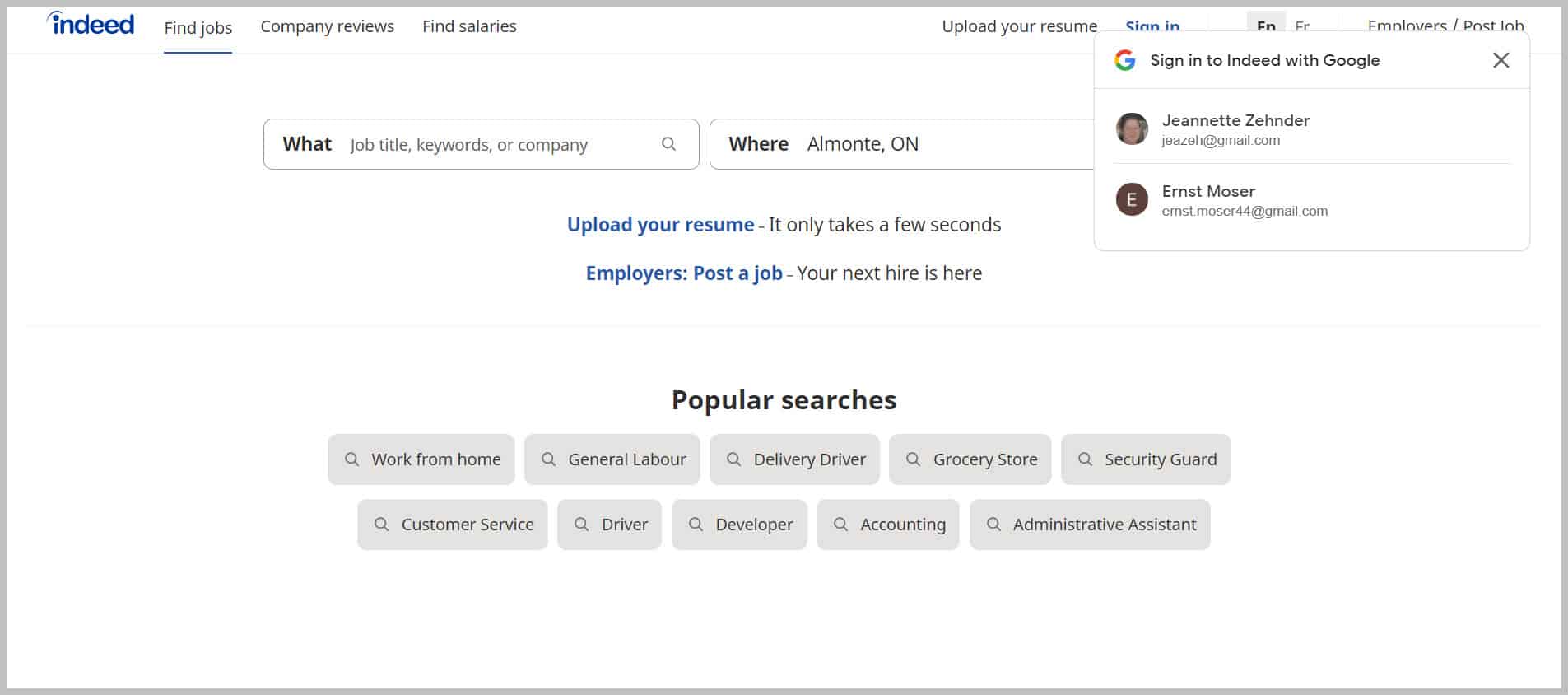 Well, two of the most practical and popular websites are SimplyHired and iFreelance! They are just as good as the above-mentioned websites. Here, we are going to focus more on these two websites. There are many pros and cons associated with them. So, let's get started and talk about SimplyHired and iFreelance.
SimplyHired
SimplyHired is an employment website founded in 2003. SimplyHired's website is available in 12 different languages, including Chinese, Dutch, English, French, German, Italian, Japanese, Korean, Portuguese, Spanish, Swedish, and Russian. SimplyHired has the mobile app version of the website too.
It basically collects all the job listings that are on other employment websites and categorizes them accordingly. Job seekers visit the website and search for their dream jobs. SimplyHired offers a modern approach to reaching candidates. Job seekers can find a job that suits them faster and easier. Talroo powers the website.
SimplyHired Clients
Over the years, SimplyHired has become an international figure. They have been working for many big names in the industry, including Amazon, Uber, AT&T, Lowe's Services, Target, UPS, Wendy's, and The Home Depot. You can consider these collaborations a good indicator of the fact that the company is operating very well. These companies are still working with the website and hire users they find on it.
How Does SimplyHired Work?
Solutions sometimes become problems! Job seekers get frustrated because there are literally thousands of job boards on the internet now. Who can they trust? Where should they begin their search? Also, the situation is going to be even worse for the employers! They have to waste their time posting their open positions on thousands of employment websites.
They do this so they don't miss any good candidates. This is more or less the time when new technology was established. Thanks to these technologies, it became possible for people to search for jobs in just one single place. Listings, jobs and job offers were merged into one single place! That's amazing and hugely practical.
Where is that one single place for searching for all these jobs? Yes, that's SimplyHired which works as a job engine right now. Amazingly, SimplyHired covers 24 countries and 12 languages. It lets more than 700,000 employers post jobs and recruit people. That's excellent!
The list of employers is getting updated every day. And take this! More than 30 million job seekers monthly use tablets, cell phones, and laptops to search for jobs. SimplyHired never stops alerting job seekers via email. It sends out more than 150 million emails per month!
SimplyHired works just like Google Adwords. First, employers sponsor job listings on the website. Then, job seekers come and click on their potential jobs. On SimplyHired, employers will pay per click. The more employers' bids are clicked on. Their positions are more likely to be occupied by job seekers. This is definitely more flexible and efficient than regular job boards. Employers get well-experienced candidates with half the price of normal job boards.
The Main Features Of SimplyHired
There are many reasons why SimplyHired is one of the best employment websites in the world. Let's review some of the most important features of it:
SimplyHired is one of the most practical performance-based recruitment advertising platforms.
Employers will pay only when their available job is online and candidates click on it.
The SimplyHired website integrates the best practices confirmed by online marketers into online recruiting.
Passive candidates will also have a chance of finding jobs as thousands of partner websites are reaching for them.
As we said, jobs are available from every sector of the industry at SimplyHired. Job seekers with different levels of experience are available for employers too.
Searching on the SimplyHired website is very personalized so that every employer will find the most suitable job seeker.
SimplyHired Job Categories
There are 8 categories available on the SimplyHired website. They include business services, retail, healthcare, restaurant, customer service, gig economy, manufacturing, transportation, & logistics. So, you are practically sure that you can find your dream jobs there.

How Does SimplyHired Help Job Seekers?
SimplyHired needs to help job seekers. And, in fact, they are doing this very well. On their website, there are four categorizations for helping you. For example, in the "Conquer Job Search," you get handy tips on how to search for jobs professionally. There are plenty of blog articles about this that can boost your search approaches. The second thing is "Create a Killer Resume," which shows you how you can generate a professional resume that attracts attention faster than the normal ones.
What Does SimplyHired Offer To The Employers?
Powered by Talroo, SimplyHired offers the programmatic network to employers. This network ensures that you as an employer will get the most suitable job seekers who can deliver the job effectively and efficiently. This is available thanks to nearly one billion monthly searches across thousands of sites.
Talroo Products, What Do They Do?
As we said above, Talroo helps employers find their potential employees. There are three products available, including Talroo Pro, Talroo events, and Talroo insights. These products are kind of recruitment tools. First, these tools make employers able to find potential job seekers by advertising professionally and efficiently. Also, these tools provide an opportunity for employers to meet candidates. Finally, you can compete with your competitors thanks to competitive intelligence and industry trends.
iFreelance
iFreelancer is another website that provides job opportunities. The main difference between iFreelance and SimplyHired is that the latter focuses more on full-time jobs for job seekers, not necessarily freelance jobs for freelancers. With iFreelance, however, you can get a lot of freelance jobs. According to some review websites, iFreelance is the 12th most popular freelance website on the internet. Its price varies from situation to situation.
The Most Prominent Features Of iFreelance
iFreelance is 100% free for both freelancers and job posters
Services provided by iFreelance are not available on other freelancing websites.
It also helps job posters to find their talents faster.
The iFreelance website is located in the Philippines, which is not oversaturated with other websites. It would be nice for the region's economy and is less competitive for freelancers and job posters. Not to mention that iFreelance is the fastest-growing freelance network.
The people who are running the website were freelancers before. So, they know what the best opportunities for current freelancers are.
iFreelance is becoming international as they now have four offices in Manila, Cagayan de Oro, Singapore, and New Zealand.
Benefits Of Being An iFreelancer
People who have created iFreelance haven't established iFreelance to let people find a job or outsource a project. You can find this on many other websites and platforms. However, in iFreelance, you not only have the chance to make a good amount of money, but also you can improve the quality of your profession and feel more secure. Here are the key elements concerning the benefits of iFreelance:
Accounting Packages on iFreelance
Many freelancers feel insecure even though they are temporarily making a lot of money. Paying the taxes must have been one of the ever-presence challenges for them. However, iFreelance will take care of it! How? iFreelance can help you with your taxes because you need to do the BIR Registration once you are working for the website. This will help more save money and pay your taxes more securely.
High-Security Offered On iFreelance
The platform on which iFreelance has been built is extremely secure. This security doesn't only exist in financial transactions. All other tasks, including job poster screening, legal advice, and ensuring your rights are protected by a highly secure system provided by ifreelance itself.
iFreelance Deals
You might get a job on iFreelance, which is cool. However, unlike other platforms, iFreelance will cover not only your money from doing somebody's project. In fact, other issues such as travel deals, visa assistance, job training, and insurance are just some of the other tasks handled by iFreelance.
iFreelance Categories
Compared with other freelance websites, the categorization offered by iFreelance is not that well organized and in detail. There are no subclasses either. iFreelance's categories include Marketing Managers, SEO Experts, Architects, JavaScript, Game and Android Developers, Web and Graphic Designers, Data Miners, Data Scientists, Bloggers, Bookkeepers, Virtual Assistants, etc.
 
iFreelance Services
There are four services available on iFreelance, including accounting for Filipinos, BIR registration, government benefits, and monthly bookkeeping. Let's have an overview of them all.
Accounting For Filipinos on iFreelance
Concerning accounting for Filipinos, you can ask the website to register you as a self-employed professional. Paying taxes shows that you are following the rules. If you don't, there are some serious consequences in the future. iFreelance is great because it helps iFreelancers to know their rights and obligations.
Ensuring compliance with the BIR, having credit cards, home and car loans, easier visa process, accessing health cards and HMO, contributing to Philippine society, and most importantly, building your future and ensuring a solid financial background are positive points about accounting.
BIR Registration Packages Offered By iFreelance
There are three packages available on iFeelance, including Non-licensed professional, Licensed Professional or Mixed Income Earner, and Sole Proprietor. As we said, BIR registration helps you establish yourself as a self-employed individual.
Pros And Cons Associated With iFreelance
For the last section of iFreelance, we are going to review the pros and cons of iFreelance.
Pros Of iFreelance
First of all, you don't need to pay to bid. On other websites, depending on the type of memberships you have, you can bid up to a certain number. If you want to go further, you need to pay.
The more bids you make on iFreelance, the better are the chances you will get a project. Amazingly, bidding is completely free on iFreelance. You don't need to pay for bidding under any circumstances.
No commission fees for iFreelance. This is extremely important, especially when you are running several projects at the same time. What does a commission fee mean? It basically means that a freelance website will take its share from the payment you are receiving.
Different websites have different rates. Some will get 20% of your final payment. Others might charge you less, maybe 10 or 5%. The good thing about iFreelance is that it doesn't charge you with a commission fee at all. You own all the money, which is awesome. However, they charge a monthly membership which is not a lot compared with commission fees.
Membership fees are reasonable. There are three plans available on the website, including basic, silver, and gold. The membership fees for basic, silver, and gold plans are 6.25, 9, and 12 dollars per month. Also, there are some extra options with every plan too.
Your profile is shown in three subcategory listings in the basic plan, and you can have five work samples to attract attention. There are six subcategory listings available for you in the silver plan, and you will have up to 15 work samples. Interestingly, with the gold plan, the number of subcategory listings and work samples are all unlimited.
Cons Of iFreelance
The first downside of iFreelance might not sound like a downside in the beginning. However, we are going to argue differently. As you might know, on iFreelance, you freelancers and employers can directly interact without a third person from the website between them.
This sounds nice in the beginning, but it has negatives effects. For starter, both freelancers and employers can become a victim of scams. For example, a freelancer promises you to deliver the job at a certain time with a certain fee.
However, if he/she is dishonest, it would be easy for him/her to ask for more money and more days to finish the project. The same is true with freelancers when they finish the project and deliver it nicely and on time to the employers, but they don't pay the money they promised.
You, as a freelancer, can text and send emails to the employer outside of iFreelance communication systems. If something goes wrong, you will not dispute because there is no record of you and your employer on the website.
iFreelance doesn't want to get involved with the dealings between you as a freelancer and the employer or vice versa.
Customer support options are weak. If you run into a problem with projects, payments, or any other issues, you can just send them emails. There is no other way of communication between freelancers and employers with iFreelance. You cannot call them or have a live chat with them.
It's terrific that you can bid as much as you want. You don't need to pay to advertise yourself.
However, it might not be good all the time. For example, since biding is free for everyone, too many people bid for projects.
Therefore, competition goes even higher than what you can see on other freelance websites. Also, you are less likely to get projects since employers know that too many freelancers apply for a project. They will choose the well-experienced and top freelancers, not beginners.
Conclusion
Every day, millions of jobs and projects are being posted on the internet. Also, millions of people are looking for ways to get some extra money. This creates a nice opportunity for websites that can connect employers and job seekers.
It doesn't matter whether you are looking for full-time or part-time jobs. iFreelance and SimplyHired are two of these websites offering multiple services to both employers and job seekers.
The best thing about iFreelance is the fact that it provides unlimited bidding for freelancers. SimplyHired does come with nice features such as great searching abilities.
Here, in this article, we reviewed them both. Which one should you choose? It basically depends on your budget, aimed industry, money expectations, etc. What are you waiting for then? Start joining them and make some money. I hope you found this article helpful and inspiring. Take care.
JeannetteZ
I would love to hear from you. Please leave me your questions, experiences, remarks, and/or suggestions about this SimplyHired vs. iFreelance review in the comments section below. You can also reach me by email at Jeannette@WorkFromAnywhereInTheWorld.com.
You might also enjoy the following blog posts:
Toptal vs Guru – An Honest Review Of The Two Sites
Upwork vs Fiverr – A Genuine Website Review
You might also want to check out my personal product recommendations.