Freelancer.com vs PeoplePerHour – A Truthful Review

vs
Introduction To Freelancer.com vs PeoplePerHour
What are freelance jobs? Why have they become such an important part of the economy and the work? Why do we see them across the globe without exception? To answer these questions, we have to define the words freelancer and freelancing job first. Then, we will be able to have a look at those questions.
Let me say that Freelancer.com and PeoplePerHour are two of the most popular freelance website in the market. After knowing about freelancing, you might want to join one of these two websites and make some extra money. Do you want to know about these websites? Are you wondering what kinds of jobs are available on them? Don't worry, in this article. We are going to review them all for you. First, let get back to our main definitions.
Who Are Freelancers?
There are many definitions available for the word freelancer. However, in general, the word freelancer refers to someone who has committed to a full-time position in a company for a long time. A freelancer doesn't have to limit their working hours to a certain period of time during the day like 8 am until 5 pm. Moreover, he/she can work on different projects for different clients at the same time. The money you as a freelancer gets is heavily influenced by the number of projects you have delivered. Basically, there is no fixed salary.
The Pros And Cons Associated With Freelancing
Of course, for everything you get, you have to lose something else. The same is true about freelancing too. However, many believe that the pros triumph over the cons of freelancing. So, what are the pros and cons of freelancing? Here is a shortlist.
Pros Of Freelancing
From an employer or client point of view, freelancing is great because you don't need to worry about the health insurance, renting a costly office for work, buying too much electrical equipment for the office such as laptop, telephone, computer, etc. an employer can pay much less in return for a more satisfying result.
Flexibility is available for both freelancers and employers. As a freelancer, you can manage your time and do the project as you wish. Also, as an employer, you might want to have your project finished by tomorrow. You cannot force your full-time employee to do something when he/she is swamped with other work. However, with freelancing, you can just split the job and ask several professionals at the same time to do it as soon as possible.
You have so many options! As a freelancer, you can sign up on different platforms. Then, you will be faced with millions of new projects every day. Therefore, you will be free to choose yourself. Nobody can force you to do so. The same is true with an employer or client too. They put their project on a freelance website and get fifty, sixty, or even more bids from freelancers in just a few minutes. Now, they can carefully review them all based on their records and choose the most appropriate for you.
As a freelancer, you can make a brand out of yourself. By delivering nice and perfect projects to the clients, you will increase your chance of getting seen more effectively by new clients. This circle continues until everybody in the business will recognize you as one of the top ten. You can share your portfolio with everyone on the platform to prove yourself.
You can charge clients very differently. For example, for the sake of attracting new clients, you might start with fewer charges. However, when a client knows you as an extremely professional person, he/she is willing to pay more and have the project finished by you. As you can see, changing the rate of your charges is a smart strategy to grow more.
There is no limit to the amount of money you are going to make. Whether you work extremely hard or take it easy in a full-time job, you will get a fixed salary. This is not going to happen with freelancing. In fact, the more you work, the more money you get. This sometimes works as a great motivation for people to learn more and develop their skills to compete with others and be number one.
This is very obvious! With most freelance jobs, you don't need to go to an office. In fact, with a nice laptop and high-speed internet, you can do the jobs anywhere you want. Even at your dining table at home or on your patio! That's true! Since most freelance jobs have something to do with computers, commuting is no longer a challenge for freelancers. It not only causes you to save your money, but it also helps us have cleaner cities too.
Cons Of Freelancing
The pros of freelancing are more compelling than the cons. However, it's better to become familiar with the challenges and obstacles in your path. Being worried about job security, timing, working alone without physical interactions with others, not having health insurance, paid vacations, etc., are some of the problems associated with freelancing. However, they are not major and can be taken care of very easily.
Freelancer.com
Freelancer.com is one of the most frequent names in the industry of freelancing. Here are some quick facts about freelancer.com to start with:
Freelancer.com offers the highest number of users, including clients and freelancers and the most diverse projects from extremely diverse categories.
Freelancer.com is an international company as it has employers and freelancers from all 247 countries.
The number of employers (or clients) and freelancers combined reaches more than 51 million individuals.
Employers and clients can interact on the website. The diversity of the projects available for freelancers are limitless.
They have something called freelancer.com online economy. This is one of the innovations of this website. What does this mean? It basically shows where the jobs are being offered and where they are getting accepted.
Categorization Of Jobs On Freelancer.com
So, what type of specialty can you get a job on Freelancer.com?
Are the jobs available on Freelancer.com diverse enough?
Can people with different backgrounds thrive on it?
Yes, of course! In fact, Freelancer.com offers some of the most diverse and popular kinds of jobs. Let's review them:
There are 13 main classes on the Freelancer.com website categorization. These 13 classes include Website, IT & Software, Mobile Phones & Computing, Writing & Content, Design, Media & Architecture, Data Entry & Admin, Engineering & Science, Product Sourcing & Manufacturing, Sales & Marketing, Freight, Shipping & Transportation, Telecommunications, Business, Accounting, Human Resources & Legal, Translation & Languages, and Local Jobs & Services.
One of the good things about freelancer.com's categorization is that it contains a very high number of subclasses. So, as an employer, you will definitely be able to find someone appropriate for your job. Also, as a freelancer, you will be sure that people need your skills and talents. These subclasses are more detailed than other websites. For example, particular topics like ABAP Web Dynpro, ABIS, Agile Development, and Adobe Experience Manager are available on Freelancer.com.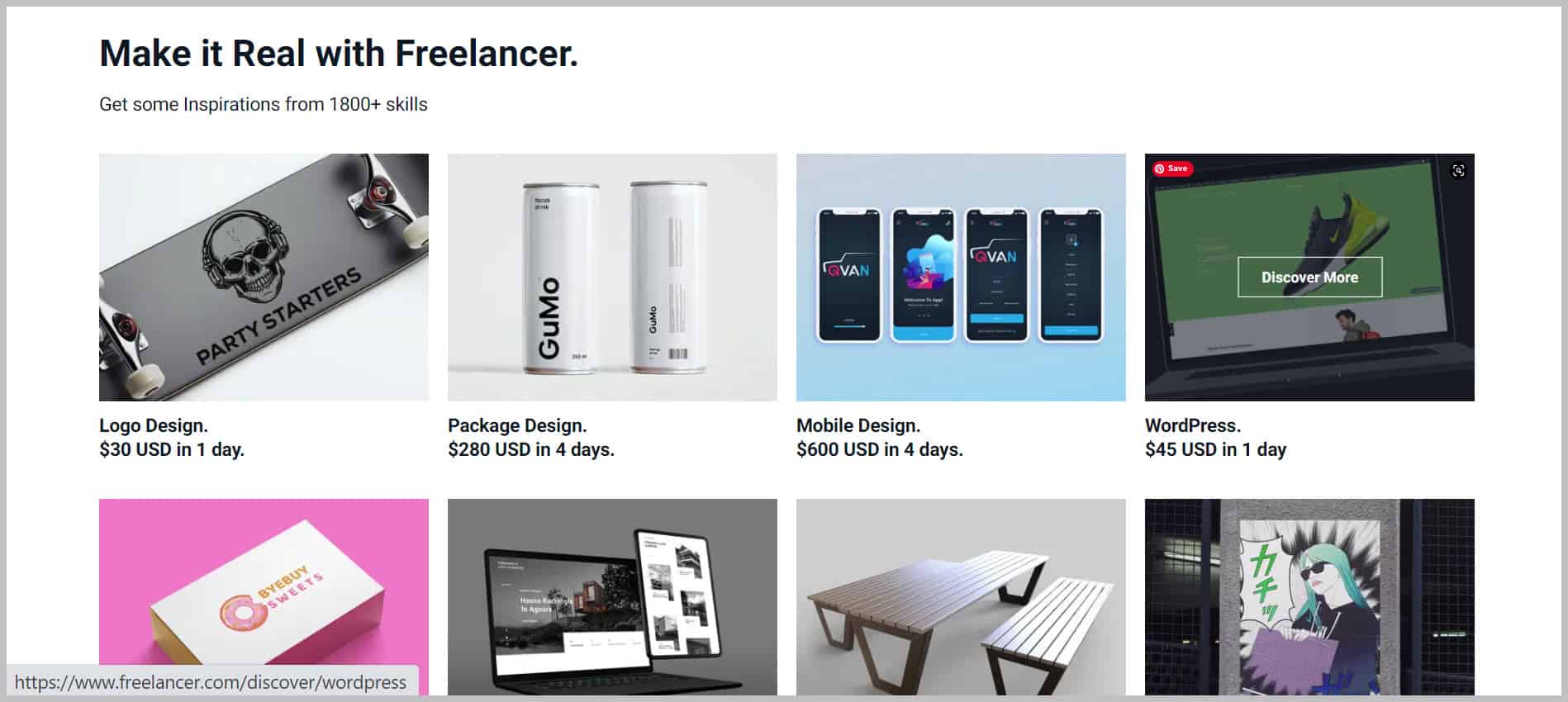 Who Are Some Of The Most Famous Clients Of Freelancer.com
Freelancer.com has been present in the market for a couple of years. That's why they have been working with the greatest names in the market, such as Amazon, Facebook, Deloitte, Novo Nordisk, NASA, IBM, and Airbus.
How Can Employers Outsource Their Project?
Freelancer.com is very user-friendly for clients. The first thing to do is post a job on Freelancer.com. Just after a few minutes, you are going to get thousands of bids from professional freelancers. You have the chance to carefully review the freelancers' reviews and choose the most compatible one. In the end, you will easily and safely pay and get your project completed.
Why Is Freelancer.com One Of The Best In The Market?
In addition to the abovementioned pros for the clients, there are many more positive points about Freelancer.com. Here are some of the most prominent reasons:
Portfolios are accessible. For example, as an employer, you can see how many projects freelancers have done. Also, you can check freelancers' samples of previous work.
Viewing bids give you a large variety of options for clients. Sometimes, you can get free bids too.
When you outsource your project, you might be worried about the progress of your work. The live chat feature makes you able to contact your hired freelancer and ask for updates directly.
You, as a client, will pay only and only when you are delighted with the final work.
If there is any issue left, you can get 24/7 support from the website to handle your questions and requests.
Also, freelance jobs are available in five different languages, including English, Spanish, Portuguese, French, and German. So, it is a more international business.
Freelancer.com Fees And Charges
Fees and charges on Freelancer.com are not that high for both employers and freelancers. For employers, signing up, posting a project, receiving bids, reviewing freelancers' portfolios, and discussing the project requirements are all free. However, when a freelancer accepts the project, Freelancer.com charges a fee relative to the bid's value.
For freelancers, signing up, creating profiles, selecting skills, uploading a portfolio, receiving project notifications, discussing projects, and bidding on projects are all free. However, if you want to bid more than 6 times per month, you will have to pay. If a freelancer accepts a project, he/she will be charged a relatively low amount for a fee. There are many other free and paid services available on Freelancer.com. Just go and check them out.
Critics On Freelancer.com
When you check the reviews, you can see that many people didn't like the website. Although these critics could be exaggerated, it would be wise to know them. Here are some of the reviews provided by people who have used this platform.
Sometimes, you see suspicious activities on Freelancer.com. For example, you might get a suspicious message from users. Then, you ask to contact you outside of the platform. This has happened to some freelancers. Although it could be nothing bad, it alerts you.
Some freelancers have reported that Freelancer.com has blocked their account and taken away all the money the freelancers have had in it. The reason for blocking by Freelancer.com is not satisfying for many users.
Other freelancers, especially the new ones, have stated that they cannot compete most of the time. They are not able to compete and get the projects. Also, forgetting the project, you will have to pay for it first. So, it is not good for freelancers who don't have enough money for paying freelancing websites.
Some freelancers have also said that clients on Freelancer.com are not real! They are scammers! They are active on the website to get freelancers' money.
A supporting team sometimes doesn't seem to be helpful. This is what some users have said.
It is a very unusual habit in this field that Freelancer.com only lets you create a profile and start working after you give them very personal information like a passport, a personal photo, bank documents, residence registration documents, etc. It is very unprofessional and unnecessary for Freelancer.com to have this information.
There are too many reviews like these abovementioned issues. However, we always see the counterarguments. Maybe, these are isolated cases. So, don't forget to review the website completely and don't judge too fast. There are many compliments about Freelancer.com too.
PeoplePerHour
PeoplePerHour is a freelance marketplace founded in 2007 by Xenios Thrasyvoulou and Simos Kitiris. Just like Freelancer.com, PeoplePerHour is a platform that provides the opportunity for freelancers to find jobs from clients and employers.
Right now, PeoplePerHour is one of the most popular freelance websites on the market. It is interesting to note that more than three million freelancers are working on this website. They have more than 8,000 different skills.
Also, in terms of the money freelancers are making, PeoplePerHour is one of the best places. To date, all freelancers together have made more than 150 million dollars. The top freelancers can earn up to $7,000 per month, which is perfect money. It usually takes less than 10 minutes for clients to find a suitable freelancer for their project. Interestingly, 90% of the projects submitted on the website will be delivered within just seven days after the job was accepted.
PeoplePerHour's Categorization
PeoplePerHour classify all the jobs and projects into nine classes. These classes include Technology & Programming, Writing & Translation, Design, Digital Marketing, Video, Photo & Image, Business, Music & Audio, Marketing, Branding & Sales, and Social Media. The website has specific subclasses too. For example, Social Media Monitoring, Social Bookmarking, Social Media Analysis, Community Management, and Social Media Assistance are some of the Social Media classes' subclasses.

Who Are PeoplePerHour's Clients?
Just like Freelancer.com, PeoplePerHour also has the experience of working with the most prestigious companies. For example, BBC, Forbes, Business Insider, CNBC, the Independent, and FT has outsourced some of their projects on the PeoplePerHour website.
What Is The Business Cost Calculator Feature?
This is another exceptional feature of PeoplePerHour. In fact, this is a feature for people who are not sure whether they need to change their business or start a new one. This feature calculates the costs of your business at every stage. It also tells you how much money you can save and helps people like you get great ideas for every project improvement stage.
Reviews For Freelancers And Users Of PeoplePerHour
If you go to YouTube, you will find many reviews on PeoplePerHour. Most of the reviews are positive. However, sometimes, people complain too. Here, we are going to mention them briefly.
The website is user-friendly and professional. You can easily access the freelancers and projects.
As a freelancer, you can get proposals for up to 15 jobs. It is completely free. However, for more than that, you will need to pay per month.
The payment is very secure. Once a freelancer accepts a project, the client will pay. When you complete the project, the money will be transferred into your account on PeoplePerHour.
All the clients can rate you from one star to five stars. These reviews are critical as they influence other people selecting you as a freelancer for their project.
Some experts believe that you cannot have a full-time freelancing job on PeoplePerHour. Their reason is that they haven't seen too many testimonials from freelancers.
Just like other freelance websites, the atmosphere of PeoplePerHour is extremely competitive. You might try two or three weeks to get a job, but you are not successful because there are too many professional and great freelancers out there.
What Is PeoplePerHour Plus?
This is another feature available on the PeoplePerHour website. If you think you are among the top one percent expert freelancers, you can apply for it. Basically, it gives you the ability to get more projects, improves your rate, and eventually earns you more money.
What Is The PeoplePerHour Academy?
If you are interested in learning more about freelancing and becoming a more professional freelancer, you can learn from this feature. It is basically a free video training course for all freelancers. It shows how you can improve your name in the market. This training course will also show you how to manage deadlines more efficiently. At the end of this course, you will get a diploma from PeoplePerHour.
How To Start Getting Projects On PeoplePerHour?
All those critics aside, many clients and freelancers think that PeoplePerHour is the second-best practical and useful freelance website. However, it doesn't matter what platform you are working on in the beginning. You have to start from tiny projects with a low amount of money.
Finding the first project and accepting it is probably the most challenging and hardest part for every freelancer. Some tips can help you get the first project rather quickly. Here they are:
The first thing to do is signing up or creating an account if you haven't registered yet. It gives you the chance to search for either freelancer offers or jobs.
Imagine that you are a freelancer and looking for a job. You have to make sure that you are putting the correct keywords into the search. This way, you will get a very long list of projects related to your keywords. You can see the pricing of each project on the right side of it. Projects that cost more than 150 dollars are influential in boosting freelancers' profiles.
If you can want to do a project, you need to send a proposal and ask them to outsource the job to you. Here, you can send an outreach message. This is very important to keep your message very simple and elegant. Don't beg for anything.
To boost your chance of getting a project, you can use a clarification board. On it, you can literally write whatever you want to adsorb the clients. For example, you can ask for more details and show yourself eager to know more about the project's details.
Summary
Freelancing is the shiny start of our modern economy. Some believe that our world's economy wouldn't stand one day without freelancing anymore. It is a new phenomenon when people work for other people without direct and physical contact.
Websites to which freelancers go and look for jobs posted by another group of people called clients or employers. These websites are crucial in facilitating the process of outsourcing the jobs and projects by clients and delivering by freelancers.
Two of these websites are Freelancer and PeoplePerHour. In this article, after defining freelancing and mentioning its pros and cons, we reviewed those two websites and explained how to work with them. Also, we discussed all pros and cons associated with both of them.
They have both a great diversity of jobs and projects. Also, they have different ways for freelancers to improve their visibility and get more projects. All in all, there are not many differences between them based on the most common reviews on YouTube.
JeannetteZ
I would love to hear from you. Please leave me your questions, experiences, remarks, and/or suggestions about this Freelancer.com vs PeoplePerHour review in the comments section below. You can also reach me by email at Jeannette@WorkFromAnywhereInTheWorld.com.
You might also be interested in the following blog posts:
Toptal vs Guru – An Honest Review Of The Two Sites
Upwork vs Fiverr – A Genuine Website Review