7 Best Home Office Chairs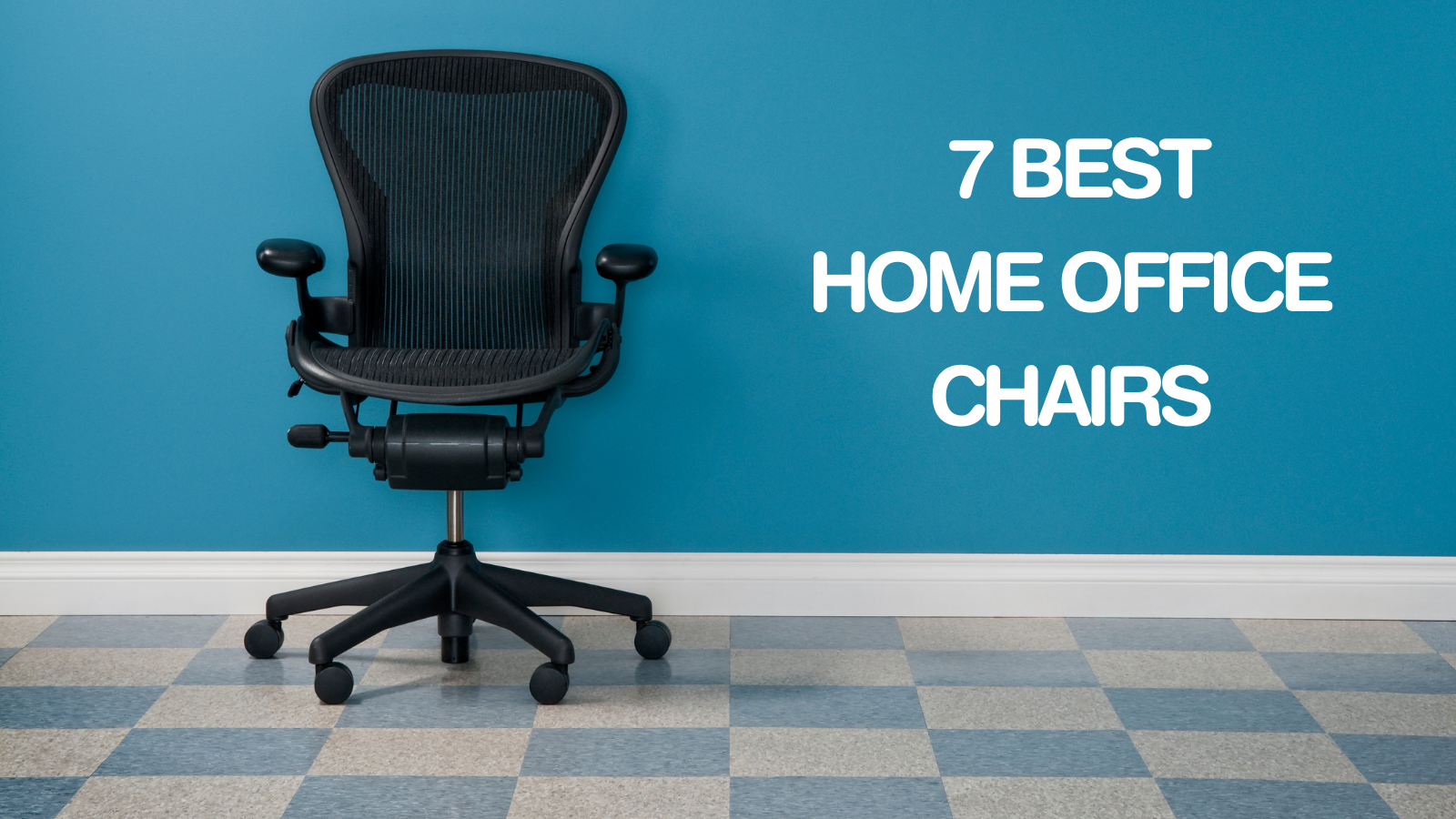 7 Best Home Office Chairs
Many of us spend most of our time in the office. From the moment we go into the office until we say goodbye to our coworkers, we sit behind our desks. Yes! We are used to sitting on a chair and doing our office or computer work.
However, you should know something significant about the nature of human beings. We humans are not evolved to sit for a long time. For many years, humans spent their days running in the forests and catching animals for their next meal. Our body has evolved for long walks and running short distances.
We usually don't like to sit somewhere for a long time. But, because of our jobs, we have to do it. So, we are going to face the consequences of it. Many minor and major conditions are associated with sitting for a long time. If you are not going to be influenced by these conditions, first, you have to know these conditions.
In the first part of this article, we will review all these conditions for you. You will understand how the anatomy of your body and especially your back, will be impacted by sitting on your chair for a long time.
Another Important Thing Is Your Chair
Believe it or not, choosing an appropriate chair to secure healthy anatomy. You need to know what chair is suitable for you. A good chair improves your performance at work. Also, it is influential in keeping you relaxed and comfortable during working hours.
So, after introducing some of the most common minor and major conditions associated with your office chair, we will talk about the most popular office chair products in the market. If you are interested in these topics, we will invite you to keep reading until the end of this article.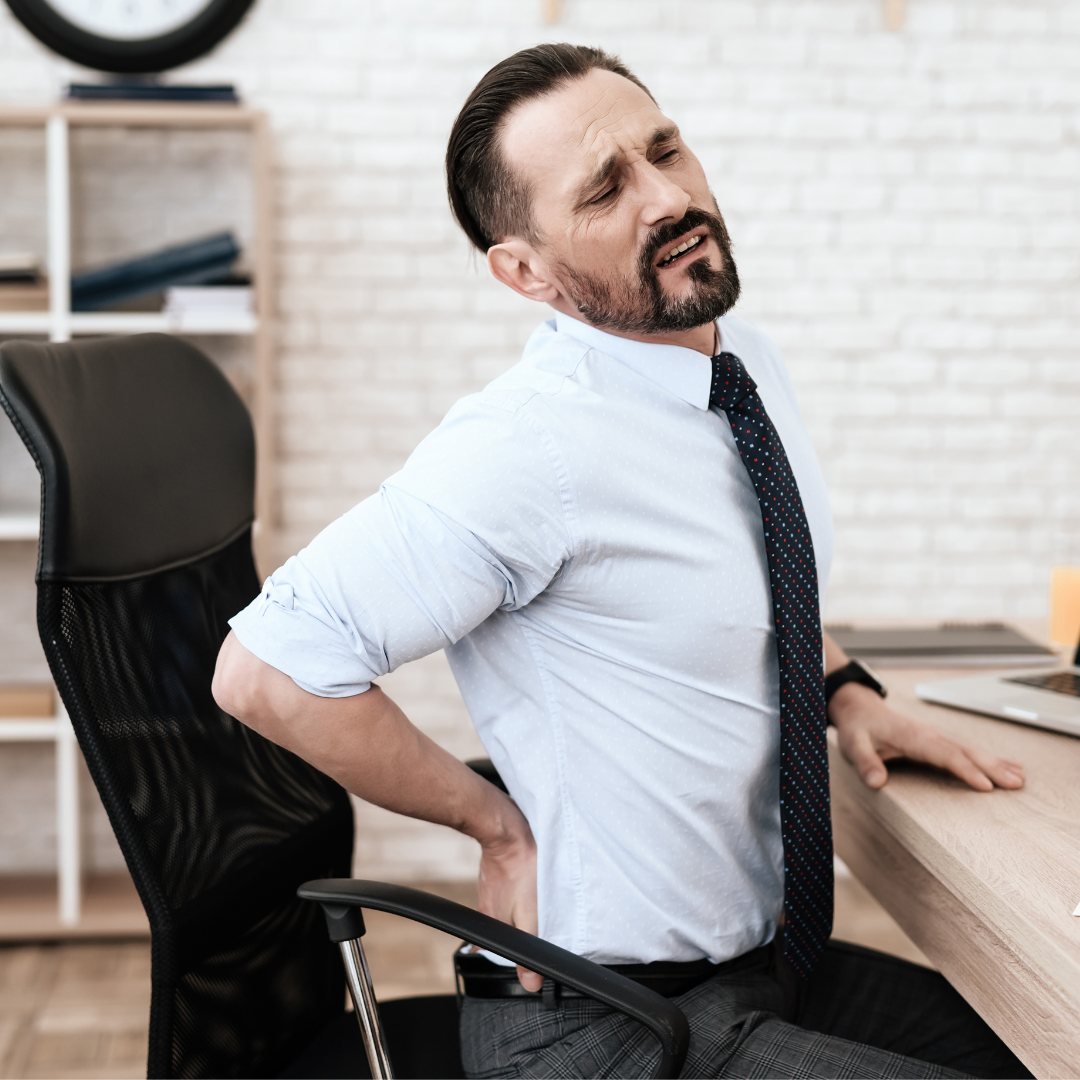 Health Risks Of Office Chairs
As we said, office chairs can significantly impact your health at work because you are always sitting with them. Choosing an unsuitable office chair is responsible for some health risks. Here, we are going to discuss the most common health.
1. Impeded Circulation
Blood must circulate in your body regularly and efficiently. Sometimes, it doesn't happen, which causes many other problems. Unfortunately, a poor-quality chair might cause such a situation for you.
Impeded circulation happens when we feel inadequate blood flow in a certain body area. When blood circulation is disrupted, sending blood, oxygen, and nutrients throughout the body will become a huge problem.
The symptoms of impeded or poor circulation are easy to detect. In fact, due to poor circulation, you will feel pain in different parts of your body, including your legs, feet, arms, and hands. Also, coldness of your hands, aching and throbbing in your feet, and pain in your calf muscles are other symptoms of poor circulation in your body created by bad office chairs. 
2. Muscle Fatigue
When this happens, you usually feel so exhausted. Also, as a result, you cannot move your legs very well. Muscle fatigue is mainly associated with strenuous activity or exercise. However, sitting in an uncomfortable chair in the office could have the same results.
3. Cramping
This condition is also closely related to our muscles, just like the previous ones. You will experience a cramp when involuntary muscle contraction or over-shortening suddenly strikes your body. Fortunately, this condition is not permanent. However, in severe cases, your muscles will hurt a lot, and you might not be able to move them for a while.
4. Numbness
This is another common condition that could happen to people who don't use standard office chairs. Numbness is a type of temporary paresthesia. This usually happens when we sit on our chair for too many hours without breaks, which will hurt our back, hips, eyes, etc. Also, wearing tight clothes could make the situation worse. Numbness will eventually put pressure on nerves and blood vessels and reduce sensation.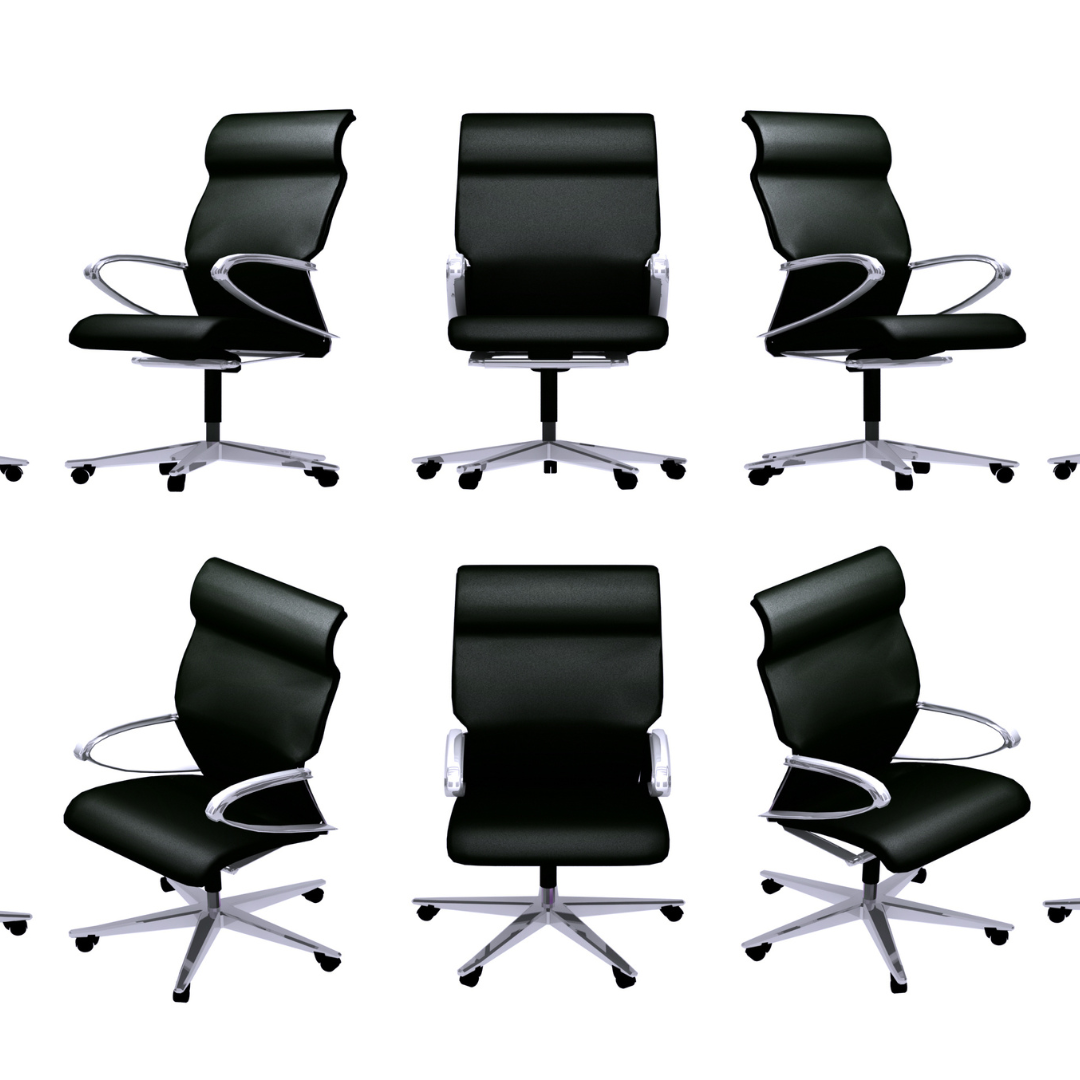 What Are The 4 Most Important Qualities In An Office Chair?
So, what should we expect from our office chairs? Well, several things could be improved or avoided by good office chairs. What are these criteria?
1. Encourages Proper Posture
Our body must be placed on the office chair to be most natural. For example, our necks should be straight. Or, our hands must be so that typing or calling people is not exhausting. The same is true with other body parts such as legs, chests, back, etc.
2. Increases Comfort
This is another important factor in a good office chair. You should feel relaxed on the chair. For example, the chair must not distract you or let you have a normal conversation with your coworkers as you are working. It should be equipped with something you could put your arms on.
Are You Tired Of Scams?
3. Minimizes Neck, Back, And Hip Pain
The neck, back, and hips are three of the most sensitive parts of our body when sitting on an office chair. Your neck should be as straight as possible. Also, the back must not be tilted or disorientated as it causes serious problems. Also, your hip is always in contact with the chair. So, you might feel numb or discomfort. A good office chair doesn't cause these problems.
4. Decreases Workplace Distractions
We talked about this a bit earlier. There are too many distractions at work. However, if your site is placed well, you will avoid it. For example, if the height of your chair is not suitable, you cannot focus on the computer screen very well. Or, you might not be able to work smoothly with the mouse. Or, perhaps, when a client is approaching you, you will feel uncomfortable in front of them.
3 Important Things You Need To Look For In A Home Office Chair
Here are some factors you need to consider when buying an office chair.
1. Make Sure Your Seat Is Height Adjustable
You shouldn't worry about it too much if you are of average height. However, if you are tall or short, you have to adjust the height in your office chair. So, how can we make sure a specific height is OK for our body?
First of all, you have to easily be able to place your feet on the floor without trying too hard. Also, you have to make sure that your back is not strained. If you are one of those people who often type on the computer, ensure that your hands can easily reach the keyword. This is how you can say that the height is appropriate.
2. Look For An Adjustable Backrest
The backrest is another important feature when choosing an appropriate office chair. Sometimes, you need to have a small break where you are sitting. So, you will need to be able to lean backward and forward, which could happen with a nice backrest.
Some people have long/short upper bodies. These factors must be considered when you are ordering it. Your chair must not be something very static. It should be so that people could rest for several minutes between working.
3. Get A Chair With Armrests
What should you do when typing for many hours before your computer? The first thing to remember is that you should keep your body parts healthy and still practical. However, if our hands couldn't be rested, it would also immediately influence other parts of our body.
Armrests are great for when you want to relax for several minutes on your chair. Not only your arms but your shoulders will get relaxed as well. Some chairs come with adjustable armrests. We think it's a good idea and people must do it. The most common concern with the armrests is when you want to move your chair in and out from under your desk.
So, from now on, we will introduce some of the most popular products on Amazon. Of course, you need to consider your needs and then select wisely. Here are what I think are the best chairs in the market.
Best Home Office Chairs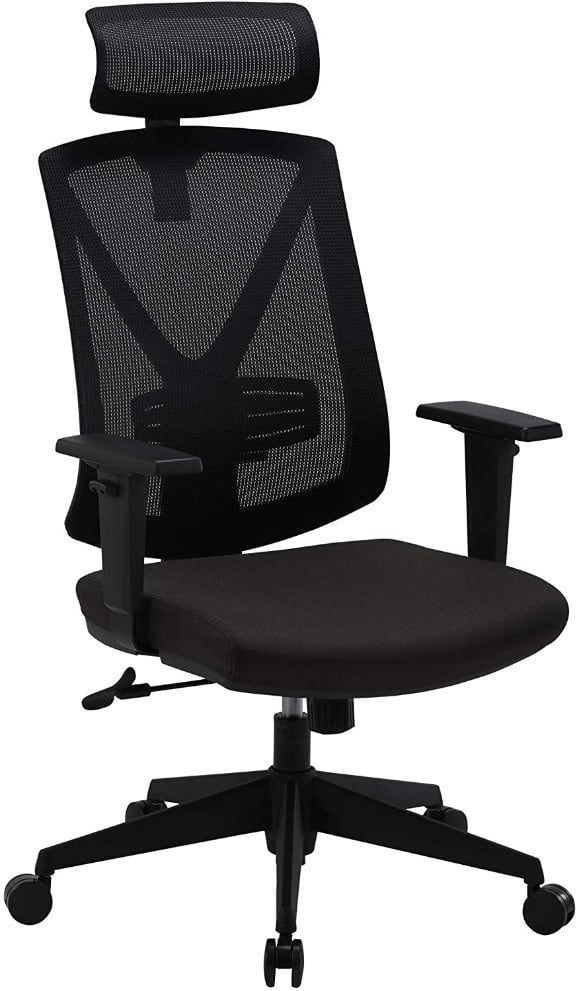 1. Duramont Ergonomic Adjustable Office Chair
The Duramont store company offers this product. The price is so-so compared with similar products in the market. Now, it costs $289.50. Let's review some of the basics of this chair.
It is well-known as a professional office desk chair.
You can use it for both home and office.
It is equipped with headrest adjustment and lumbar support mesh back for breathability.
Back stress and muscle fatigue are both prevented because the backrest greatly fits the spine.
The mesh fabric comes with nice elasticity and is highly resistant to deformation.
The chair can be easily raised or lowered thanks to the pneumatic controls.
You can assemble the product without a technician's help.
It weighs 19.7 kg,
The product dimensions are 73 x 65 x 33 cm.
The chair is made out of Polyurethane.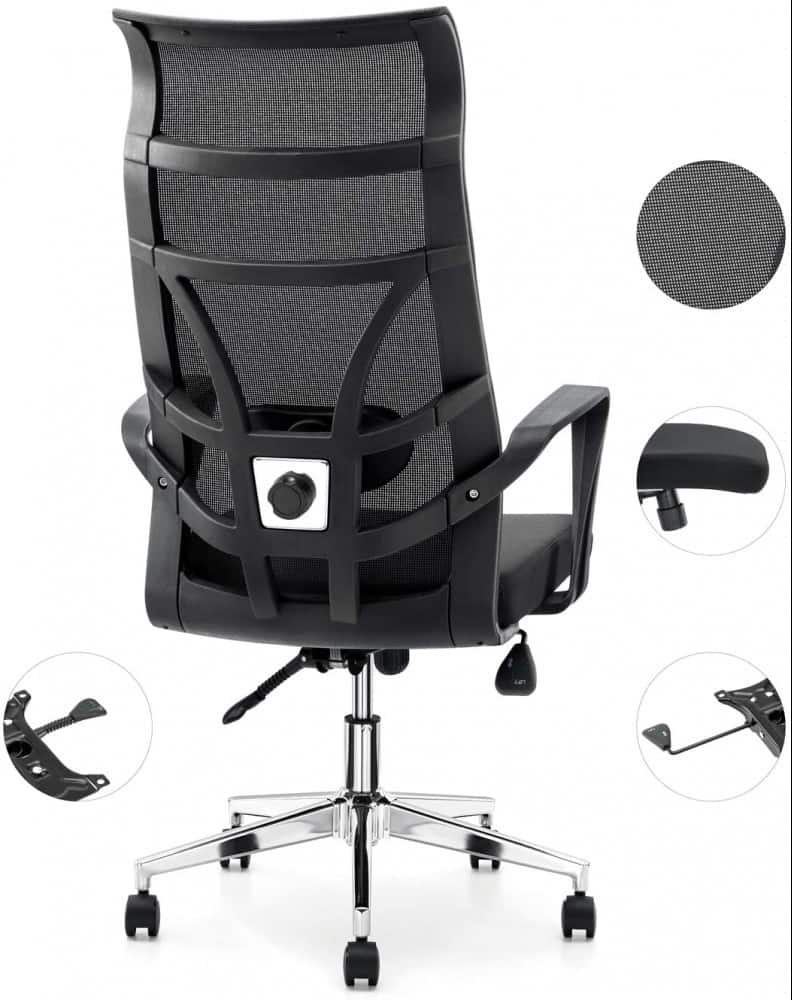 Gabrylly Ergonomic Mesh Office Chair, High Back Desk Chair – Adjustable Headrest with Flip-Up Arms, Tilt Function, Lumbar Support and PU Wheels, Swivel Computer Task Chair
2. Gabrylly Ergonomic Mesh Office Chair
This product is from the Gabrylly Store.
The chair costs $289.50.
The product offers a very high back office chair. This way, your spine will be completely supported by the back chair.
Thanks to its ergonomic positioning, you can use it as a relaxing resting place.
Also, the mesh fabric allows the chair to circulate the air easily. So, you will benefit from the nice circulation of fresh air.
The chair avoids pressure on the lower back owing to the high-grade lumber pad.
Another vital aspect of your chair is that it must let you recline very comfortably. Reclining is possible with infinite tilt lock and synchro-tilt.
The chair is made from high-quality material. Well-polished plastic frame, elastic mesh, and high-density foam cover with fabric guarantee the chair's best quality.
The duty steel base is great, which can support 350Ibs weight capacity.
The product comes with a nice warranty and support.
The product dimensions are 77 x 65 x 32 cm.
It is made out of Aluminum.
It weighs 19 kg.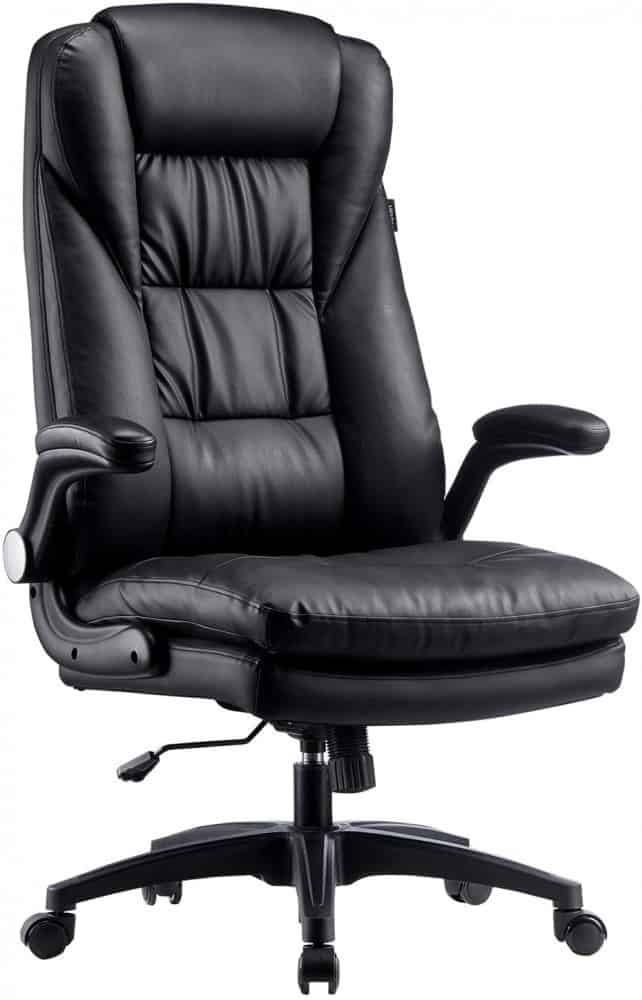 3. Hbada Ergonomic Executive Office Chair
It is from the brand Hbada Store.
It costs $199.99.
The soft elastic cotton and native sponge greatly support humans' spin. This makes a nice double-layer ergonomic backrest.
The materials used in the chair are high quality. It is covered with synthetic leather, which is resistant to oil and water. So, cleaning it wouldn't be a problem.
You can easily move the chair from one room to the other without damaging the floor thanks to those professional wheels. Also, there are no noises involved while it is moving.
Everything about this chair is completely adjustable. For example, you can change the height to meet your needs.
It is very comfortable getting relaxed and even taking a nap because it can rock to 125 degrees.
More flexibility and convenience have resulted from the 360 degrees rotation cushion and rolling swivel.
It can support weights up to 330 pounds which is considered very strong.
The product comes with nice instructions which enable you to assemble it very quickly.
There is also a 1-year warranty included in the product.
The colour is black.
The package dimensions are 84 x 58 x 34 cm.
Finally, it weighs nearly 21 kg.
Eco-Friendly Office Chairs
Have you ever heard the word eco-friendly? Do you know what it means? Actually, many businesses around the work, regardless of their products or services, are thinking about producing more eco-friendliness. Why does this matter?
Well, the answer is obvious! Even with the type of chair in your office, you always have to respect nature. It would help if you did not let nature sacrifice because of your selfishness. I mean, sitting on a cozy and comfortable office chair is very nice.
There is no question about that. However, this comfortability must not lead to suffering from nature and other living creatures. The same is true with the industry of office chairs. Here, we will introduce some of the best eco-friendly office chairs in the market.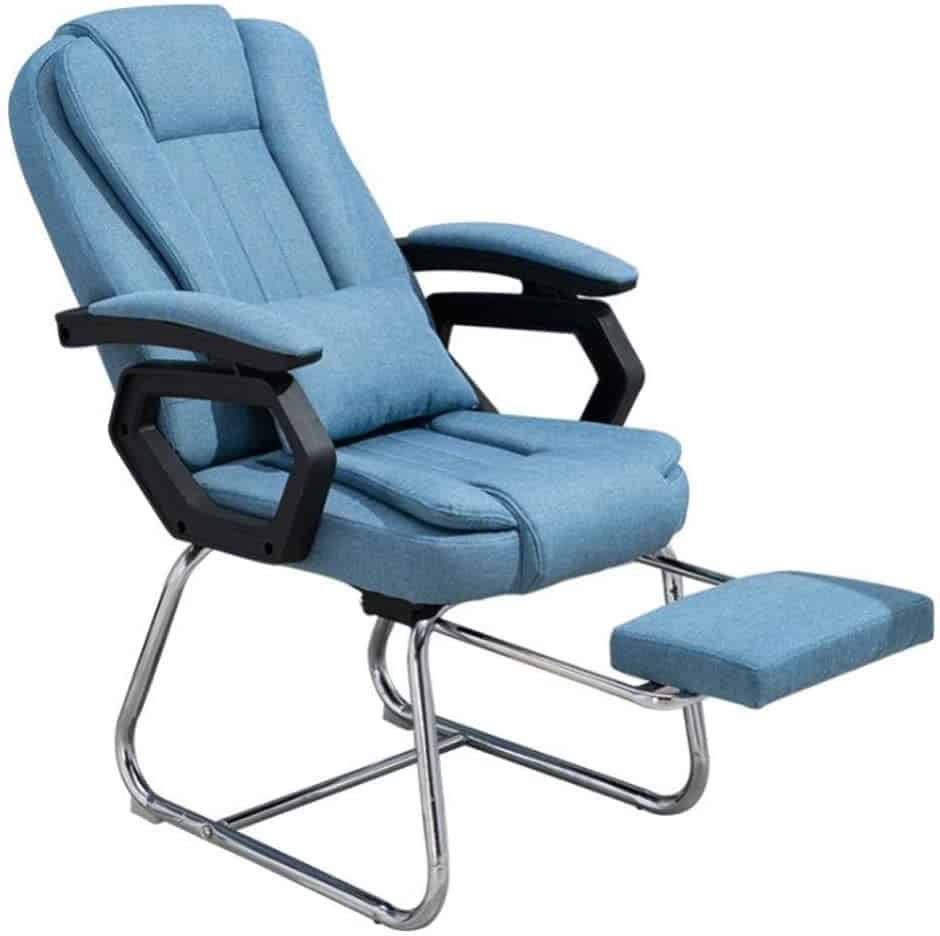 4. Plhgf Eco-Friendly Latex Boss Chair
This is from the brand Plhgf.
The price is a bit high. It costs $1,592.62, which is a lot of money.
This product is famous because it has been claimed to be eco-friendly. How are we going to make sure you are right?
The fabric used in the chairs is very comfortable and relaxing.
It can work every week concerning the temperature as the chair can keep the chair in an optimum range to become enjoyable for people.
It can be adjusted to lie down from 90 to 1450 degrees. So, you can work on it and relax for a few minutes by lying on it.
The frame is a reinforced bow, making the chair more stable and durable.
The frame is from environmentally friendly solid wood. That is why we call it an eco-friendly product.
The colour is blue.
Latex constitutes the internal filling.
It weighs 18 kg with a commodity load of 150 kg.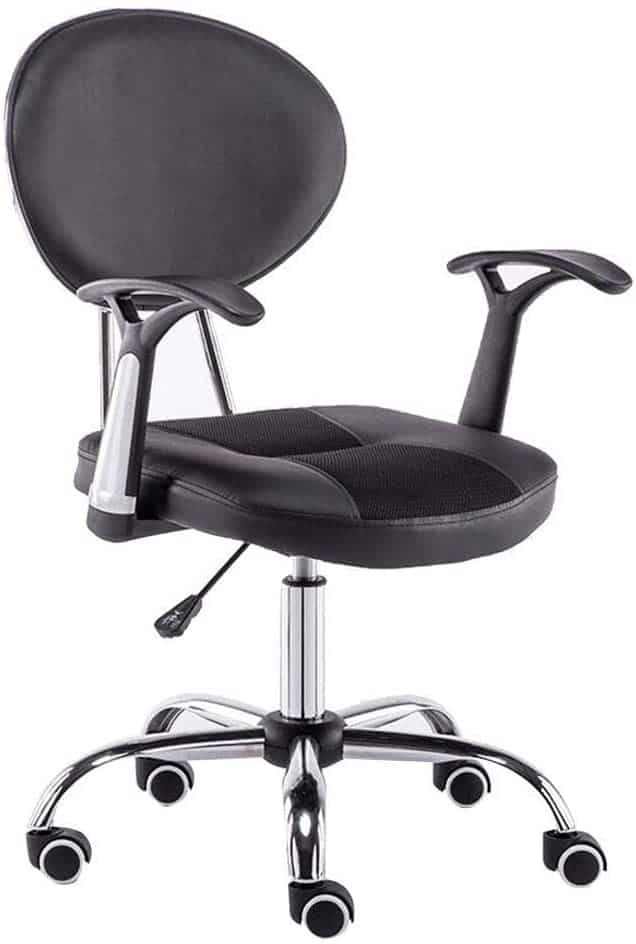 5. Administrative Chair/Boss Chair/Office Chair
The product is from the brand HJRBM.
It costs $380.15.
You will experience an appropriate healthy sitting position designed best for your spin.
The seat height is changeable.
It has lumbar support, 360 and flexible rotation, and a reliable curved waist.
In addition to offices, you can use it in your living or study room along with a café, restaurant, bar, etc.
High-quality leather, skin-friendly, wear-resistant, smooth and delicate touch, environmentally friendly sponge, engineering handrail, environmentally friendly, and durable are some of the characteristics of this chair.
6. Southern Wolf Gaming Chair
This is one of the favourite chairs of gamers. However, people who work behind the computer for so many hours during the day might need this one. Let's review some of its characteristics.
It is from the brand Southern Wolf Store.
The price is nearly $249.00.
The high-density thick foam supports the good elasticity of the chair.
The chair dimensions are 50 in 50 cm with 8 cm thickness.
Thanks to its appropriate size, deformation in the chair have rarely happened.
You can get a refund within 30 days if you are unhappy with the chair.
Also, all parts are under a 12-month warranty.
Hbada Ergonomic Office Chair, High-Back Desk Chair with Lumbar Support, Height Adjustable Seat and Headrest, Breathable Mesh Back, Soft Foam Seat Cushion, White (Without Footrest)
7. Hbada Ergonomic Office Chair
This product has a unique appearance thanks to its white colour and different configurations of different parts. Let's review some of these features.
First of all, again, it is from the brand Hbada Store.
Now, you can buy it for $169.98.
Because of its many different options, some believe these chairs are significantly more convenient than other products.
This office chair includes a high back mesh, supportive backrest, and headrest for complete spinal support.
The chair offers full reclining and supports any angle between 90 and 155 degrees.
It has a modern and fashionable sense to it. Also, its size is just perfect for many office rooms.
Studies have shown that you can easily sit on this chair for nearly eight hours because it allows air, body heat, and water vapour to pass through, which is responsible for keeping the heat and humidity away from the person on the table.
It weighs 15.7 kg.
It is made mainly out of plastic.
As we said, the best features of this chair are head support, ergonomic, swivel, height, adjustable, and padded.
There is an endless number of other products available in the market you can buy. For example, here are some other popular and nice products in the market:
SIHOO Office Chair Ergonomic Office Chair, Breathable Mesh Design High Back Computer Chair, Adjustable Headrest and Lumbar Support (Orange)
COMHOMA Office Desk Chair with Armrest Office Computer Chairs Ergonomic Conference Executive Manager Work Chair (Black)
Office Hippo Mesh Office Chair with Permanent Contact Back and Height Adjustable Arms, Fabric, Royal Blue, 50 x 50 x 91 cm
Hironpal Gaming Racing Chair Home Office Computer Chair PU Leather Executive Ergonomic Adjustable Swivel Chair (White + Black+ Red)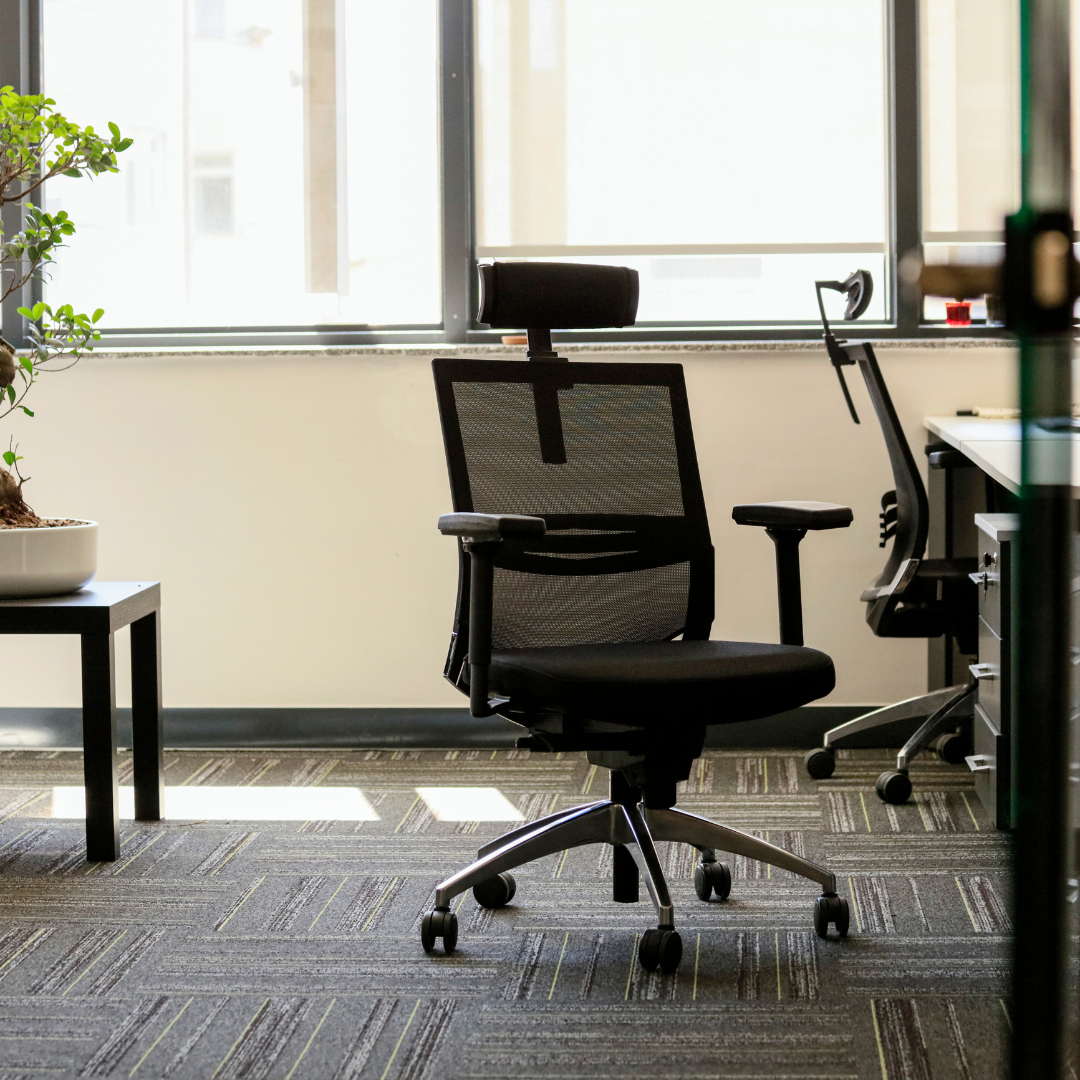 Conclusion
One of the most important features of your office is the chair. It not only lets you and your employees feel comfortable and relaxed in their chairs, but also it has a vital effect on your potential customers.
They are more likely to come back again if they have experienced a nice atmosphere in your office. Sitting on a cozy and comfortable chair helps you to have the right impression in your meeting and gatherings.
So, in this article, we talked about the importance of chairs in your business and then introduced some of the most famous and popular chairs in the market.
In addition to comfortability, we introduce one eco-friendly office chair as well. So, don't underestimate the importance of office chairs in your office and buy very wisely.
I trust you enjoyed this article on the 7 Best Home Office Chairs. Would you please stay tuned for more articles to come?
Take care!
JeannetteZ
Want to Learn How to Build Your Own Home-Based Online Business & Start Making Money Online From Your Comfortable Couch?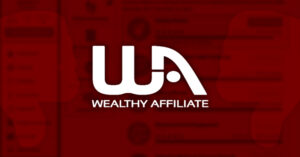 Your Opinion Is Important To Me
Thoughts? Ideas? Questions? I would love to hear from you. Please leave me your questions, experiences, remarks, and suggestions on the 7 Best Home Office Chairs in the comments below. You can also contact me by email at Jeannette@WorkFromAnywhereInTheWorld.com.
Disclosure
This post may contain affiliate links. I earn from qualifying purchases as an Amazon Associate and other affiliate programs. Read my full affiliate disclosure.
You may also enjoy the following articles:
27 Ways To Create A Stylish Small Home Office
Best Home Office Lighting To Buy
How To Choose The Best Colours For Your Home Office
How To Choose A Home Office Desk That Is Best For You
3 Easy Ways To Convert A Desk Into A Standing Desk
How To Set Up Your Home Office – 10 Easy Design Ideas