How To Choose A Home Office Desk That Is Best For You – A Definitive Guide
How To Choose A Home Office Desk That Is Best For You – A Definitive Guide
Working from home has its own rewards and drawbacks. Working in a comfy place while wearing pyjamas on the one hand and not having a definite border between work and off-hours on the other hand.
Creating a designated workspace can help tackle the negative sides of working at home. Doing this with goals and ideas in mind makes it work even better. Regardless of where you plan to establish your home office, an entire room, or a corner in your living room, the type of furniture and accessories you will choose to outline your work area will affect your productivity.
Only because you want to transform a room into your home office you do not have to stuff it with large and bulky traditional office furniture. Instead, you can use a media cabinet to store your office supplies in the corner of your living room.
This article will inform you that designing your home office is more than just pairing an office desk with a chair. We provide you with some guidelines for choosing the right home office desk. Let's go a bit deeper into this topic.
What To Consider When Purchasing A Home Office Desk And Other Furniture
When you think about your home office design, it will be best if you thought about your available space, the amount of space you need, what kind of work you do and where you would feel more productive. Natural light is a crucial factor, and if you can take advantage of it, we recommend you spot a place near the window. Also, consider placing your home office desk close to the window. The nice view helps you stay energetic and productive.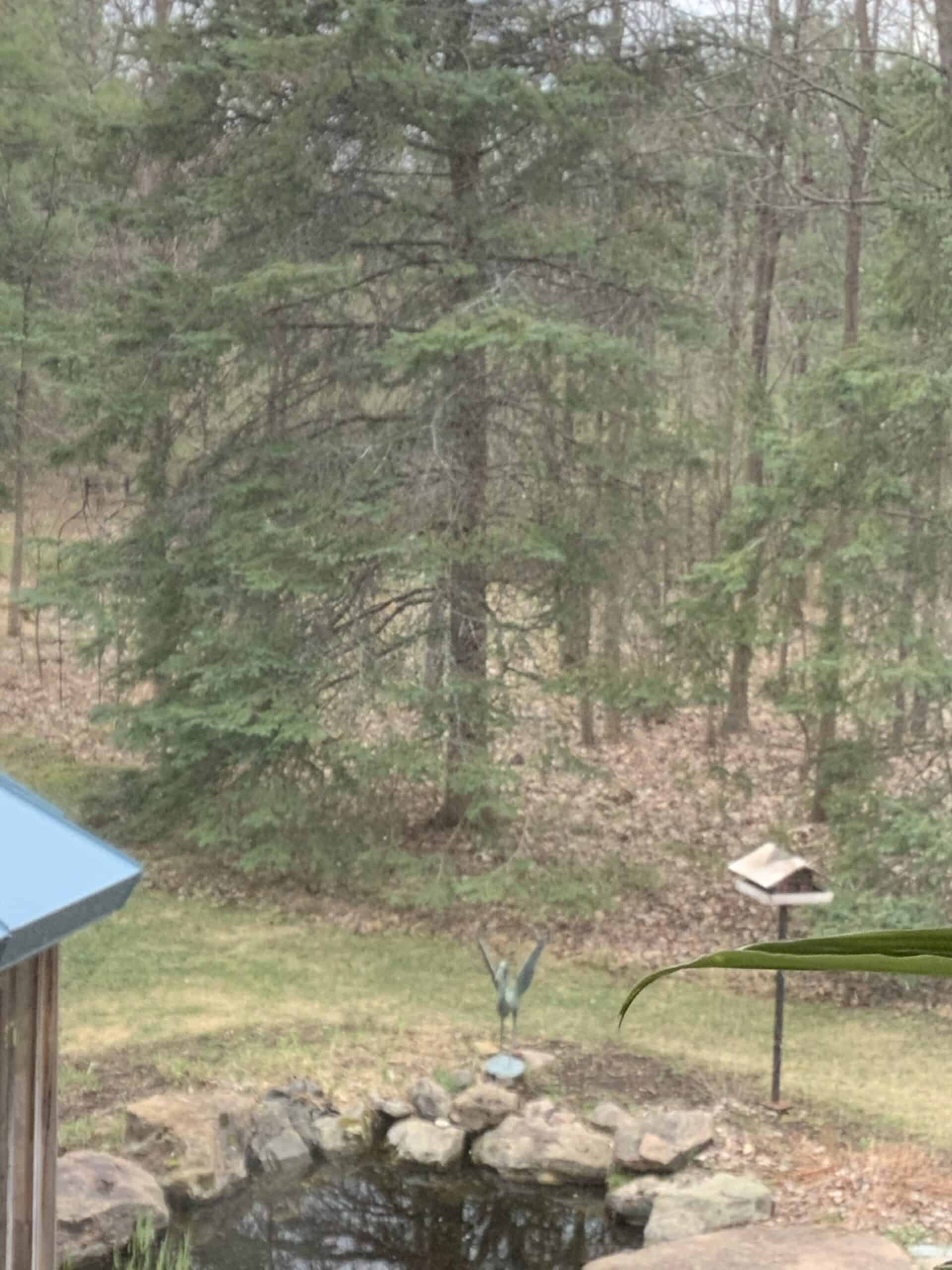 1. How Much Space You Have
Before shopping, check how much space you have to work with. If you have an empty room in your home to turn into a functional and productive home office. Here you will have more than adequate space to choose your perfect home office desk and other furniture to place in your new home office space. But in case your workspace is going to be on the edge of a dining table or a small coffee table between the sofa and a wall, you will need every square inch of your space.
Pro tip: When it is time to decide on buying a home office desk, consider how much of your space will be used snd what look you wish to accomplish for your desk. Choosing a sit-to-stand desk gives you more flexibility, and you can stretch your feet and legs while enhancing your productivity. You can even invest in a treadmill standing desk and do exercise while you work on your computer.
2. How Many Hours You Work
The home office desk and other furniture you need directly depends on the number of hours you generally work. For example, if you work more than 40 hours per week, a dedicated workspace with a home office desk and chair would be ideal. But if you occasionally work in different spots, a trolley cart that you can move your workstation from one spot to another would be great.
Long hours of working may cause backaches, headaches, and neck aches. The height of your desk, ergonomics of your chair, and lighting of your workstation will all affect your productivity. It would probably be better for your back, legs, hips, and knees to alternate between working at a sitting desk and a standing desk.
3. Your Personal Style
When you decide on the number and type of items you need, try to concentrate on your working style to make a better decision. The following are popular themes:
Modern: Aerodynamic forms, basic geometric shapes, as well as a minimalist approach
Vintage: Classic wooden furniture, huge table lamp, damask, or old-school design. This is my favourite style. I guess I am old-fashioned.
Contemporary: Modern idea with classic touches; applying glass, marble, as well as polished metals
Industrial: Processed and shaped metal, reprocessed wood, exposed brick, as well as reused or upcycled emphasis
Glam: Elegant furniture, artificial fur textural layers, and brass metal alloys
Traditional: Soft shapes, neutral cushioning, nailhead detailing, elaborate in literary style
4. Your Budget
And finally, thinking about how much you want to pay for your home office furniture. If you want to begin from nothing, then shopping for a home office desk and a chair is essential, and you need to save the majority of your budget for those two items. Lighting is going to be the next requirement. And, if you have enough budget, then you can think about storage, décor and colours.
How to Choose A Home Office Desk
A home office desk is something more than a landing pad for your computer or laptop. It has to respond to your everyday needs, be in line with your height, and give you proper storage for your supplies.
Surface Area
Do you need more than one computer screen, tabletop lighting, and an extra keyboard? You definitely do not like having a cluttered desktop. However, if you experience space shortage to place your books and printed documents or your printer, you will have to put them on the top or below your desk. So it will help if you consider the surface dimension of your new office desk before you decide on purchasing it.
Ergonomics
Your work style is important when choosing a desk. For example, do you prefer sitting or standing behind a desk?
If you want to be active during your work and do not like to sit for continuous hours, an adjustable height desk would be perfect. A treadmill walking desk is also something in the market that is pretty neat to keep you active. But if you like sitting while doing tasks that need concentration like writing, make sure to get a home office desk with adequate room for your legs.
Do you need to have multiple monitors in front of you? Do you need multiple workstations, such as a computer and a screen on one side and a wide empty surface to do your paperwork on the other side? What kind of desk will support your productivity?
If you would like to switch your work area a lot during your work, an L-shaped or U-shaped desk will be perfect. When I was working as an office manager I had a U-shaped desk. In front of me, I had my laptop with the monitor. To the right, I had my paperwork for work which I wanted to get done today, and behind me, I left space for meetings with employees.
But if you need to have all of your equipment and gadgets in one place in front of you, it would be best if you made sure to buy a large enough desk to accommodate all of your desktop requirements. In my home office, where I am working full time now, I have one large desk which accommodates two people. It has one phone station, one LED desk light and some tropical plants and nick-nacks. My monitor is on the left-hand side, which is not shown in the image below.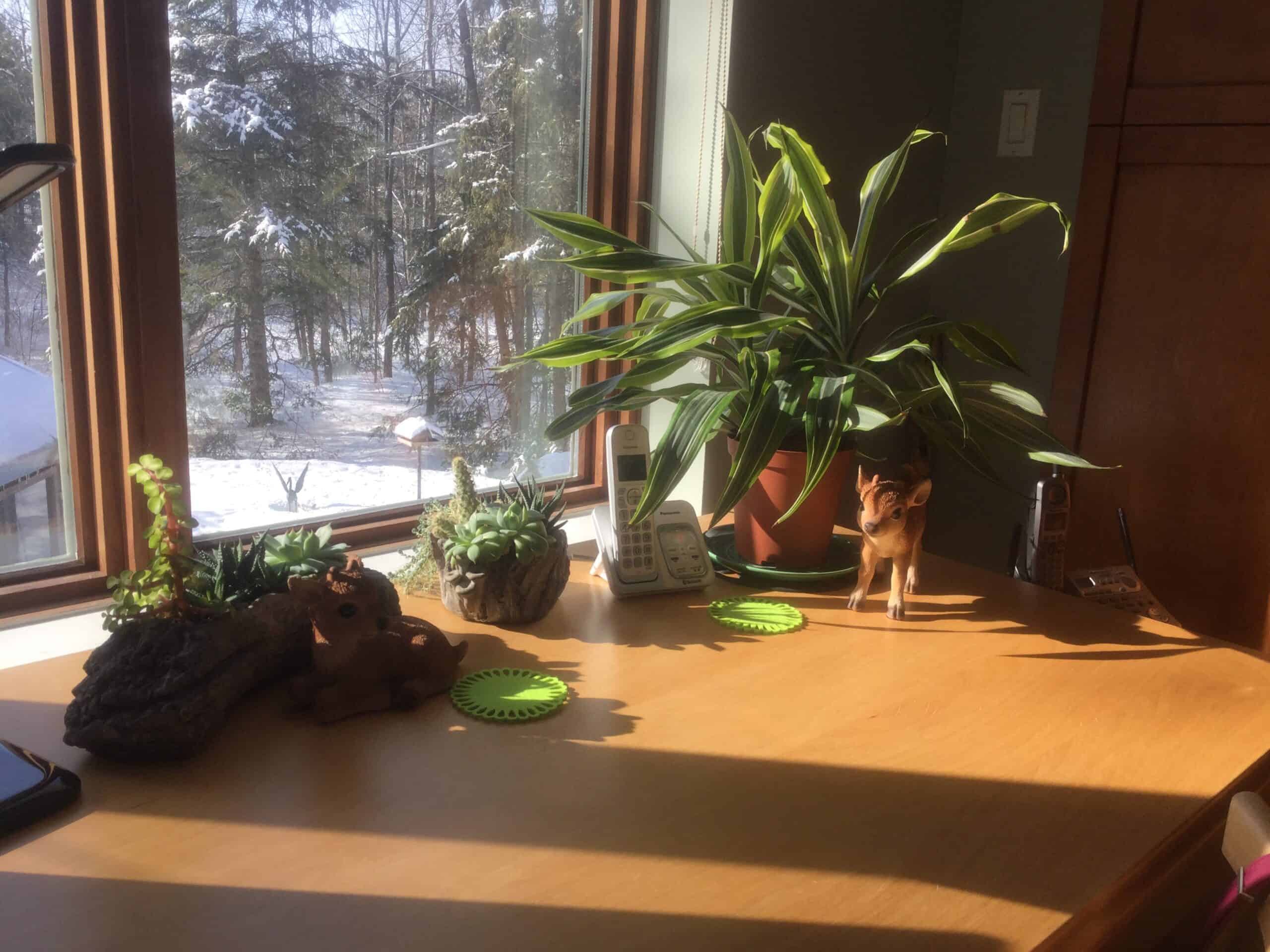 Do you need a deep enough home office desk for your arms and wrists to sit comfortably while working with a keyboard? A way to check it is to make sure your desk is not too narrow that your laptop or keyboard is placed on the edge of the table. Such a narrow desk can pose a strain on your arms, neck, and wrist. Additionally, take care of your screen placement; it should be at eye level or a bit higher to maintain good neck posture.
Your legs plus your chair need to fit comfortably underneath the desk. If you are tall and have longer legs or enjoy stretching more often when working, you should consider this. You can even place your desk in the middle of the room if you have adequate space in your room, and it will not create an obstacle. This way, you will have more space for your legs.
Storage
Do you need a compact desk with separate storage or a larger desk that enables you to organize your stuff in drawers and built-in storage?
Having a ladder desk in a small office will be great. It supplies you with vertical space for storage and helps you save on horizontal and floor space. Similarly, a console-style desk will fit a narrow office since it will not be consuming too much space.
If light storage meets your request, then look for a desk with no drawers or one drawer to house your pens and notepads. When you use a desk with light storage, you may need to store your office supplies, books and paperwork in other office furniture and accessories, such as bookshelves, drawers, filing cabinets, cupboards, and so on. Having enough space underneath your desk is also a good option to put a wheeled small filing cabinet or baskets.
If you need a medium storage desk to meet your needs, look for a desk with multiple drawers or a connected built-in file cabinet. There are many larger home office desks, like L-shaped desks, with shelving units connected to them available on the market. Therefore, when you have to spread out your work on multiple surfaces, it is worth paying for an entire system.
If you need heavy-duty storage to fulfill your requests, you have to invest in a home office desk with multiple drawers that are deep and large and also large file cabinets on both sides. You even can add open shelves above your desk to utilize the wall space for storage. Also, consider getting a desk with a large surface to place your desktop necessities.
Types of Home Office Desks
Traditional desk: Traditional desks resemble tables. However, they have shelves or drawers for storage.
Corner desk: There are a wide variety of corner desks that will utilize nooks and angles.
Floating desk: Also called wall-mounted desks. Free up the floor and have a simplified and aerodynamic shape. They commonly have built-in storage.
Credenza desk: They normally have a space for your legs. This desk is often supplemented with a computer or paperwork desk and provides you with the maximum surface and storage.
Folding desk: This is a good option for people who want a portable office setup.
Ladder desk: This system has integrated shelves above the desktop and can fit just about anywhere. It is a great option for those who want to squeeze a home office into an existing room.
Home Office Desk Styles
Here it is best if you paid attention to the place that your desk will be placed. If it is in a bedroom or living room, you might want to try to get something in line with your furniture.
Executive desk: This is the most vital old-school office desk, especially in an L-shape, with built-in cabinets and drawers placed at the side. Its size and storage are great.
Writing desk: Imagine a simplified desktop placed on a set of legs; this is a minimalist option. A writing desk can fit almost anywhere with a few small pencil drawers that keep accessories out of sight.
Computer desk: This desk is ergonomically designed and has cord portals and built-in chargers. A desk with cable management can keep things clean and tidy. Having at least one drawer to tuck away clutter is a must.
Roll-top desk: It has a more old-fashioned look; when you are done with it, you can slide down the rounded cover over your workspace. It is a good choice to hide your office at the end of the day; however, it is bulky and not exactly inconspicuous.
Secretary desk: This is a mid-century icon, which dates back to the 18th century, has a hinged surface that works as a desktop and an array of drawers stacked on top for storage. The design of it is elegant and is similar to a hutch and keeps items hidden.
Standing desk: A standing desk enables the user to work while standing because the surface comes up about waist height. Some standing desks are adjustable and can be transformed into sitting desks.
Quality and Durability
The last but the most important item is the material. It would be best if you made sure to invest money in a desk which is made of quality materials and is also well-designed. A desk with a proper size but mediocre materials and design will force you to replace it sooner than you imagine.
Pay Attention To High-Quality Materials
The pricy materials are including marble, wood, natural stone-top desks, especially with decorative details. Veneer wood or a highly laminated top is extremely durable for desktops. These materials will last you for a lifetime.
Look At The Construction
When you use a desk with drawers, take care of the quality of the drawers, as well. Solidly constructed drawers with dove woodworking and good rolling mechanisms are essential if you use them a lot.
Vintage or older desks come with stronger wood-on-wood drawers, but modern-style desks have soft closing mechanisms that prevent slamming. Please be sure to check all the elements because a desk that stays with you and your work needs to be a benchmark one.
Conclusion
We hope that this article on how to choose a home office desk gave you enough information for you to be able to purchase a home office desk and other equipment. Buying office equipment for your home office is more than just pairing a desk with a chair.
This article provided you with the details on what to look for when you buy a home office desk. In addition, we provided you with some guidelines for choosing the right home office desk that is best for you according to your budget and space.
I trust you enjoyed this article about How To Choose A Home Office Desk That's Best For You – A Definitive Guide. Please stay tuned for more articles to come shortly. Take care!
JeannetteZ
Your Opinion Is Important To Me
Ideas? Thoughts? Questions? I would love to hear from you. Please leave me your questions, experiences, remarks, and/or suggestions about this article on How To Choose A Home Office Desk That Is Best For You – A Definitive Guide in the comments section below. You can also reach me by email at Jeannette@WorkFromAnywhereInTheWorld.com.
You might also enjoy these blog posts:
How To Set Up Your Home Office – 10 Easy Design Steps
27 Ways To Create A Stylish Small Home Office
The Pros And Cons Of A Sitting Desk