Introduction To My Mangools Review
Mangools was founded in August 2014 by Peter Hrbacik. This review will show you that this fairly young company offers one of the most popular and easy-to-use SEO toolsets.
The Importance of SEO Tools
SEO tools are your beacon in optimizing your website. One of the most important digital marketing skills is SEO. It is in today's world that mastering its techniques requires a lot of practice and experience. Analyzing competitors in business and competing for analysis in marketing gives you strategic insight. With a good strategy, you can build a good brand and position yourself in the market.
Competitors Analysis – A Golden Opportunity
Research of market competitors in the Internet space shows you the successful patterns of competitors, chats, and golden opportunities in SEO. Competitors analysis is one of the essential steps removed from the SEO strategy development process. Attracting the audience and growing the traffic is the first important factor in discussing starting an online business. To receive organic traffic, you must be in the top results of Google in the keywords specific to your business.
So it would be best if you had different tools to analyze your site SEO. These tools help you to:
• Measure the search rate of a word.
• Measure the performance and speed of your site.
• Measure your competitors' performance on the same keywords.
• Find broken pages and broken links on your site and fix them, and so on.
You will need appropriate tools for your SEO and for each of the tasks we have mentioned. In this article, we intend to introduce the best SEO tools. The best and least expensive SEO option is to learn to work with SEO tools and increase your knowledge in this field. In this article, we will introduce useful and efficient software in formulating SEO strategies. Stay with us.
The Best Keyword Extraction Tool: Mangools
If you want to have one of the best SEO tools on a low budget, Mangools is perfect for you. This collection comes with five different tools to help you in keyword research, SERP analysis, ranking analysis, and link tracking. Unlike most SEO tools, Mangools does not offer additional features that you will probably never use.
What is Mangools?
If we want to choose an SEO plugin for Firefox and Chrome browser to check the SEO site, without a doubt, the first choice is the handy plugin Mangools.
Mangools was soon able to attract the webmasters' attention or even SEOs.
This plugin gives you a lot of information from the site you are visiting with just one click. This information includes DA, PA, and SERP reviews, site link reviews, and more. Mangools plugin has two versions, free and paid. With the free version of this plugin, you can check five reviews of each feature daily, and this number will increase in the paid version.
Installation and Operation of SEO Plugin Mangools
It is straightforward with this plugin. Just install it and register on its site after installation. After registering, go to your favourite site and click on the icon that appears at your browser's top right.
Main Uses of Mangools
Keyword tracking and competitor analysis
Link management and localization
 Ranking tracking, based on related keywords
Various Mangools Tools
With mangools, you can access SERPChecker, KWFinder, Link Miner, Keyword finder, and Site Profiler tools, making Mangool the right choice for some expensive SEO platforms.
Here we introduce five mangools tools:
KWFinder is a keyword research tool that website owners can use to find relevant keywords for their site or blog content, keywords with high search volume and low competition. Using the mangools plugin's keywords section, you can do up to five searches in 24 hours on the KWFinder site, typically a 24-hour search.
This tool is also a great alternative to Google Keyword Planner, as it provides accurate monthly searches along with many other useful metrics.
This tool's user interface is user-friendly and straightforward that visually displays data, and solves many keyword research process complexities.
Get started with KWFinder:
To get started with KWFinder, go to its website and create your free account. A free account will allow you to have three keyword searches and three SERP searches per day, and you will receive up to 50 keyword-related suggestions per search. To do more searches, you need to upgrade your account to one of the paid plans.
With KWFinder, you can research keywords very simple, and by entering your query in the search box, this tool starts working.
Find your keywords with KWFinder.
A simple search box lets you enter your keyword, select a specific language, and even restrict your results to a specific country or city. If you have a ready-made list of keywords, you can import it into KWFinder via a CSV file.
After entering the keyword and specifying the location and language, click "Analyze," and all your results will be displayed on the screen. This tool returns several thousand keywords related to the search volume, CPC, and keywords displayed on the dashboard's left side. You will also see SERP results with some valuable SEO metrics on the right.
Get a deeper look at your competition with the SERPCheker checker.
This feature allows users to browse websites that rank high for specific keywords in different parts of the world. Users can also check mobile keyword rankings.
If you want more information about Google SERPs, use the new SERP Checker tool (SERPChecker), which you can easily access through the KWFinder right panel.
When searching for a keyword, this tool lists visitors (clickable URLs with website names) and many SEO-related metrics, such as their respective domain reputation, page credit, MozRank of that URL. It will show external links, social sharing, and their ranked competitiveness. These criteria will help you understand what you are facing and, based on that, make an informed decision about choosing keywords for the purpose.
If the default criteria are not enough for you, you can customize this report by clicking on the criteria manager to select the criteria you want to see in your report. You can choose from more than 50 available criteria.
Another nice feature of this tool is the "snapshot," which allows you to see how search results appear on Google. Similar to working with KWFinder, you can export the results to a CSV file.
It helps users have good keyword ranking analysis.
SERPWatcher by Mangools is a powerful SEO tool that lets you track the SERP for your business. You can use it to check your daily rankings in seconds. SERPWatcher is one of the simplest ranking tools to help you understand how to master search results well.
This is a user-friendly tool, and you can get started in just a few minutes. Add your website, select the location you want to track, select the operating system (desktop or mobile), and then enter your keywords.
In the SERPWatcher report, you get an accurate picture of how your website performs in the SERP. This ranking shows you keywords, position changes, average position, best position, search volume, and visitor estimate per month.
You can also view your site performance index, estimated views, keyword distribution, and position flow.
SERPWatcher lets you receive daily ranking updates via email alerts. This will help you be aware of any changes that may occur in the SERP and act quickly.
The best part about SERPWatcher is that you can use it to pick a new keyword and see how relevant it can be to your site.
This tool helps you connect with other people who have the same activity field to control your target users.
This tool helps users analyze competitive links and find more opportunities to link. You can export a complete list of broken links to CSV with just one click, which includes information about status code, link type, and more.
It also checks the HTTP status of all links on the current webpage. All broken links (404) are red after checking. This tool is a useful tool for finding broken links.
If you find the number of broken links on a page with LinkMiner, import them into CSV, paste the entire list into the Ahrefs batch analysis tool, and sort the referral domain column (top-down).
SiteProfiles is another useful SEO tool that gives you many possibilities, including finding your keyword position. It also gives users a good idea of ​​the competitors' websites to accurately analyze their trends.
After introducing the domain to this tool, you will be asked a few items that you must specify, such as:
Search range
Search engine priority
Language and country
City (if you want to apply local search ranking)
Keywords
Specific searches such as video, image, AMP rankings, local, and so on
You have to know that the result of evaluating keywords and ranking them in the SEOprofiler tool is excellent and comprehensive and includes the following information and items:
Specific information about the keyword, the number of searches, the keyword's difficulty, the current ranking of the keyword in question, where your site is searched (for example, video, news, etc.), and the ranking of your competitors in the keyword.
Cons of the Mangools Plugin
Does not provide a dashboard for customers.
Its database is not as extensive as other SEO tools.
Each of these tools is available for free to 3 searches every 24 hours. SERPChecker can help you find and analyze keywords in the areas you need and relative to global competitors. Increase the number of searches available to 100 or 500 by purchasing the paid version.
To find information and the latest keywords, three options will be available to you in this tool:
1. Suggestions: This tool uses this function to search for similar phrases, themes, and combinations. With over 260 million keywords, the Mangools database also provides necessary information.
2. Autocomplete: This tool uses Google's auto-completion feature in this type of search. Expands the search phrase with different letters or words and suggests new terms at the same time.
3. Questions: This option, like the previous option, shows the main phrases and the question words, which will be very helpful to find the best results.
You can also narrow down your analytics by looking at user behaviour from a specific country or city or doing your research in a particular language.
Mangools Prices
First of all, it is better to know that the price of mangools is very reasonable compared to other search tools. As mentioned, by purchasing Mangools, you will have access to 5 keyword search tools. Isn't it worth it to use these facilities for only $ 30 a month? It is your decision…
Mangools has three different plans:
First plan: Mangools Basic
You have to pay $29.90 per month to use this plan.
This program is suitable for beginners who have just entered their work.
In this plan, you have access to all five tools mentioned above.
Second plan: Mangools Premium
You have to pay $39.90 per month to use this plan.
We offer you to buy a premium design, which is only $ 10 more than the previous plan but offers more worth buying features.
This plan is useful for bloggers and affiliate marketers.
In this plan, you have access to all five tools mentioned above.
Third Plan: Mangools Agency
You have to pay $79.90 per month to use this plan.
If you have an independent agency, this plan is for you.
In this plan, it is possible to use all five tools.
In the picture, you can see some of the features of each of these designs. As you can see, the difference between the three Mangools schemes is in the number of credits allowed to use each of the five tools.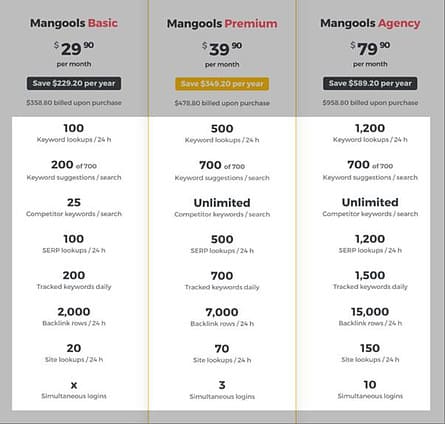 Conclusion
Mangools offers a package of many powerful features and is very easy to use. If you are producing content for the web, researching long keywords is part of your day-to-day work, and this tool can make the process more efficient and take much less time.
If you use keyword research tools, we look forward to hearing from you about your experiences working with various keyword research tools and whether you had the opportunity to try Mangools.
Did you enjoy this article about Mangools? There are more blog posts to come – stay tuned. Take care.
JeannetteZ
I would love to hear from you. Please leave me your questions, experiences, remarks, and/or suggestions about this Mangools review in the comments section below. You can also reach me via email at Jeannette@WorkFromAnywhereInTheWorld.com.
You might also enjoy these blog posts:
Canva Review – The Number One Tool In Graphics Design
An Honest Wealthy Affiliate Review
You might also want to check out my personal product recommendations.