9 Best Must Use Google Chrome Extensions For Bloggers


Introduction To Our 9 Must Use Google Chrome Extensions for Bloggers
Blogging or running a website is a tough and challenging job. It includes tons of tasks to make the website successful. One key parameter that serves as the strength of a website is the web browser. Although various users have their preferences, finding a browser equal to Google Chrome is difficult.
Chrome is being used globally because of its speed, tab management, design, and extensibility. Google Chrome extensions can lift your productivity. There are thousands of apps and extensions (most of them are free) for download in the Chrome Web Store. Once you download a plugin or extension, the icon of that tool will appear at the top right of your screen. You can access any of these extensions with a click on a button.
Here are 9 must-use Google Chrome extensions for bloggers:
1. SEOquake
The SEOquake Chrome extension is a simple to use and free browser plugin that supplies practical SEO metrics for your webpages.
It enables you to:
Survey the whole key metrics instantly
Receive a complete analysis of SERPs and export the outcomes in CSV format
Determine keyword difficulties immediately
Arrange frameworks for a search question
Run a thorough SEO audit of a page, covering a search for mobile compatibility
Examination of social statistics for Google+ and Facebook
Utilize a broad selection of default parameters or make a custom group of items
Obtain a complete report for internal and external links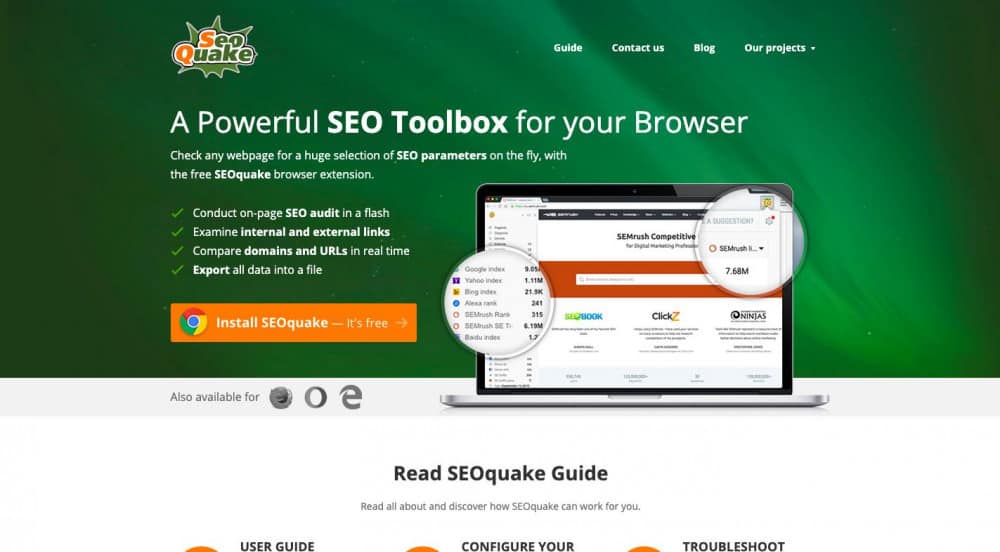 2. Grammarly
Grammatical mistakes on your web content will ruin your credibility. Grammatical errors are often unforgivable. It would help if you had the  Grammarly  Chrome extension to prevent such destructive experiences on your web page.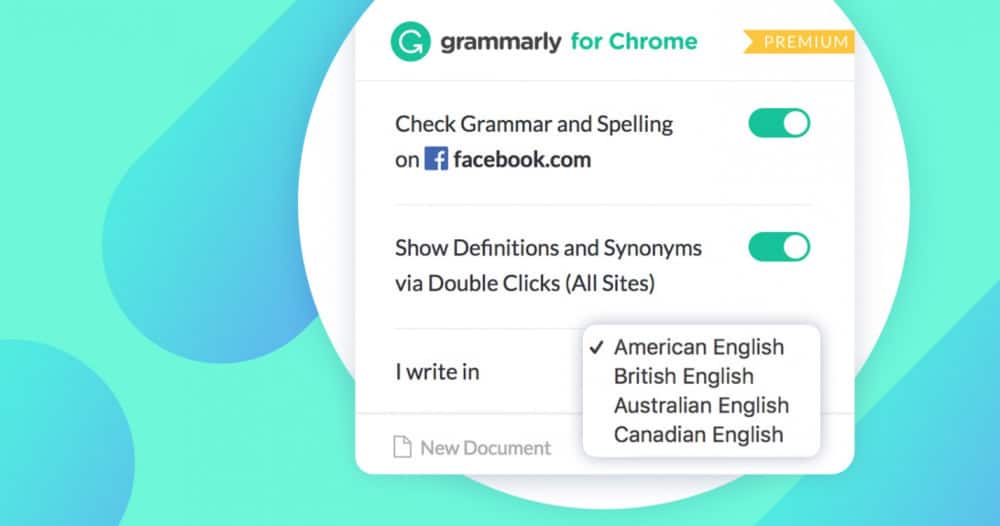 Everyone is likely to make mistakes, regardless of how good their language skills are. Grammarly scans your text and checks its spelling and grammar. In short, it helps you to improve your English writing.
From spelling and grammar to tone and style, Grammarly assists you in getting rid of writing errors. You will receive real-time feedback from Grammarly on Google Docs, Gmail, LinkedIn, Twitter, and other social media you use to write in. Grammarly is a writing service that provides you particular suggestions beyond grammar to enhance your writing. You can be sure that your writing is correct, clear, and concise.
Grammarly will assist you in fixing spelling, grammar, and punctuation errors. It also assists you in revising text that is grammatically correct but unclear and wordy.
It is compatible with the text fields on most websites, such as Facebook, Gmail, Twitter, Google Docs, WordPress, LinkedIn, and tons of others. After you add Grammarly to Chrome, you will see writing suggestions as you type.
Writers, students, bloggers, business professionals, and millions of people who desire to write better rely on Grammarly to help them do their best work.
Grammarly Premium provides you with complete feedback to help you experience the highest standards. Its suggestions improve your text by rewriting your sentence to elevate your clarity, tone adjustments, word choice enhancements, etc.
3. Hunter: The Email Finder Chrome Extension
To grow your blog, you need to reach out to other bloggers and connect with them.
The Hunter Chrome extension allows you to quickly find the email addresses of the websites you are browsing. It is a free tool and needs a free account to provide 25 searches per month. It can be upgraded for more email searches.
Using the Hunter Chrome extension, you will be able to find who to contact while visiting a website instantly. In addition to email addresses, you can obtain the job title, names, phone numbers, and social networks.
If you know the name of the person you like to contact, type it in the search field. Its email address will be returned immediately, accompanied by a confidence score and sources.
If you are reading an article, you can run Hunter's extension to find the writer's email address and name.
To build a list, click the "+" next to a person to save it to a list. You may send emails to the list or synchronize them with HubSpot, Zoho, Salesforce, Pipedrive, and tons of other applications and CRMs.
Hunter, which used to be called Email Hunter, is being used by marketers, bloggers, salespeople, reporters, recruiters, and a significant number of professionals who demand to reach out.

4. Awesome Screenshot
The Awesome Screenshot Chrome extension allows you to capture screenshots from part of a web page or an entire page. This is a powerful tool, which millions of users chose for screen sharing. There is a two-tab popup menu that enables you to shift from screen capture to screen recording easily.
Do you want to share your screen for situations like making a product demo, reporting a technical issue, or how-to tutorials? The Awesome Screenshot Chrome extension is the right choice. Put the Record tab as your primary tab in Options and record when required.
Using this tool, you will record your current tab, Desktop, or Camera only. By turning the Microphone option on, you can include your voice in the recording. Embedding the webcam, you will also be able to include your face in the video. There is an option to choose video dimensions (720p, 1080p, or 4K).
Once you complete the recording, you will immediately receive a shareable link to the video. This tool may easily share the recorded video to Slack, Asana, Trello, Jira, and GitHub. The uploaded video has the ability to download in MP4 or WebM format. You can save it on your local disk.
If you prefer to capture web pages as images, you can arrange the Capture tab as the primary tab.
Using the Awesome Screenshot Chrome extension, you can take a full page, visible part, or selected area screenshot of your visiting page.
With this amazing tool, you will be able to crop or resize a screenshot to the desired size. You can even annotate the screenshot with circles, rectangles, lines, arrows, etc. Additionally, you may add text to the screenshot with or without change in font size and text font, background colour. You can dim sensitive data on the screenshot. Highlight fundamental parts on your screenshot. You also can select an image or copy/paste an image from your clipboard to annotate.
The screenshot can be downloaded as a PDF or save as an image in JPG or PNG format. After you save the screenshot to your Awesome Screenshot account, you will immediately receive a shareable link. You can send the screenshot to Slack, Asana, Trello, Jira, and GitHub. For quick pasting, copy the screenshot while capturing the selected part.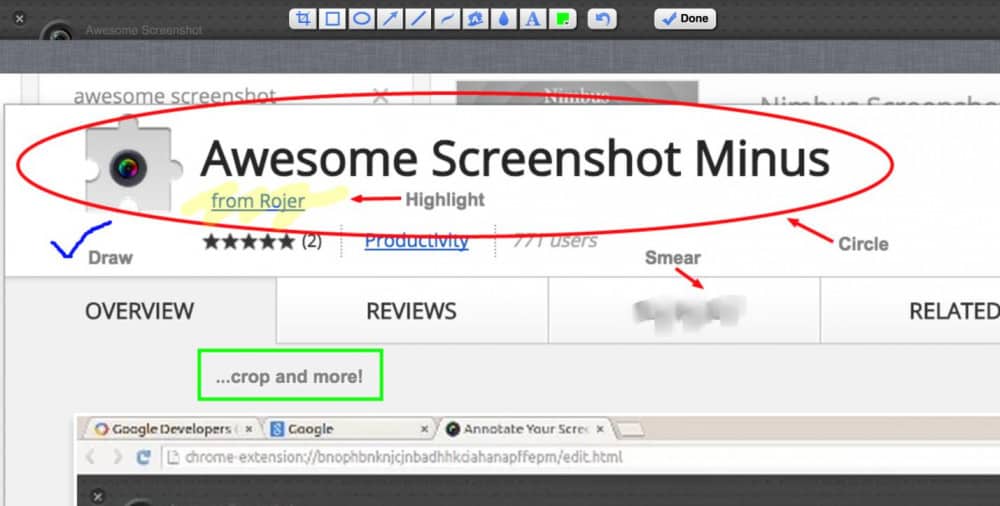 5. MozBar
In case you are trying to learn SEO, you should visit MOZ.com. The MozBar Chrome extension is produced by Moz and is a free all-in-one SEO toolbar. When visiting any page or SERP, MozBar provides you with instant metrics.
By utilizing MozBar, you can make custom searches by region, country, city, or engine. You can estimate the Domain Authority and Page Authority of any page or site quickly. When viewing SERP, you can compare link metrics between pages. And you can export the search engine results page or SERP analysis details to a CSV file.
By subscribing to Moz Pro, you will have access to MozBar Premium features such as Keyword Difficulty, Page Optimization, and more metrics.

6. Save to Pocket
If you are searching for a tool on your Google Chrome to save videos and articles for later, you need to install  Pocket.
Pocket's Chrome extension is the fastest and easiest way to take videos, articles, and anything else you see on the internet.
You can save contents in three different approaches: click on the button in the toolbar; select "Save to Pocket" after right-clicking on a link; use keyboard shortcuts (Ctrl+Shift+P for widows and Command+Shift+P for Mac).
By seeing a list of related stories for the content you save, you can discover relevant content. You can add tags to sort, order, and find stories.
With this tool, you can save anything that seems interesting to you (such as images, articles, links, and videos) and come back to them when you are ready. Take articles from The New York Times, news from Buzzfeed, long reads from Washington Post, stories from Flipboard, and Pinterest recipes. You can save links from Twitter, memes from Reddit, and videos from YouTube. When you are ready, you can read your interesting contents directly in the Pocket's calm and focused environment.
For custom fonts, unlimited highlighting, a permanent library, and more use Pocket Premium. You can even be listening to articles while travelling.
7. LinkMiner
Find broken links on any web pages is a pain in the neck! The LinkMiner Chrome extension can rescue you from that.
This free, simple tool will check web pages for broken links and draws metrics on those links. When you want to use it, you are just required to click the icon in the toolbar, and it shows broken links on the page with red background.
You can also use the LinkMiner chrome extension to discover how many external or total links are on the page you are visiting.

You can also use LinkMiner to discover how many external or total links are on the page you are visiting.
8. ColorZilla
Once turning to one of the most downloaded extensions for Mozilla Firefox, ColorZilla
with over 5 million downloads is finally available as a chrome extension in the Google Chrome Web Store for users utilizing the Google browser.
This great chrome extension includes a broad range of colour-matching and colour-picking tools, which are outstanding for customizing your browser. From any part of your browser, you can obtain a colour reading using ColorZilla.
This chrome extension has an eyedropper icon that provides you with accessibility to numerous options such as zoom, making custom colour palettes, identifying colour codes, keyboard shortcuts, auto copy selected colours to clipboard and more features on web pages.
9. Google Dictionary
By installing and using the Google Dictionary Chrome extension, you do not need to search online dictionaries anymore. It is super easy. You need to install the extension, and wherever on the web content you come across a new world you would like to know the meaning, you need to double click on the word. Here you are, a tooltip will appear, showing the word's dictionary definition. You also can save a history of all the words you search for meaning and access them later, assisting you to make a better vocabulary during the time. You may be able to download this history as a CSV file at any time.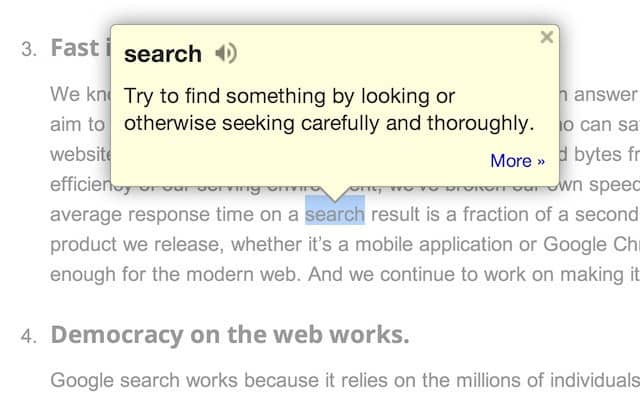 If you choose a language, a Google dictionary will automatically translate foreign words to your chosen language. Supported dictionaries are included English (UK & US), French, German, Italian, Spanish, Dutch, Turkish, Slovak, Russian, Korean, Chinees (traditional and simplified), Japanese, Hindi, Czech, Brazilian Portuguese, and Arabic.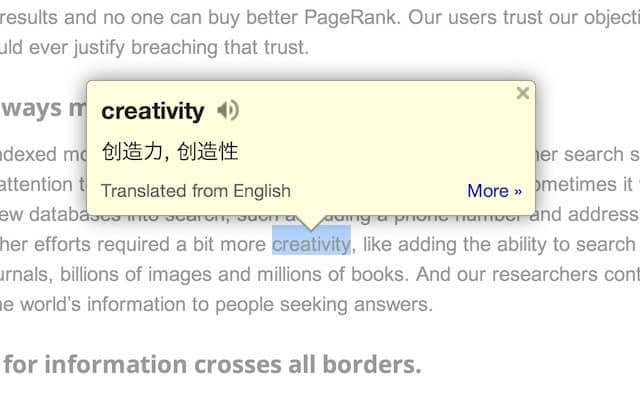 Conclusion
To wrap up, in this article, we introduced you to 9 Google Chrome extensions, which are a must use for bloggers:
SEOquake
Grammarly
Hunter
Awesome Screenshot
MozBar
Save to Pocket
LinkMiner
ColorZilla
Google Dictionary
There are tons of Google Chrome extensions available for download from the chrome web store. Most of them are free, which can be handy for bloggers, but it is impossible to cover all of them here.
JeannetteZ
I would love to hear from you. Please leave me your questions, experiences, remarks, and/or suggestions about Google Chrome extensions in the comments below. You can also email me at Jeannette@WorkFromAnywhereInTheWorld.com.
You might also enjoy these blog posts:
An Honest Wealthy Affiliate Review