How To Use Google Keyword Planner To Succeed In SEO

Introduction To How To Use The Google Keyword Planner
Being successful in the SEO strategy and getting more traffic from Google demands rigid keyword research. Fortunately, there is a tool produced by Google Ads that enables you to do that. Google Keyword Planner is a combination of two former popular Google Ads tools, the Google Keyword Tool and the AdWords Traffic Estimator.
People around the world do millions of searches every day through Google alone. You need to know what the users are searching for, related to your business or the products you sell, and build your strategy around this. In fact, you need to know about the keywords people use in their searches and then use those keywords to optimize your content.
Discovering the right keyword is not about creativity or intelligence. It is a matter of access to real data, so you can consciously decide which keywords fit better for you to pursue.
In the present article, you will learn why you will be using the Google Keyword Planner to elevate your traffic or enhance your SEO. Here we also will talk about what exactly the Keyword Planner is and how it works. Let's start!
The Keyword Planner tool helps you create strong keyword lists and assist you in starting your PPC campaign. This free feature of Google Ads has tools for creating keyword ideas and bid estimations, helping you design your marketing strategy.
After you learn the basic concepts of the Ads Keyword Planner, you can adopt numerous strategies to assist you in elevating your campaign to the next level with the help of this Keyword Planner.
Step 1: How To Access The Google Keyword Planner
This Keyword Planner tool is totally free to use. You are just required to have a Google account. In case you do not have an account, you can create one easily: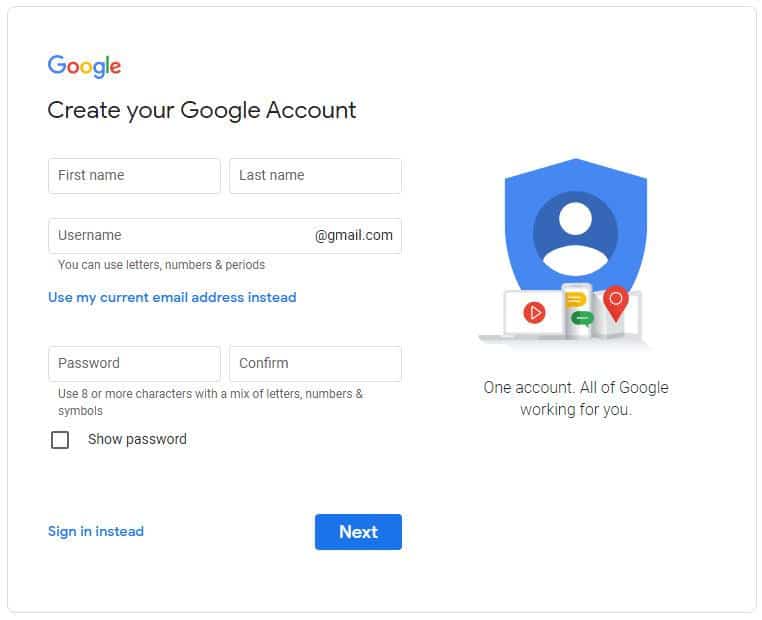 While you try to access the Keyword Planner, Google Ads sometimes asks you to set up an AdWords campaign:

You can jump off this step without paying any money!
First, connect to your Google account and click on "Go to Keyword Planner."
In the following window, do not choose any of the three options. Instead, click on the link below: "Experienced with Google Ads?"

Then press the "Create an account without a campaign" link.
Then press the "submit" on the next page.
This screen will then appear:
Once you press the "Explore your account," you need to click the wrench icon on the menu bar and press "Switch to expert mode.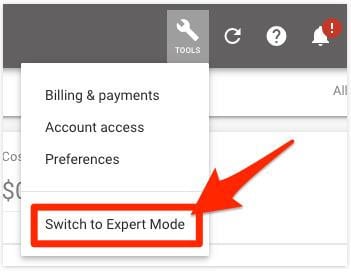 Press the "Tool" on the menu again, and the link to the Keyword Planner will appear:
Congratulations! You made it!
Step 2: How To Use The Google Keyword Planner
1. Basic Filtering
While using the Keyword Planner, you will be provided with four options as follows:
Search for new keywords: Enables you to write a word, phrase, category, or website to create new ideas.

Multiple keywords list: Merges two sheets of lists that you will insert to build fresh keyword combinations.
Get search volume and trends: Displays currently popular discussion and search volume data of keywords.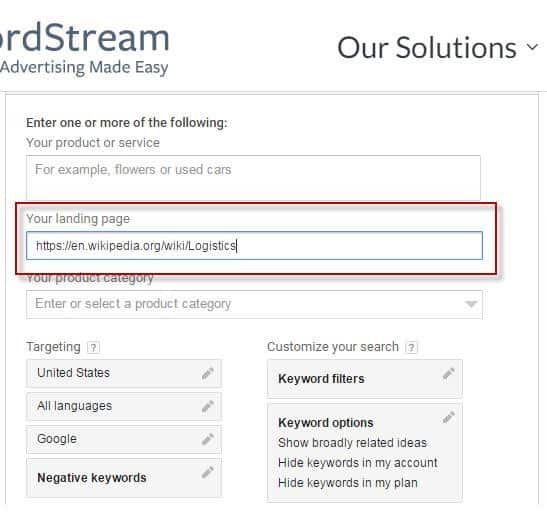 Get click and cost performance forecasts:
Your budget and average bids will give you performance projections for your keyword lists.
After you insert keywords into one of these choices, you will receive a report or list which is filterable according to various elements:
If a keyword has a high search volume in a given area or nation, you can filter the location to assist you in deciding if it is a common and related word in your local area.

Location: According to geography, it will provide you with volume data and trends.
Language: According to language, it will provide you with volume data and trends. In case you have web pages in multiple language versions, this will come in handy.
Search Network: Diagnose the origination of data.
Negative Keywords: Prevents those phrases or words you do not desire to see in the results. For example, if you do not like to end up anything with the words "expensive" or "pricey," you can enter those restrictions.

Date Range
When you insert a specific date range into the Keyword Planner, you will find average monthly searches in that period. It also provides you with the ability to compare two different date ranges. Certain keywords have better performance during specific times of the year. The date range helps you decide your campaign timing.
Keyword Filter
Average Monthly Searches: You can put filters on keywords according to average monthly searches for selected dates. It is hard to compete for keywords with very high search volume, commonly more than 10,000 averages per month, with a higher suggested bid. If you are launching your campaign, you will be encouraged to focus on keywords with mid-level search volume instead of spending a high amount of money on too few keywords.
Suggested Bid: This feature enables you to observe keyword alternatives, which may assist you in controlling your budget better. Your offered bid will be calculated by considering the CPC (cost-per-click) that other advertisers pay for keywords with a similar location you have selected.
Ad Impression Share: The number of times individuals will display your advertisement, divided by the absolute number of searches accorded with your keyword precisely during the recent month for your selected network and location.
Organic Impression Share: This is the number of times a page from your website is viewed in a common, unpaid web search for a keyword. (It will be available only if you have joined your Google Analytics account to your Google Ads account.)
Organic Average Position: It will display how pages from your website rank in common, unpaid searches relative to pages from other websites. (It will be available only if you have joined your Google Analytics account to your Google Ads account.)
Competition: It allows you to filter on keywords via how hard it will be to obtain a top position with them. You may be able to put filters by low, medium, and great difficulty. It is commonly advised to filter by medium to low difficulty in small businesses since these regularly have a lower suggested bid so that you can save your money.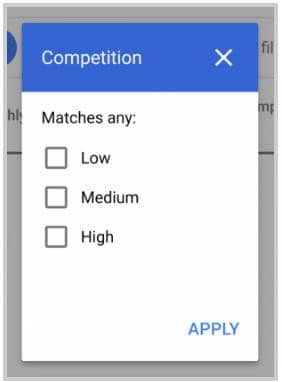 Keywords Results Page
Keyword Options
You will then narrow your search to display only keywords near your search keywords, phrases, or contents. The aim of filters, however, is to reduce your keyword report or list. Keep in mind not to put too many limitations. Start with applying one or no filters, and check out the filters to avoid ignoring any opportunities. When you start to know the keywords in your business and the filtering options available, you will find which options work better.
Now you get familiar with the Keyword Planner basics, and it is time to go further and use the most of it.
2. Quality Keywords Instead Of Quantity Of Keywords
Are you struggling with finding keywords that are relevant to your business? The Keyword Planner will assist you in finding new phrases and terms the possible customers are utilizing to search for a business like yours. This tool enables you to see Google-recommended keywords produced by:
Keywords: Write phrases or words related to your website or job that you have never considered before.
Landing Page: It enters a given page on your site, and the tool will scan the page and create related keywords.
Product Category: It will pick which product categories depict your job in the best way to find out common keywords frequently searched in your business. This Keyword Planner tool can assist you in recognizing keywords you may not have realized possible searchers are using to search for jobs like yours.
While checking the suggestions that the tool provided you with them, you need to remember that keywords with high search volume also have a lot of competition, caused elevating their suggested bid. Pick keywords that are logical for your campaign, and save your money.
3. Display Your Ads to Your Local Audiences
According to language or location, the Keyword Planner's filters enable you to personalize where your advertisements display. If your job has a physical storefront, this tool will come in handy, so you can hopefully reach more people around your location.
The Keyword Planner will help you recognize whether a keyword is relevant and popular in your region or not, while it can have high search volume in other areas. You can set your geographic area, and the Keyword Planner tool will display you the average monthly search trends, search volume, suggested bid, and more.
This also enables you to plan your campaigns around various languages. If you find that your company is popular among both English and German speakers, you can utilize the Google Ads keywords tool to assist you in discovering the most related keywords in each language; therefore, you can build divided ad groups to reach both audiences.
4. Get Ready For What Your Competitors Are Paying
The higher competition level for keywords can directly affect their prices. According to how many competitors are bidding on it, a certain keyword's completion level can be high, medium, and low. High-competition keywords are expensive. Using these keywords will make it harder and pricier for your advertisements to obtain a top-level viewing position.
Google Ads keyword tool will inform you through displaying what other advertisers are paying for keywords and will assist you in discovering effective keywords that match your budget. A suggested bid column is provided by the tool for a specific keyword that displays the average amount of paying to rank in a top-level position. With that, you may track which one of the relevant keywords is within your budget.
5. Check Your Plan To Save Your Budget
When you find out keywords with a reasonable chance of success, please press the button to the right of the column to add them to your keyword planner. This can permanently store your possible keywords. After the place of the keyword in your plan, you enable to set a bid maximum, daily budget, and location to get a precise forecast on the potential of the keywords you have picked.
When you reach a list of 10 to 20 keywords, press the Review Forecast button to show the estimated impressions, clicks, average position, and average conversion rate for your possible keywords. Therefore you enable to check if they are logical for your budget or not. Add new keywords and remove less relevant ones to have a refined list and use your budget in the best way.
The Disadvantages Of The Google Ads Keyword Planner
Like any other tool, the Google Ads Keyword Planner has its own pros and cons. It is about regular frustration for some users that they do not know how to cope with, and for others, it is about keyword research tools.
Although the average monthly search volume data is one of the most-used rows of data, it is not as precise as expected. This is because the tool is using rounding averages. To obtain accurate average search volumes, you should check out the recent 12 months' data and calculate an average yourself. The differences between these two numbers are significant!
This Keyword Planner tool utilizes "traffic buckets" to demonstrate average monthly search volumes. This means the number is based on where they fall into the closest bucket. When users want to use this data to decide, the value of the data is questionable.
Numerous users complain about the missed keywords and the opportunities that do not appear while searching with the tool. However, those are found later, through Google Search Console or the search terms report.
You were formerly allowed to filter results by "closely related ideas," however you can do it now by "broadly related ideas." The former was removed in 2019 and caused many users to get discouraged.
After all, it should be mentioned that the tool has various great features; the most important one is that the Google Keyword Planner tool is absolutely free to use.

Conclusion
The Google Ads Keyword Planner is a handy tool to do basic research for a successful PPC campaign. It is not important how big or small your company, business or website is. This tool will assists you in personalizing your keywords for more efficiency.
By using the right keyword, you will get the chance to reach a wide range of audiences.
The Google Ads Keyword Planner carries several tasks for building ad campaigns and ad groups. By integrating the keyword grouping, keyword selection, keyword analysis, and filtering aspects provide users with a more cohesive experience.
I hope you enjoyed this blog post, and it will help you in your business.
JeannetteZ
I would love to hear from you. Please leave me your questions, experiences, remarks, and/or suggestions about the Google Keyword Planner in the comments below. You can also reach me by email at Jeannette@WorkFromAnywhereInTheWorld.com.
You might also enjoy these blog posts:
An Honest Wealthy Affiliate Review