The Best Small Office Printer Scanner Copier

The Best Small Office Printer Scanner Copier
I recently started my own business as an affiliate marketer. A year later, we closed our "brick and mortar" business shop and office premises in the city and moved the office to our home. This meant that I would be working from home full-time. I realized that we have to update and improve our office equipment.
The question came up as to which is the best small office printer system for our application. Right now, we have a small 6-year-old HP Laserjet printer and 20+-year-old fax.
Our flatbed scanner is Windows XP compatible, and there are no drivers available for Windows 7 and/or 10. We were considering the following two options:
Inkjet vs. laser small office printers
Single units vs. an "all-in-one printing system."
Overview
Inkjet printing creates a digital image by dropping ink spots onto paper.
Laser printers produce digital images by scanning a laser beam across photoreceptors.
So which is better? It depends.
We've weighed out some pros and cons of inkjet vs. laser printers below to help you figure out which is the best printer for use in your home or small to medium-size business.
Thanks to easy availability and low start-up costs, most households today use inkjet printers for their everyday printing.
But laser printers — even colour models — are now becoming available at prices and sizes suitable for a home or small office. To figure out if you should make the jump to laser, you need to analyze your printer usage.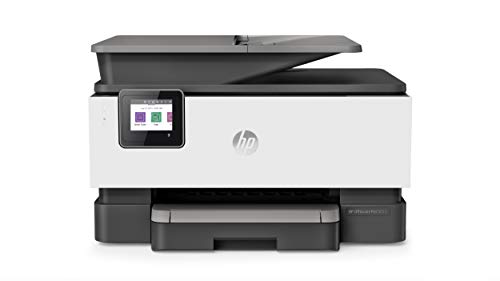 Inkjet Small Office Printers
Pros:
Inkjet small office printers are great for photos and image-heavy documents. They do a better job of blending smooth colours than laser printers.
Inkjet printers have a low start-up cost. Printers are less expensive than laser printers, and inkjet ink cartridges are cheaper than toner cartridges.
Inkjets can print onto many paper types, including glossy photo paper, textured stationery, and even some fabrics.
Almost no warm-up time is needed before printing.
Inkjet cartridges can be refilled and reused, cutting down on waste and saving money.
Inkjet printers tend to be smaller, lighter, and easier to maintain than laser printers.
Cons:
Some people say that "inkjet ink is more expensive than champagne."
Inkjet ink is water-based, so prints are susceptible to water damage and fading.
Ink cartridges need frequent cleaning. Although printers perform this maintenance automatically, it wastes lots of ink.
Inkjet printers are getting faster but are still very slow compared to laser printing. High volumes are a challenge with inkjets.
Some inkjet printers will produce gray, fuzzy text if printing on plain office paper.
Inkjet printers for home use have low-capacity paper trays of around 50-100 sheets. Output trays are nearly nonexistent. This might be a problem if you print a lot.
Last but not least: Inkjet printers have to be used regularly. Otherwise, the ink dries out and needs to be replaced.
Laser Small Office Printers
Pros:
Laser printers can print faster than inkjet printers. It won't matter much if you print a few pages simultaneously, but high-volume users will notice a huge difference.
Laser printers produce perfect sharp black text. If your print jobs are mostly in text format with occasional graphics, a laser unit is a way to go. Laser printers also handle small fonts and fine lines far better than inkjet.
Laser printers are better prepared to handle high-volume print jobs.
Price-by-price comparisons favour laser printers over inkjet printers for documents that aren't graphically complex. Although they're more expensive, laser toner cartridges print more sheets relative to their cost than inkjet cartridges and are less wasteful.
Cons:
Although laser printers work faster, they take time to warm up.
Even though toner is cheaper in the long run, upfront costs for laser printing are more.
Toner leaks are a nightmare.
Laser printers can't handle anything heat-sensitive a variety of paper or printing materials like inkjets.
Home laser printers can handle simple graphics, but smooth photographs are a challenge. If you want to print photos, go for an inkjet.
There are some compact laser printers on the market, but in general, laser printers are larger and heavier than their inkjet counterparts.
Single Unit vs An All-in-One System (Printer/Scanner/Copier)
Pros:
All-in-one small office printers are more comfortable to use for the average person since you only have one unit of learning how to use them.
One takes less space and therefore is less cumbersome than multiple machines.
The cost to buy an All-in-one small office printer system is considerably lower.
Also, you will only need one wifi and one power outlet to attach the printer to.
Cons:
The biggest issue is that if one part of the "multi-use" small office printer system is down, the other parts are not functioning any longer.
There is no use in buying an "all-in-one" system if you only need a printer. You can save yourself a bundle by purchasing a printer only.
Our Decision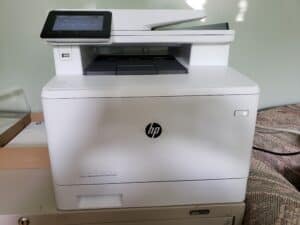 We chose the following small office printer: HP Laserjet Pro MFP477fdw all-in-one printer.
Update: The successor HP Laserjet Pro MFP479fdw is now available.
We do high volume printing regularly, i.e. O&M Manuals for our customers. Since we also have to copy and scan, we opted for an "all-in-one" home office printer system. It takes less space and is easier to use for our daily tasks.
Update: We have had this printer for almost 2 years, and I am pleased with its performance. I highly recommend this HP Laserjet Pro MFP477fdw, the predecessor to the
MFP479fdw, an all-in-one small office printer.
Please stay tuned for more articles on office equipment and supplies to come. Take care.
JeannetteZ
Your Opinion Is Important To Me
What is your experience with this or a similar small office printer? I would love to hear from you. Please leave me your questions, experiences, remarks, and/or suggestions about this or similar small office printers in the comments section below. You can also email me at Jeannette@WorkFromAnywhereInTheWorld.com.
Thank you and take care
JeannetteZ
You might also enjoy:
HP Laserjet Pro MFP479fdw Review
Home Office Filing Systems Made Easy And Organized
Maybe you are wondering how to make money from home during these challenging times:
Proven Ways To Earn Money From Home
How To Become A Successful Affiliate Marketing Step By Step
An Honest Wealthy Affiliate Review.
You might also want to check out my personal product recommendations.