How To Set Up Your First Home Office – 10 Neat Design Ideas

How To Set Up Your First Home Office – 10 Neat Design Ideas
I have been in the office workforce for more than 47 years, and it has been my dream to work from home for quite some time. In my eyes, there are huge advantages to working from home. You save time on commutes and money on gas, lunches, clothing, and in our case,  overhead cost for the business, i.e. rent, phone, hydro, gas, etc.
At the end of November 2019, we closed our offices and workshop in the city and moved the office to our home. We terminated our lease in July and gave the landlord our notice. Therefore, I had time to prepare our home office for the additional furniture, equipment, files, and office supplies.
In this blog post, I will show you how to set up your own first home office. I will be using my own office as an example, including some images of our home office.
You will be reading about  the following topics:
Choosing The Right Location In Your Home.
Choosing The Right Desk Or Table.
How To Select Ergonomic and comfortable seating.
Electronics you might want to invest in.
Storage Space For Books, Files And Utensils
Filing Systems – There Are Four Major Filing Systems
Supplies You Might Want To Keep On Hand
Add A Personal Touch To Your Home Office
Sufficient Lighting
Dedicated Space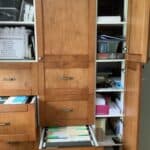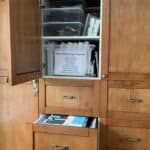 As you can see in the two images above, we replaced the common bedroom sliding door closet with built-in office cabinets.
The unit shown above contains drawers for legal and letter-size hanging files and lots of storage space for books and supplies. It is an amazing unit for our home office.
Here are 10 ideas on how to set up your first home office. These suggestions are based on my personal experience.
01. Choosing The Right Location In Your Home
Choosing the right location is very important. We chose a spare bedroom and converted it into a home office. It has a large south-facing window, and it has lots of natural light. It is upstairs outside of traffic and therefore a bit quieter. I can watch the deer with their fauns and birds while I am sitting at my desk. I also see beautiful trees, flowers and a green lawn. To me, this is paradise. I love working from my home office.
I am very fortunate that we have a spare bedroom to change into a home office. You might not have the space for a whole room for your own office. The following article will show you 27 ideas on how to create a small but stylish home office.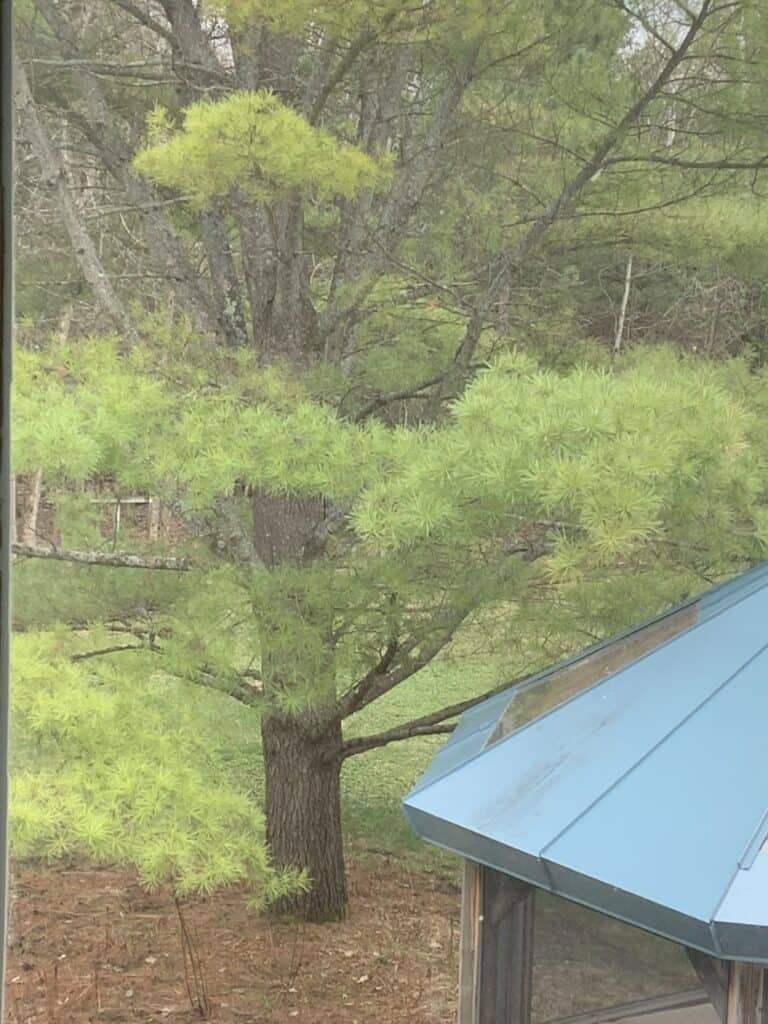 02. Choosing The Right Desk Or Table
We bought a large desk, which is good for two people and set it up in front of the South facing window. You might want to have your desk facing the door as an alternate. This way, you can see your visitors come in. Our desk has
A drawer for mouse and keyboard and a drawer for utensils (i.e. pens, pencils, rulers, paper clips, etc.)
It contains our desktop computer monitor as well as some nick-knacks (i.e. candles, crystals, and other personal items)
03. How To Choose Ergonomic And Comfortable Seating
I spend close to eight hours a day in my home office. Therefore, it is essential to invest in a comfortable and ergonomically perfect home office chair. We bought two excellent office chairs with adjustable heights, tilt, seat, and back positions.
04. Electronics You Might Want To Invest In
Desktop computer c/w keyboard, monitor and mouse. I prefer a cordless keyboard and mouse.
And/or laptop for when you travel. We have two laptops and two iPads which we use daily.
Internet including WiFi
Printer (wireless) c/w replacement cartridges. (Click here for The Best Small Office Printer)
1 or 2 surge protector power bars
Maybe a phone c/w an answering machine (we use our cell phones).
05. Storage Space For Books, Files And Utensils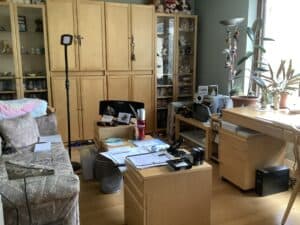 It is imperative to keep your office uncluttered and organized. You will need space for
 Books
Binders
File folders
Pens, pencils, rulers
Paper
etc.
06. Filing Systems – There Are Four Major Filing Systems
Alphabetic Filing
Alphabetic filing is the most common filing system for less than 5,000 records. According to dictionary order, filing by alphabetic order is a system where you arrange files by names of individuals, businesses, institutions, agencies, subjects, topics, or geographic locations.
This system is effective for client or customer name files. If filing subjects, use a relative index. The index is a list in alphabetical order of the topic names chosen to represent each subject. Reference the relative index to find out what topic name to file the record under.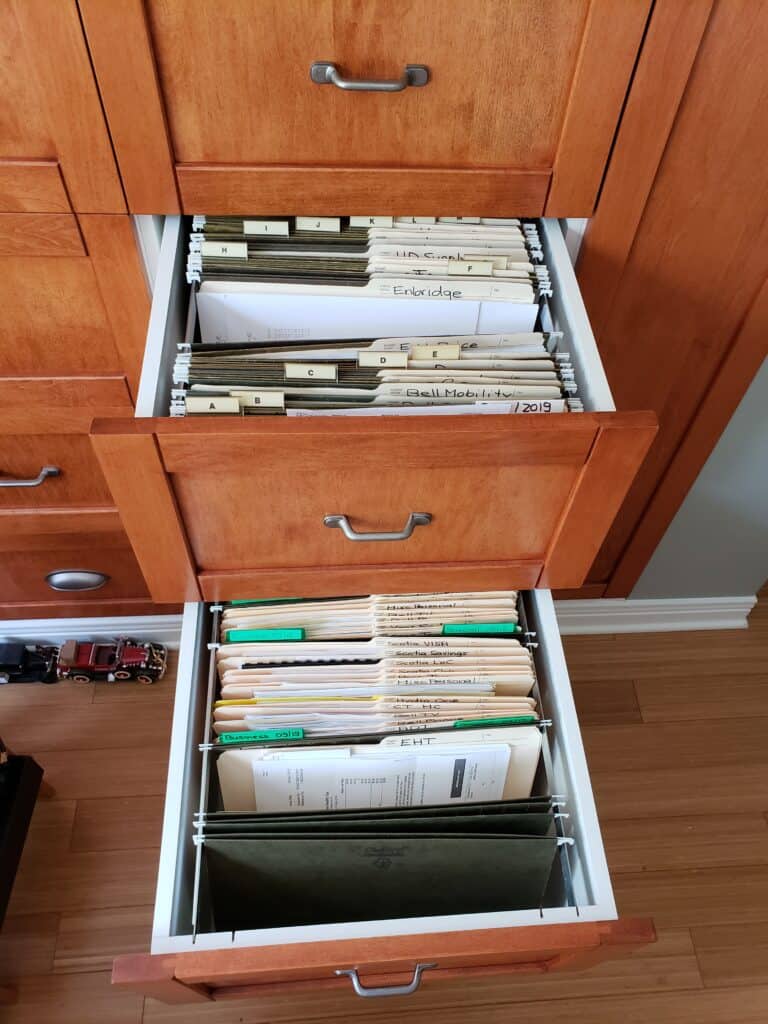 Numeric Filing
In setting up a numeric filing system, arrange files in sequential order using the numbers directly from the record or an assigned number. Most systems use an index to retrieve the files. A numerical filing system increases productivity due to the increased speed of filing and locating a file. It also provides accurate identification and allows for greater confidentiality. It is capable of infinite expansions, and you can use it for more than 5,000 records, unlike alphabetic filing systems.
Alpha-numeric Filing
Alpha-numeric filing uses a combination of names and numbers. You commonly use this type of filing system with subject names and numbers. Arrange files according to alphabetic divisions or subject heading, then by number category. It is necessary to use a relative index for alpha-numeric files. The index will list the number codes assigned to each alphabetic division.
Paperless Filing Systems
Paperless filing systems are becoming common for many businesses and homes. It solves the need for physical storage space and the problem of lost or misplaced information. A paperless filing system allows for shared access across multiple departments. Although shared access provides on-demand access to records, you can set user rights to view, edit, create or delete files to control access. Types of paperless filing systems include simple software programs, document servers and document management systems.
07. Supplies You Might Want To Keep On Hand
We live out in the countryside, so I make sure I always have enough of the following supplies on hand:
Pens and pencils c/w refills
Notepaper
Sticky notes
Printer paper (8 1/2 x 11) (A4 in Europe)
File folders and hanging files. I use both legal and letter sizes.
Binders if you are planning on using them (I do)
Black markers to write on file folders
Different colour highlighters
Paper and binder clips
Ruler(s)
Stapler c/w staples
Staple remover
A pair of scissors
A bulletin board with pins if you wish
08. Add A Personal Touch To Your Home Office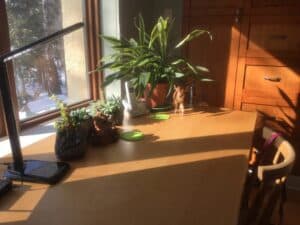 Use a touch of paint. Colours can have an incredible effect on energy, creativity and focus.
You can add blinds, especially for a South facing window. We chose the ones where you can still see out.
Add plants and/or flowers if you like.

I usually listen to instrumental music in my office. Therefore I have an iPod and CD player available.

Organic essential oils c/w a cold diffuser can affect energy, health & creativity.
09. Sufficient Lighting
Lighting is crucial in an office environment. It is vital when you read or do paperwork. It is not as crucial if you use computers, iPad, or smartphones. Here are some ideas for lights:
Natural light and sunlight are best for moral spirit and health.
Also, make sure your new office is well lit.
Use ceiling, floor, and wall lights as well as task lighting
10. Dedicated Space
In my opinion, it is crucial to use your home office for business only. Because watching TV and playing games in another room are proven to improve productivity in the long run. A home office should be used for business work only.
Conclusion
This blog post covered the most important furniture and utensils you need if working from your home office.
The most important decision for your home office is your location if you have a choice.
The desk should be in a bright location. You will also need excellent artificial lighting.
In your home office, you will need an ergonomically perfect office chair that has to be very comfortable, especially if you spend several hours sitting at your desk.
You must make your office a dedicated workspace. I suggest that you watch TV and play games in a different room. This way, you are more productive while you are in the office.
These are just some of the ideas on setting up your first home office, which I shared with you in this article. They are based on my personal 47+ office experience. They are very much expandable and adjustable to your own taste and needs. Enjoy your new office space.
JeannetteZ
Your Opinion Is Important To Me
I would love to hear from you. Please leave me your questions, experiences, remarks, and/or suggestions about how to set up your home office in the comments section below. You can also reach me by email at Jeannette@WorkFromAnywhereInTheWorld.com.
You might also enjoy the following articles on how to set up your own home office:
27 Ways On How To Create A Stylish Small Home Office
Tips To Choose The Right Home Office Furniture
How To Choose A Home Office Desk That's Right For You
Choosing The Best Office Chair
Best Office Paint Colours To Boost Productivity
5 Tips For Better Home Office Lighting
You might also enjoy the following blog posts on making money from home:
How To Make Extra Money At Home
Proven Ways To Earn Money From Home
Your Own Home Business – How To Build It In 9 Easy Steps
How To Get Started With Affiliate Marketing
Best Affiliate Micro-Niche Ideas