How To Build A Business Around Your Blog
How To Build A Business Around Your Blog
Building a company around your blog could be something you've been thinking about from the beginning. Alternatively, you may realize along the way of creating your blog posts that you can turn your blog into a company.
In any case, there are a few things to consider before and throughout the process of creating a blog-based business. If you want to start from the beginning, that is, if you don't already have a blog, I recommend reading how to create a blog. You'll discover advice on selecting a domain and hosting platform, as well as thinking about your audience and producing blog content.
Return here thereafter to learn how to turn your blog into a business. If you're already a blogger, continue reading. Building a company around your current blog might indicate that you already have a sizable following. You understand your target audience and have a blog community.
Here is information on creating and sustaining a blog community for individuals who have a blog but need to build one. Having a community, or at the very least an audience can greatly assist you in your efforts to develop a company around your blog. Not only will you know what your readers enjoy and how they behave, but you'll also have the (possible) clientele for your future company.
Make A Profit With Your Blog
There are many traditional methods to generate money from your blog. However, you may need a larger number of readers to really believe that you are making money. It's all about placing advertisements or utilizing affiliate links.
They may both be utilized for any sort of blog (social media, travel, fashion, tech etc.). You may find affiliate links a little confusing, but don't worry! Affiliate marketing is used by many different sorts of businesses.
A Company Based On Your Blog
Now we'll talk about how to turn your blog into a company. Perhaps you've already started running advertising on your site. Perhaps you've already experimented with affiliate links.
Seeing that people are reading your blog pieces on a regular basis encourages you to think larger. You've succeeded in building a blog community and a large number of social media followers. Perhaps you might turn your blog into a company.
Remember! Even before you start running advertising on your site or utilizing affiliate links, consult an attorney for legal advice. Those advertisements will earn you money. If you participate in affiliate programs, you may be required to report your earnings. In any case, making money on your own does not exempt you from paying taxes, so learn the legislation or get assistance.
A Business Strategy
In order to turn your blog into a company, you must approach it like one. A business plan is an initial stage in marketing and sales when starting a company. I recall college classes where we were taught about company strategies and what information to include.
They were a little frightening at the time, and you could be feeling the same way right now. The fact that it may hold a lot of data may make you feel overwhelmed. However, there are just a few questions that can help you figure out precisely how your company will operate.
What Should A Business Strategy Contain?
This business plan is divided into 8-10 sections. Each one addresses a different area of your future company.
1. Executive Summary
Goals,
Mission Statement,
Current Growth,
Products/Services
The first section of a business plan is just a quick evaluation of your company. The mission statement is just a summary of what your blog/business is all about. You may not have considered this when you first thought about starting a blog-based company. But what is your goal and why are you starting this company?
If you currently have a blog, you may incorporate Existing Growth. Explain how you got started and how your audience grew over time (in terms of followers, page views etc.). What were your advantages? You have the opportunity to highlight some brief thoughts about what you wish to market in the Products/Services section.
You might also indicate how you plan to market your items or services. The last section is about your objectives. What do you think the future holds for your blog? What do you hope to accomplish? These objectives are fairly broad, and they are readily mistaken with hopes.
SMART Objectives
The SMART Goals reflect a better set of objectives. Each of your objectives should be smart. The term SMART refers for:
Specific – Rather than expressing, "I want to generate money from my company," be more specific: "I want to earn $5000 per month by selling training courses."
Quantifiable – Each of your objectives should be measurable. How else would you know whether or not you're on the correct track?
Attainable – Consider how much you'll have to put into your goal to make it a reality. If you're not happy with the amount of time or money (or any other resource) you'll be investing, it's not a goal for you. It will only disappoint you if you keep striving to accomplish it and failing.
Imagine you've accomplished your aim. Will the outcomes be useful to you? Do you truly want to be famous and run your own company?
Timely – Ensure that your objective is specified by a precise time frame. Do not give it too much or too little time. Consider a time frame that will assist you in achieving that objective. Otherwise, you can end your self by putting it off.
Describe Your Company
Company Name.
Your Individuality.
Brand Individuality.
This is where you put your company's name and other legal information (such as whether it's a corporation or not). It's becoming more difficult to come up with an original concept these days. There are few domains where this is possible, but blogging has been around for a long time.
The number of bloggers has increased as a result of the creation of all of these social media platforms and forums. This, however, should not deter you. Each blogger has a distinct voice and a certain aim in mind. Begin by considering what you want to provide as a product or service. Or what sets your products/services apart from those offered by other blogs.
You may include information about the industry, such as trends if it is a popular industry, and what makes it popular. Mention what your company's strengths could be. Include some thoughts for your brand's future personality.
Consider how you want people to feel when they read your blog posts or use your product/service. Describe this brand's personality in a few words. Perhaps you could make it reflect your own individuality. To increase your chances of success, try to make it stand out from the crowd.
The Possibility
This section should describe the issue you encountered and how you intend to address it. Of course, with your product or service. To be explicit, a difficulty might refer to a gap in the sector, such as a lack of training courses on a certain topic.
Your future company will provide training classes on that subject, thus you will be fixing a problem. You could stumble into this chance or you might have to search for it. It will undoubtedly need additional research and analysis. You want to make sure that your future blog-based company succeeds.
The Business
That is why you should discuss the field you are entering. Are there any obstacles that could prevent you from entering? How are the clients behaving? Is there a similar service or product to yours? You should answer a lot of questions like these in order to be certain about what you're going to produce. There might be other bloggers that provide the same product or service as you. However, you must consider how they are providing it. Then consider what more you can provide. Where can you make improvements (resulting in a better product/service)? Analyzing your competition takes extensive investigation. You must examine every area of their blog/business. This includes:
identification;
promotion tactics;
their target market;
pricing ranges; and
strengths and limitations.
You may also compare and contrast your competitors. This will give you a better understanding of what you can provide.
The Marketplace
Your target market is everything. Try to get a comprehensive sense of the whole market: how large it is, how rapidly it is developing, and how customer tastes and trends are changing. After that, if you already have a popular blog, you may utilize that audience or community to determine the qualities of your readers.
However, you must do more study on your prospective product. It ties up with the other two principles I mentioned before. Especially with regards to the Opportunity section. Perhaps you've identified a need in the market, but do customers actually desire a solution?
Use surveys regardless of whether you already have an audience (which has to be correctly done, in order to be relevant). Inquire among your family, friends, and acquaintances. The survey should be brief, yet include enough precise questions. The simplest to use is Google Forms (and free). There are other options, such as SurveyMonkey or Typeform.
Strategies
You've documented all of your research and observations on your potential company. Now it's your turn to describe how you'll approach each section. What techniques will you use to turn your blog into a business? This is the section where you'll describe if you'll target a large or specialized audience.
It is here that you describe how you intend to succeed in the market. Your tactics may be both offline and online. Start with the one that benefits you the most, depending on your product/service. After then, you may always consider different approaches to overcoming.
Are You Tired Of Scams?
Management
If you're establishing this company from scratch, you'll be the only one performing the job. If you're going to employ a team, here is where you'll describe what each member will be doing. How will each team member contribute to the company's growth? A larger team will also need an organizational chart, which will depict the company's structure.
Marketing
This is where you should consider how you will sell your goods or services. This implies you should include information on the following:
why is it beneficial to your potential customers;
price/prices, including future sales and offers;
how to contact you;
selling channels (in this situation, your blog will most likely be the sole one);
advertising techniques (where and how).
Marketing is a broad term that encompasses more than just promotion. It contains a mixture of information on the items. Consider the four Ps: price, product, promotion, and location.
Financial And Operational Plans
Because the operational plan is something you can get rid of, I decided to merge the two. It relates to where and how your company will operate.
However, if you are the only one working on your company from the comfort of your own home, you won't have anything to write about.
In terms of the financial section, here is where you may describe how much money you'll need to spend on developing your product/service. Consider the following:
tools for making movies, eBooks, and advertisements;
paid aids;
hosting services;
survey and research tools;
and so on.
All of the above will educate you and provide you with a better understanding of how to develop a company around your blog. It will not be simple, but it is unavoidable.
Every company in the world devised a business strategy (even if it was simpler or more complex). The fundamental point of this strategy is to understand what you're doing. You don't want to put time and money on something that you believe would make you money but will turn out to be a mistake in the end.
Business Concepts For Your Blog
Because each site is unique, you must choose concepts that will work for you. Even so, establishing a business strategy is the first step in starting a blog-based company. That is why I decided to start with that knowledge.
Now let's look for some business ideas or products/services to offer on your site. I'm just going to discuss the concepts since your personal creativity requires practice as well. You'll be the one to find out how to adapt the following concepts to your own needs.
And, more crucially, if the following concepts are implemented (which they nearly always are), the business strategy will save the day. You'll need to research your rivals and your target demographic. Make it clear that you provide a better level of service or something that they won't get anyplace else.
Blogs About Technology
The same items described above may be used by tech bloggers. They might also include some one-on-one training sessions on how to utilize certain software. Coding might be another source of revenue for tech bloggers who are interested in teaching people how to code in different languages. There may be several programs for beginners, intermediate users, and experienced users here.
Blogs On Fitness
The fitness sector has grown in tandem with the cookery industry. That is, at least, how I perceive it. Becoming a personal fitness teacher, blogging, and sharing your expertise with the world has never been simpler. Oh, there are so many different activities and fitness routines to choose from!
This is not meant to terrify you. Remember how I mentioned your concept may already be taken? However, you will be able to provide a superior result if you know how to correctly perform your homework (analyze and investigate everything).
Blogs About Lifestyle
This sort of blog covers a wider range of topics. Being a lifestyle blogger entails being able to write about anything that occurs in your life (that is, of course, worth sharing with others).
Here are some business concepts:
Life Coaching;
Personal Decorator;
Personal Shopper.
Of course, leveraging affiliate links and working with other firms is easier for these sorts of sites. But I'm sure there are a lot of other bloggers out there that have fantastic ideas for starting their own company.
Blogs About Social Media Marketing
There are several offline and online marketing blogs to choose from. Some blogs concentrate on a single platform (YouTube, Pinterest, Instagram, and so on), while others cover a wide range of topics.
The majority of these blogs, or bloggers, begin by providing more in-depth material to their readers. Let's pretend someone owns a YouTube blog. That blogger may attempt to generate money by selling tips, eBooks, or courses that educate people on how to develop a successful YouTube channel.
Be Persistent And Patient
Remember that starting a profitable and long-lasting company does not happen overnight. You must have been constant in providing content for your company as long as you know you accomplished what you needed to do. Promote your company both naturally and via sponsored advertisements.
Every firm needs time to grow and establish roots. It might be weeks, months, or even years. However, perseverance will pay off. Of course, if you don't make any money after a while, you should reconsider your company tactics. Analyze your effort and development on a monthly basis to determine whether you're on the right track. You'll be able to react fast if anything goes wrong this way.
I trust you enjoyed this article about How To Build A Business Around Your Blog. Would you please stay tuned for more articles to come? Take care!
JeannetteZ
Want to Learn How to Build Your Own Home-Based Online Business & Start Making Money Online From Your Comfortable Couch?
Try Wealthy Affiliate!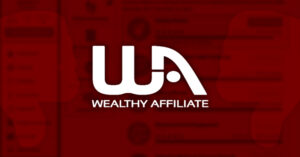 Your Opinion Is Important To Me
Thoughts? Ideas? Questions? I would love to hear from you. Please leave me your questions, experiences, remarks, and suggestions about How To Build A Business Around Your Blog in the comments below. You can also contact me by email at Jeannette@WorkFromAnywhereInTheWorld.com.
Disclosure
This post may contain affiliate links. As an Amazon Associate and other affiliate programs, I earn from qualifying purchases. Read my full affiliate disclosure.
You may also enjoy the following articles:
Wealthy Affiliate Review – Scam or Legit? The Truth Exposed
How To Create Digital Products That Sell
The Best Steps To Write Better Content
How To Make Money As A Freelance Writer
How To Do Content Marketing In 2022
How To Build Trust In Business Relationships