How To Make A Living Online
You've already heard the tale. Some obscure genius produces a phenomenal internet blog or business that revolutionizes the sector, earns them a fortune, and they're suddenly crisscrossing the world, having the time of their life.
You've definitely seen the pieces in big magazines, which generally start with a headline like "Man Quits Finance Job to Travel the World" and are accompanied by photographs of these people relaxing on a beach, drinking coffee, and working from a rooftop bar overlooking a sophisticated city.
However, although these tales are excellent at selling the goal, they neglect to mention that almost anybody can achieve it. You don't have to be a genius to pursue your passions and become location-independent.
All you need to do is establish objectives, make a strategy, and put in some effort. Now, we realize that version seems too simplistic — and it is. But don't worry: we'll walk you through the process of earning a livelihood online step by step. First, we'll assist you in determining where to begin.
The Beginning
When considering how to generate money online, it's easy to get overwhelmed by the many alternatives and scared by the numerous frauds and dangers available. The first thing you must do is put your emotions of fear aside.
Being location independent isn't simple, but it's also not as difficult as most people believe. Once you've mastered your thinking, you can go on to the first and most important issue in generating a business online: what services will you provide? Finding out what your abilities are and what skills or certifications you have is the simplest method to answer this question.
You can choose which sector or target market may benefit from your services after you've determined what value you have to provide. We'll go over a few things to keep in mind before starting, as well as the greatest methods to generate money online.
Identify And Qualify Potential Revenue Sources
Your abilities and expertise should allow you to adapt to a wide range of online jobs and sectors. You'll want to rank which ones will work best for you once you've discovered your greatest abilities and prospective professions or companies where you can use them.
Profit Margin Analysis
Some remote jobs and online engagements have extremely low-profit margins, which means you'll have to put in a lot more effort to earn a living. This is especially critical if you're selling anything.
Because you won't need to hire office space or equipment because you'll be working remotely, you'll be able to keep your overhead expenses low.
Before going ahead with your strategy, think about what items or services you want to market and examine any potential expenses, both monetarily and in terms of time.
Choose What You'll Sell
You must determine the worth of what you are delivering to the target market, whether you are selling yourself as a corporate asset or a product.
This also entails assessing the cost of your services before accepting any employment. If you're seeking a new clientele, be sure the items or services you're offering are worthwhile.
If you're a freelance writer, for example, you wouldn't want to create 1000-word pieces for $8 since you'll be putting in a lot of time and effort for little pay.
If you're looking for a quick buck, websites like Fiverr are wonderful, but make sure you price your services according to how much time and effort you'll be putting in. Otherwise, you risk shorting yourself.
Create A Scalable Company
You want to make sure that your job does not dominate your life while you build your location independent firm. The entire goal of the nomadic lifestyle is to break away from the rat race, so building a scalable internet company will allow you to expand your revenue without having to increase your time commitment.
You should also assess if your firm has the ability to generate passive revenue. The holy grail of web-based income and the itinerant lifestyle is passive income. So, what exactly is passive income? Simply, passive income is money earned without exerting significant effort.
It usually entails developing a product or service that can be offered again without requiring additional work for each transaction. Investing in the stock market, buying real estate, and publishing e-books are just a few examples. All of these activities, as well as others, may help you generate passive money and free up time to travel.
11 Online Money-Making Ideas
1. Offer Online Courses
You may utilize your skills to produce and offer online courses if you have a history in education or are an expert in a certain industry. You may offer courses directly on your website, or if you're afraid of setting up your own platform, you can utilize Teachable, which takes care of everything for you.
Teachable is an online platform with over 22,000 educators that can teach courses on topics ranging from graphic design to economics and investment. You may also make money by selling digital things like e-books or study manuals.
2. Work As A Freelance Graphic Designer
Design services are in high demand as the Internet continues to pervade every part of our life. To promote to wider audiences, firms must produce aesthetically beautiful websites and images such as logos and business cards as they migrate online.
You may start an internet company developing stunning pictures and websites for your customers if you know how to use web design tools like Webflow and design tools like PhotoShop.
3. Make Money Online
Previously, you had to sell items directly to local consumers, pay for television advertising to reach other areas, or invest a significant amount of money to build a distribution network big enough to reach customers.
Thanks to websites like Craigslist, eBay, and Etsy, you can now sell things from the comfort of your own home. You may transform your favorite pastime into a full-time profession as you develop a clientele and a strong reputation. You may make money online by putting up an online shop and selling both old and new things.
You may sell old clothes and tools on eBay to generate some extra cash, or you can look for flash bargains in your local shop and resale the products for a profit.
Unique, antique, and handcrafted things have a wide market, and Etsy is undoubtedly the best platform for purchasing and selling them. You may set up an Etsy shop to sell your items to an international audience if you know how to sew, create phone covers, or are a woodwork specialist.
4. Work As An Independent Writer
If you have exceptional writing and communication abilities, freelance writing is one of the simplest ways to generate money online. You may write anything from basic product descriptions to in-depth research studies and vibrant blog entries as a freelance writer.
You may work on your own schedule as a writer as long as you meet deadlines and regularly produce high-quality material. As you attract more customers, you may easily go from part-time to full-time, and the only thing you'll need is a laptop.
5. Influencer/Brand Ambassador
Brand ambassadors get money by recommending items from their favorite brands on social media. You'll need social media followers who are interested in the items given by the firm you'll represent if you want to be a brand ambassador. You'll be asked to share things on social media and give links to where people can buy them.
Only the most successful persons or those with a large following will be able to make this their primary occupation. However, if you have a high level of interaction and a sizable social media following, this is a terrific method to supplement your income.
To begin your journey as a brand ambassador, contact some of your favorite firms and pitch a prospective relationship by explaining why you would be a good match to represent them. If this is your first time, start with smaller, local businesses that are more likely to react to a new brand ambassador.
Are You Tired Of Scams?
6. Assistive Technology
You'll help clients with anything from data input to customer service as a virtual assistant. If you already work as an assistant or secretary, you may contact your manager and suggest that you make your present employment location independent. If not, there are websites like Zirtual that link businesses and professionals with virtual assistants. You may also use Upwork to discover customers for your services.
7. Create And Host A Podcast
Podcasts aren't lucrative on their own; you generate money by selling advertisements to your listeners. As a result, in order to generate money as a podcaster, you'll need to build an audience in order to attract sponsors.
However, you must first begin transmitting. You'll need to buy sound equipment (and maybe computer applications) to make and edit your podcasts in addition to having knowledge of a certain topic.
Once you've mastered the technical issues, you may concentrate on increasing your listenership. Having renowned guests on your podcast is one of the fastest methods to expand your audience.
Their audience will tune in, and if they like what they hear, they will tune in, again and again, to hear what you have to say.
8. Domain Names For Sale
Are you adept at predicting the next big thing before everyone else? If so, flipping domain names may be lucrative. The premise is that you purchase a website domain with the hopes of selling it to someone else in the future. While it's riskier than most of the other techniques we've discussed, it has the potential to pay off handsomely if you're excellent at it.
You may either purchase domain names that you believe will become famous in the future or attempt to capture a couple that is currently popular. Some purchasers may contact you directly when it's time to sell, or you might seek out folks you believe might be interested in your domain names.
9. YouTube
Since starting the careers of famous stars like Justin Bieber, Shawn Mendes, and Kate Upton, who were found on their YouTube channels, this moneymaker has shot to stardom.
It's not only for singers; the YouTube platform's versatility makes it suitable for a wide range of businesses. If you're a musician, you can upload videos of yourself playing an instrument or singing a song, but depending on your intended audience, you can also upload instructional videos, amusing skits, or daily trip vlogs.
10. Affiliate Marketing
You may earn money as an affiliate marketer if you have a website or are a social media influencer. As an affiliate marketer, you advertise things you like and get a reward when someone purchases them via your links. While it's tough to make a living as an affiliate marketer, if you have a huge following, you may still make a decent living.
Many large corporations, such as Amazon, Target, and Walmart, now have their own affiliate programs through which you may earn money. You only need to create an account and put affiliate links in your blog articles or promotional videos. Make sure you read the small print of your affiliate agreement since some provide gift cards while others pay through PayPal.
11. Blog
Many internet entrepreneurs begin their careers as bloggers or establish their own blogs to offer their knowledge. When it comes to blogging, you want to develop material that will attract visitors to your site so that you may sell your items or earn money via partnerships and affiliate marketing.
Concentrate your blog postings on a certain niche market and attempt to develop unique material. Once you've decided what you want to write about, find target keywords that people could use in search engines and tailor your content to those queries to improve your chances of getting discovered.
You may drive more visitors to your website by buying Google AdWords advertisements or promoting your content on free websites. If your site is visual, Pinterest is a terrific option. It's especially excellent for photography, cuisine, and beauty blogging.
Start Making Money Online Now
You may start earning money online right now if you use any of these suggestions. Others demand a bit more thought and preparation in order to grow or increase your revenue. You may pick one revenue stream or combine many of these ideas to get a larger and more diverse income.
There are hundreds of respectable methods to generate money online thanks to the Internet. Among the many resources available on the internet, our Location Indie community is committed to assisting you in pursuing your goals and developing your own location independence.
Hundreds of people just like you are part of our community, and they're seeking methods to generate money online or have already built remote enterprises that enable them to travel. You'll have access to a forum where you can ask questions, get answers, and get community updates and advice on living a location-independent lifestyle.
1. Begin DroppingShipping
Let's begin with one of the most common methods for making money online. Dropshipping's popularity is steadily expanding, according to Google Trends, demonstrating its feasibility as a means to generate money online.
There's plenty of evidence that dropshipping is a viable method to earn money online, with success stories like how an entrepreneur made $6,667 in eight weeks or how a shop owner made six figures selling just one product.
If you're unfamiliar with the term "dropshipping," it's a business model in which you sell a product to a client, but the supplier stores, packages, and delivers the goods on your behalf. With Shopify dropshipping, you may choose from millions of items to sell on your website. Some Shopify dropshipping applications enable you to hand-pick product photos, update item descriptions, and customize your company so that customers want to buy from you.
2. Attempt Print-On-Demand
Print-on-demand is also becoming more popular. To better monetize their creativity, graphic artists are turning to the business model to sell their designs on apparel and other things. They may generate a consistent and recognized brand for their company with their distinctive designs.
Print on demand is similar to dropshipping in that you don't have to keep inventory or send things out to clients. However, there are two minor distinctions.
To begin, you may add customized labels to packages, which will help your brand stand out.
Second, transportation expenses are significant, making it impossible to build a long-term company unless you charge higher rates or sell larger volumes.
However, outstanding suppliers in the United States, Canada, and Europe, such as Printify or Printful, can help you get started right away and realize your goal of starting your own clothing brand.
What's the greatest approach to profit from your print-on-demand business? Channels for free marketing Your best hope is to market your items for free on Instagram, Pinterest, or through Instagram influencers with high conversion rates.
Watch us engage in a good conversation with Wholesale Ted about the advantages and disadvantages of each business model to get a thorough understanding of print-on-demand versus dropshipping.
3. Profit Through Affiliate Marketing
One of the most common methods to generate money online is via affiliate marketing. Its popularity has risen and fallen over the years, but it remains to be a reliable method to earn money online. The wonderful thing about affiliate marketing is that you can work for almost any brand, from Shopify to Amazon to Uber to FabFitFun.
Affiliate marketing enables you to make money by advertising other people's products. You may earn a commission from purchases by marketing retail items, software, applications, and more if you're a skilled marketer.
While a little commission may seem insignificant, remember that you may be an affiliate for several businesses and use multiple affiliate links in a single blog article. If you truly want to earn money with affiliate marketing online, you should concentrate on content marketing.
By creating a blog with multiple pages of high-quality material, you effectively establish a valuable asset that you can call your own. The nice aspect of concentrating on content marketing is that if an affiliate program closes, you can swap your affiliate link to a rival without losing money from your side job.
I trust you enjoyed this article about How To Make A Living Online. Would you please stay tuned for more articles to come? Take care!
JeannetteZ
Want to Learn How to Build Your Own Home-Based Online Business & Start Making Money Online From Your Comfortable Couch?
Try Wealthy Affiliate!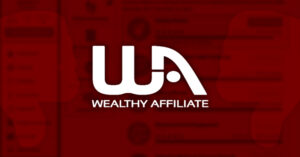 Your Opinion Is Important To Me
Thoughts? Ideas? Questions? I would love to hear from you. Please leave me your questions, experiences, remarks, and suggestions about How To Make A Living Online in the comments below. You can also contact me by email at Jeannette@WorkFromAnywhereInTheWorld.com.
Disclosure
This post may contain affiliate links. As an Amazon Associate and other affiliate programs, I earn from qualifying purchases. Read my full affiliate disclosure.
You may also enjoy the following articles:
Wealthy Affiliate Review – Scam or Legit? The Truth Exposed
How To Build A Business Around Your Blog
How To Create Digital Products That Sell
The Best Steps To Write Better Content
How To Make Money As A Freelance Writer
How To Do Content Marketing In 2022