15 Best Free & Paid Keyword Research Tools

Introduction To The 15 Best Keyword Research Tools
Whether you are looking to elevate your already existing webpage's ranking or launch a new website, keyword research tools – better to use free tools in the beginning – usually construct an essential part of an SEO strategy planned to enhance your site's organic traffic.
Your SEO strategy would be non-existent without keywords. There are plenty of free keyword research tools out there, which can help you easily go through the process.
Although it would be appealing to utilize strong paid keyword research tools, it is recommended to try some free tools first and in the next step, see if you plan to promote your digital marketing tools.
Some keyword research tools offer both paid and free features, and some tools are entirely free to use. In the current article, I plan to introduce you to 15 of the best free and paid keyword research tools that you should consider giving a try.
Although some paid keyword research tools provide you with more advantages and features, it does not mean that free tools are not top-notch keyword tools.
15 best free and paid keyword research tools:
1. Google Keyword Planner
2. AdWord & SEO Keyword Permutation Generator
3. Google Trends
4. Wordtracker Scout
5. Keyword Sheeter
6. Keyword Tool
7. SEMrush
8. Ubersuggest
9. Keyword In
10. Soovle
11. Google Search Console
12. Serpstat
13. Keyworddit
14. SpyFu
15. Bulk Keyword Generator
1. Google Keyword Planner
The Google Keyword Planner tool makes it easy for you to create strong keyword lists and help you build both website content and start your PPC campaign. This free feature of Google Ads has tools for creating keyword ideas, bid estimations, and alternative keywords to plan your marketing strategy.
The advantages of the Google Keyword Planner:
It provides accurate, real-time data straightly from Google search
Order keywords into lists according to various advertisement possibility, different campaigns, and more
100% free.
2. AdWord & SEO Keyword Permutation Generator
The AdWord & SEO Keyword Permutation Generator is a tool designed to assist you in discovering a variety of keywords. You can insert three lists of keywords in the boxes present at the top, and the generator combines the keywords you have listed in as numerous ways as possible to provide you with a range of combinations to pick from.
This can be the easiest keyword research tool in this list, yet a powerful one that enables you to build combinations for tons of keywords at a time.
The advantages of the AdWord & SEO Keyword Permutation Generator:
It has three boxes for keyword lists
Quick combination generation for hundreds of keywords
Various choices for displaying keyword combinations
100% free.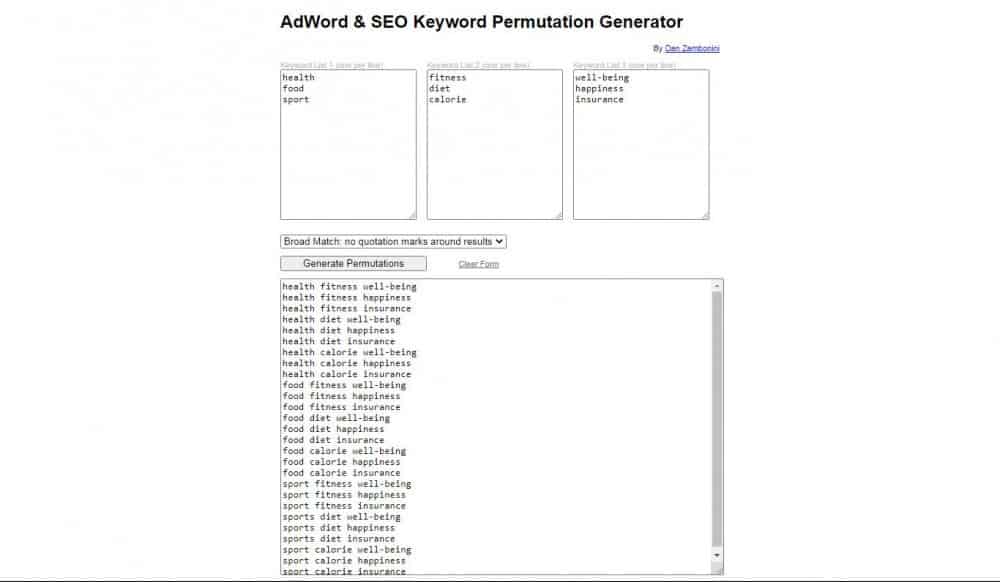 3. Google Trends
Google Trends enables you to check out the trending topics in different regions around the world. Utilize this keyword research tool to overview newly trending topics, discover how trendy a certain subject is, and explore search trends relevant to your business.
The advantages of Google Trends:
Trend maps are strictly from Google
Search options to find data from Google Shopping, Google Image, and YouTube
The group narrow down enables you to search for mentions of certain keywords on specific types of websites
100% free.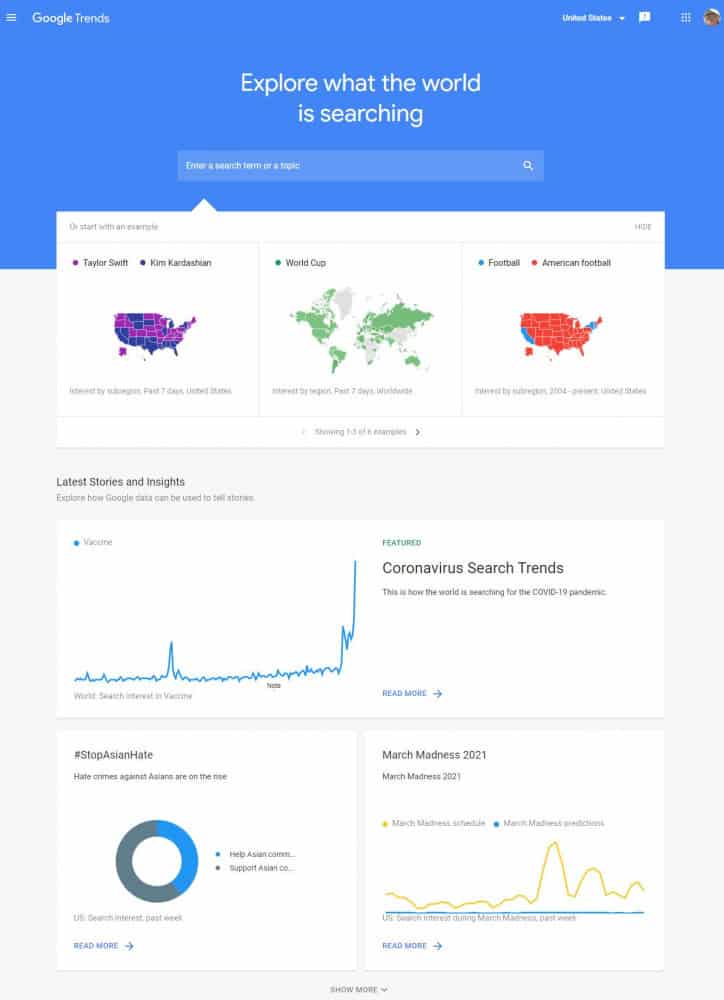 4. Wordtracker Scout
The best way to discover what you lack in your keyword research strategy is to check why your competitors are getting it right.
Worldtracker Scout is a platform that guarantees to demonstrate to you how the competition can give you the best keyword data.
Even so, you can check your competitors' webpages and blogs to obtain a better insight on what keywords they are carrying out prosperously. This is a waste of time and can be a tedious job.
The advantages of the Worldtracker Scout:
It is easy to apply. Even with preliminary SEO knowledge, the keyword data is simple to understand.
You can capture your target audience by supplying the keywords they are already searching for.
You can narrow down the keyword research and observe solid performance metrics.
You can extract keywords and analyze your competitors' websites.
It is a simple extension download to Google Chrome.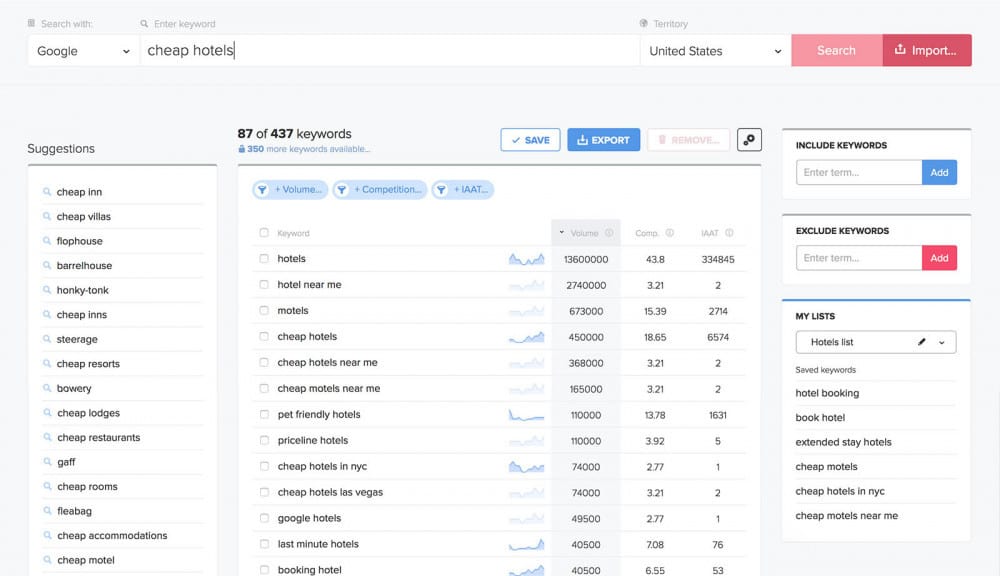 5. Keyword Sheeter
The Keyword Sheeter extracts tons of autocomplete suggestions from Google.
Insert one or more seed keywords and press "Sheet keywords" to start.
In case you plan to generate hundreds of keyword ideas quickly, this is your tool! It extracts one thousand ideas every minute, and you can freely export the results in one click.
The disadvantage of the Keyword Sheeter is that it is quite basic. There are neither search volumes nor trend data displayed by this tool. Also, this tool does not group keywords, as the Keyword Planner does.
But there is a remarkable feature that Keyword Sheeter offers you: negative and positive filters.
6. Keyword Tool
Keyword Tool is a free tool that automatically produces suggestions for long-tail keywords. The ability to run searches for how keywords rank on different search engines such as Google, YouTube, eBay, and Amazon makes this Keyword Tool one of the best free keyword research tools. This enables you to promote your presence on each of these sites according to their unique factors.
The advantages of the Keyword Tool:
It has separate keyword search functions for Google, Bing, eBay, Amazon, YouTube, Instagram, Twitter, and Play Store.
It has keyword research abilities in a wide variety of languages
Negative keywords box for unwanted terms to be excluded
Cost:
The primary performance of this Keyword Research Tool is free of charge. To reach hand overt detailed report for all keyword options, you need to buy Keyword Tool Pro.
Pro Basic: 7,000 keywords per day, $69 per month
Pro Plus: 35,000 keywords per day, $79 per month
Pro Business: 70,000 keywords per day, $159 per month

7. SEMrush
SEMrush is a strong set of tools that enables you to research keywords, analyze the SEO of your site, design effective content, and produce optimized and relevant content easily. The SEMrush set of keyword research and marketing tools provide numerous integrations with Google to deliver you the most comprehensive site diagnostic available.
The advantages of SEMrush:
It provides detailed analysis for individual keywords according to live data, such as CPC and ranking difficulty.
Thorough list-making of related keywords according to live data
Approach to entire SEMrush tools, including comprehensive site diagnostics
Cost:
If you want to utilize all tools of SEMrush, you can only make 10 requests each day. You are also allowed to create an SEO dashboard for just one website.
You should invest in one of SEMrush's premium plans to monitor up to 500 keywords, perform unlimited tasks every day, and create multiple projects for different websites:
Pro plan: 3,000 searches each day, $99.95 per month
Guru plan: 5,000 searches each day, $199.95 per month
Business plan: 10,000 searches each day, $399.95 per month

8. Ubersuggest
Ubersuggest makes you insert a seed keyword – same as some other tools in this article – press enter and see hundreds of keyword suggestions, search volume, and SEO difficulty stats.
Ubersuggest has a powerful effect on keyword research, and it offers numerous features to make things easier for you while figuring out a solid SEO and content strategy.
Since Ubersuggest displays you what versus articles you can write, a comparison tab is perfect if you write reviews. The relevant keywords tab displays your selected keyword's proven uses to assist you in distinguishing keywords with less competition.
The advantages of Ubersuggest:
Find keywords that are not in Google Keyword Planner generated list.
Utilizes data based on location, which is beneficial in case you are running a local business.
Using a regular web search as well as search Shopping, Images, YouTube, and News.
Discover important SEO stats such as your backlinks, top SEO pages, and organic monthly traffic.
9. Keyword In
Keyword In is one of the most uncomplicated free keyword research tools around. As with most other keyword research tools, you involve inputting your seed keywords and picking your match type. Using this tool, you will choose a vast range of phrases or exact match types to pick one that provides you with the best possible long-tail keywords.
The fundamental thought behind Keyword In is to create as many long-tail keywords as possible. You might find the free Keyword In tool a little bit confusing. But as you use it more, you will get familiar with how it works.

10. Soovle
Soovle is a free and easy-to-use keyword research tool that provides instant results. This tool is a long-time favourite of marketers.
Soovle is a suitable tool for discovering keywords relevant to Google and other search engines.
To go beyond the average keyword research and identify the exact keywords you required for driving traffic to your posts or website, use Soovle. It also can reveal those highly valued long-tail keywords to use throughout your content.
The advantages of Soovle:
Autocomplete suggestions extracted from various search engines, including Google, Wikipedia, Amazon, and Yahoo!
Unrestricted keyword research for free
Searches load rapidly and efficiently
Save and download your search.
11. Google Search Console
You will not find a better free keyword research tool than Google Search Console. It will let you know what keywords drive your organic traffic, impressions, keyword positions, and more.
Go to the search console and choose the website property you plan to analyze its keywords. Then you will see a list of top-performing search queries, top rank pages, and keyword impressions on your website.
12. Serpstat
Serpstat provides a detailed, instant analysis of keywords. Serpstat's simple reports display keyword difficulty, search volume, ranking pages for that keyword, and more. The reports are including graphs and other visual tools. Serpstat has specialized tools for various types of research.
The advantages of Serpstat:
A content and keyword research marketing tool that produces possible search queries
An ad research tool that enables you to find related advertisement examples
Cost:
Users who are not registered will be able to do 10 free searches each day. Registered users are allowed 30 searches each day for free.
They also provide premium plans which enable you to run thousands of searches, see more detailed URL analytics and reports, and more each day.
Lite plan: 4,000 queries each day, $69 per month
Standard plan: 5,000 queries each day, $149 per month
Advanced plan: 8,000 queries each day, $299 per month
Enterprise plan: 12,000 queries each day, $499 per month
13. Keyworddit
Keyworddit is a keyword research tool that extracts ideas from Reddit. Enter a subreddit, and it digs the title and comments of threads to discover 500 keywords.
If you have no idea or have little knowledge about a niche, I recommend using Keyworddit.
If you plan to start a blog about paleo dieting and have no idea about the topic, extract ideas from /r/paleo, for instance.
Further than ideas, Keyworddit extracts estimated US monthly search volumes for every single keyword. This function assists you with some ideas about the popularity of certain subtopics.
To know more about a keyword, press the "Context" link.
14. SpyFu
SpyFu will analyze your competitors' websites and ad campaigns to demonstrate to you what keywords they rank for, how they are performing, and more. If you need to go further with the data displayed in their online dashboard, you may request a thorough PDF report.
The advantages of SpyFu:
It makes a list of paid and organic keywords that your competitors' sites rank well for
It includes some graphs showing paid and organic competitions according to shared keywords.
You can extract the results to CSV or request a PDF report
Costs:
The Free SpyFu tool provides unlimited searches but limited data. There are also premium plans provided for users:
Basic plan: 5,000 tracked keywords, $33 per month
Professional plan: 15,000 tracked keywords, $58 per month
Team plan: 40,000 tracked keywords, $199 per month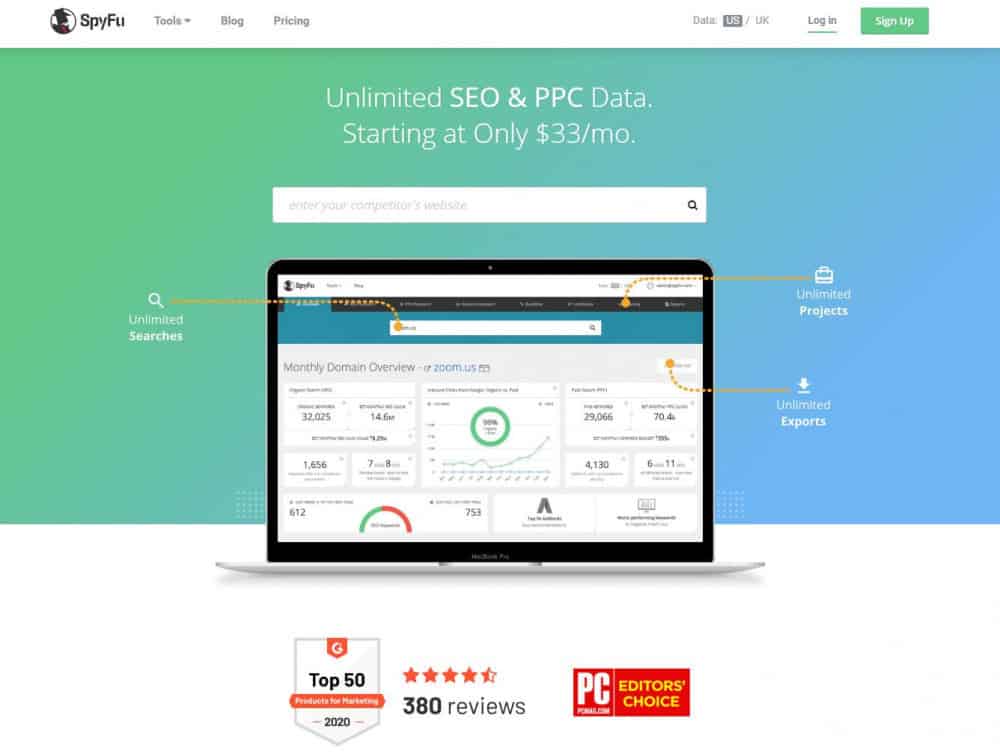 15. Bulk Keyword Generator
Bulk Keyword Generator produced keywords according to industry type.
You need to pick a business type from the dropdown menu to start. Then you will face a list of relevant keywords on the products or services you offer.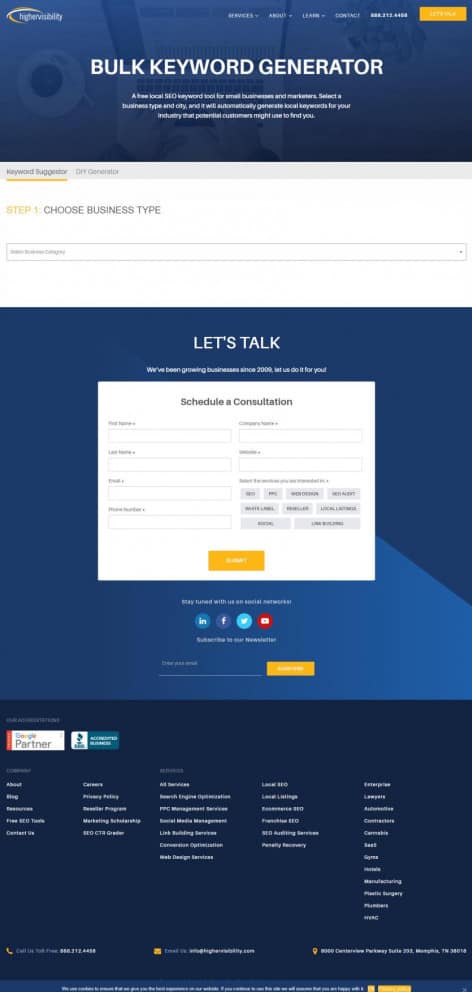 Conclusion
Answering users' questions and offering them beneficial and relevant content they are searching for is critical to putting your website on page one in Google.
Keyword research always plays a key role in a comprehensive SEO strategy, and this process is never going to end. Although you are not going to use all 15 of these tools simultaneously, it is worth trying each one.
JeannetteZ
I would love to hear from you. Please leave me your questions, experience, remarks, and/or suggestions on keyword tools in the comments section below. You can also contact me by email at Jeannette@WorkFromAnywhereInTheWorld.com.
You might also enjoy the following blog posts: