7 Best Web Hosting Services
Introduction To Our  7 Best Web Hosting Services Of 2021 Review
Nowadays, it is easier for businesses to advertise. Thanks to the internet, it is possible to convey your message faster and more effectively. Internet users spend time hanging out with their friends. They have access to all sorts of products and services online from all around the world.
For example, millions of businesses use Instagram as their central hub to show and promote their products very cheaply and deliver to the customers directly. Also, businesses get the chance to communicate with their customers to encourage them to buy more.
However, there is a problem here. The atmosphere on social platforms is highly competitive. Anybody can create a free profile or page and start creating content. You will have to be highly creative and hardworking to get seen. Also, the owners of these platforms are always controlling you.
Imagine that you have 2 million followers on your page after several years, and everything is going well with your business. Suddenly, the owners decide to change rules, or they might block your page/account. You have no control here. Well, what is the solution to this? Although the answer seems obvious, many businesses never think of it.
You will need to have your own website! This way you can get rid of all limitations, which are enforced on social platforms. Yes, with your own website you have complete control over your business. It could act as the central hub for your business. However, some managers are scared of it because they think it's going to cost a lot.
Moreover, they often think you need sophisticated and specific technical support to run and manage your website. No! You don't! Not anymore! Now, people with minimum knowledge about the internet can create a website from scratch without asking for help.
Web hosting services help you with this. Are you interested in knowing more about these services? Here, we are going to introduce the 7 best web hosting services of 2021. Let's get started with the definition of web hosting and then present the best of them.
What Are Web Hosting Services?
You might consider it a complex topic. However, it is pretty simple. To know about web hosting, we should start with a website. Imagine that you are a business manager and you asked a web designer to design a website for you. So, a web designer creates the website for you.
Can it go online? No! Why? Because your website file is stored in the web designer computer. You will need to upload your website file into a server connected to the internet. Once you have created your website, people can go to the internet and see your website.
You have rented the space on the server, which is called web hosting. There are three types of web hosting on the internet that you can choose from:
Shared Hosting
Shared hosting is the cheapest type of web hosting. It is very similar to renting a room in a house. You can stay there for a determined duration. Shared web hosting provides the essential things you need for your website. These basics include email, WordPress, and E-commerce. However, if you get popular and many visitors come to your website every day, you will need to move to a more efficient hosting service because the current hosting service cannot take too many visitors.
Virtual Servers
When your website gets lots of traffic, you should pick a hosting company with virtual servers. In contrary to the shared hosting services, virtual servers have more room, and you have more control over your website. You will get other services such as processors, web updates, and file upload in addition to the basics. Of course, another website uses virtual servers next to you, too, but it will not affect your productivity even though many people visit your website every day.
Dedicated Servers
The dedicated server is as if you own the entire building. You can exploit the space in your apartment in whatever way you like to. Big companies are interested in this hosting service. Of course, they are more complicated, and you cannot control them quickly. However, these servers are the most effective hosting services we have right now. You will be able to have as many visitors as you want without running into a problem.
So, that was a summary of web hosting. It is the action of renting space on a server so you can connect to the internet.
What Are The 7 Best Web Hosting Services?
Here, we are going to review some of the most popular web hosting services in 2021. Of course, some are designed for specific purposes, but others are more general, and any business can use them.
HostGator
This website offers services related to web hosting, website building, WordPress hosting, etc. In the following paragraphs, you will see some of the positive and negatives points of HostGator.
Pros of Using HostGator
There are several significant advantages associated with HostGator. Here are some of them:
The website uptime is an average of 99.93%. What does the website uptime mean? The website uptime indicates the time that a website is available to users. So, a website hosted by HostGator is 99.93% of the time available to internet users. The good thing about HostGator is that if your website uptime becomes less than 99.90%, it will compensate you by giving you a one-month credit to your account.
Load time is just 734 ms. What is load time? When you click on a website, it usually takes a few milliseconds, and then the website is open. The shorter the opening process is, the more user-friendly your website becomes. Don't underestimate the power of load time because users are constantly comparing different websites. If they feel other websites are faster, they will leave your site and never come back.
HostGator is well-supported by a fantastic support team. The members of this team are usually online and reply to your questions very fast. Also, they have provided many different ways to get in touch with the customers. You can call, send an email, or use the live chat online team. Moreover, the people in charge of helping you are very polite and knowledgeable.
They have a 45-day refund policy which is two weeks longer than usual. So, it means that you can use the service and if you don't like it, you will get all your money back.
Your website's safety features are secured. You will get a few extra security features like the ability to add SiteLock monitoring to your site. All these features are designed to protect you.
You might need to migrate to another one. We call this the process of the free site & cPanel migrations. What does this mean? It means that if you want to use another web hosting service for your website, you can do it quickly. The service gives you 30 days after sign-up to get in touch and have them help move any site files, databases, scripts, and even a domain name over for you.
More importantly, it is straightforward to work with HostGator. You can find many informative videos and tutorials on the HostGator's website to run a website for your business that isn't complicated anymore.
Navigating the murky world of DNS, data centers, designing, building, and managing are all possible.
Other features such as getting site analytics, receiving a free SSL certificate, and exploiting the dragging and dropping attributes are available.
Cons of Using HostGator
Let's take a look at some cons of HostGator too. I'm sure it's going to be one of the best experiences of using HostGator. Here are some of the few negative ones:
Although the shared hosting plans are cheap, they might get expensive very fast owing to all those requests, including site backups, email access, siteLock monitoring, and SEO tools.
Again, HostGator has another way of asking you to pay more. For example, to advertise, you have to pay $2.75/month, which is fine. However, you have to buy a full three years to be able to continue using this server. If you don't sign up for the whole three years, you have to pay $10.95/month, which is very high.
Hostwinds
Hostwinds was founded in 2010. It is one of the best alternatives for HostGator. The starting price is less than HostGator. Also, the uptime guarantee is 99.99% which is again higher than HostGator. It also has Live Chat Support.
Pros of Hostwinds
Here is a shortlist of all the good things we can do with Hostwinds:
The website has lots of features that are available in all hosting plans.
Features like Instant Setup, Free domain, Free dedicated IP, unlimited email accounts, and Weebly site builder can help you expand your business.
Hostwinds is very user-friendly and is managed by our old favourite, cPanel. Also, standardized platforms manage accounts.
Disk Space and Bandwidth on All Plans are unlimited.
It has a nightly site backup add-on service.
As we said, uptime is terrific on Hostwinds.
Reseller and VPS hosting plans are excellent.
Cons
Here are the cons associated with Hostswinds:
The Windows server option is not available in all plans.
The guarantee window must be longer.
WP Engine
WP Engine is another web-hosting service that was founded in 2010. They consider themselves the leading WordPress digital experience platform. They have won several awards, including Best Workplaces for Women in 2019 in the US, Gold 2019 Stevie Winner, and Best Workplaces in Texas in 2020.
Pros of WP Engine
The uptime is excellent.
They are doing daily backups.
WP Engine detects threats from hackers in real-time.
The staging area is practical.
Cons
Several plans are starting with the lowest prices. However, with the lowest price, phone support for startup plan customers is going to be limited.
Also, the website doesn't cover email.
And it doesn't sell domains.
 Bluehost
This is another popular web hosting service. In the following section, you will learn about its pros and cons:
Pros
User-friendly
Quick
Using high-performance servers
Security is at the top level.
Online presence is significant and influential.
Cons
It is surprising to see that Bluehost has only one data center.
In contrast to all the above-mentioned hosting services, there is no uptime guarantee.
Accu Web Hosting
It has been in business for 18 years.
It is providing the website, VPS, and reseller hosting for Windows and Linux.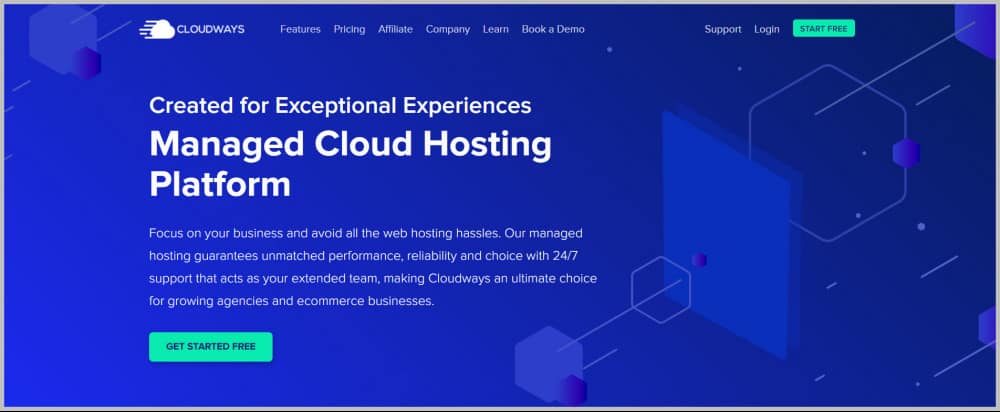 Cloudways Hosting
Cloudways is a managed hosting provider founded in 2011. This company helps you grow your business and is great for your e-commerce stores and business websites.  Here are some of the pros and cons:
Pros
You can choose from five operating systems, including Amazon Web Services, DigitalOcean, Google Cloud Platform, Linode, Stackpath, and Vultr.
You can use the free version before registering.
Features Pay-as-you-go
Very easy to set up
Support for multiple applications
With outstanding customer support, it helps you find the answer to any question or problem.
Cons
Cloudways does not offer a domain registration feature. Therefore you have to buy your domain from a reputable vendor.
Extra fees for email hosting.  You have to pay $ 1 per month for each email account.
Hostinger
Hostinger is a web hosting company with a very intuitive back-end system. This makes it easy to control your website, even as a beginner:
Pros
First, the speed and performance are great.
Its servers are located in seven different places. This is especially good for businesses out of the US and improves the website's speed.
It gives you an uptime guarantee. This means they will give you a credit for any losses incurred should their server be down.
Loading of your website is faster with Hostinger's Cache Manager.
Hostinger offers other speed-increasing benefits. It supports PHP7. They also support git, which helps you solve problems faster. It is equipped with NGINX caching too, which improves WordPress performance.
Cons
The main issue with Hostinger is that the support response time is not ideal.
New customers don't have access to live chat support options.
Hostinger's performance declines in some months, especially in September, November, and December.
Alternatives To The Abovementioned Web Hosting Services
There are many other alternatives in the market. You might know how to work with these alternatives? Pantheon, Kinsta, Vendasta, and A2 hosting are some of these alternatives. As we said, some of these web hosting services are specially designed for specific purposes. For example, if your website is supposed to buy and sell things, you have to know what types of hosting services are good for you.
Conclusion
In this article, we first talked about the necessity of creating and running a website for your business. Many people are using social media sites and are quite happy with the results. However, the market on social platforms is becoming saturated and very competitive. On top of that, the owners of social media platforms are controlling the users. So, your best bet is to have your own website. Not too many businesses have their website.
Then, we defined the word hosting services. There are three types of hosting services: shared hosting (which is the cheapest), virtual servers, and dedicated servers. After that, we introduced seven of the most common hosting services websites, including Accu Web Hosting, Bluehost, HostGator, Hostwinds, Hostinger, Cloudways, and WP Engine, and listed their pros and cons for you.
I hope you find this article helpful for your business. Are you looking for new content? Just stay tuned, and we will post very soon about web hosting services and other topics again.
JeannetteZ
I would love to hear from you. Please leave me your questions, experience, remarks, and/or suggestions about web hosting services in the comments section below. You can also reach me by email at Jeannette@WorkFromAnywhereInTheWorld.com.
You might also enjoy these blog posts:
An Honest Wealthy Affiliate Review