Affiliate Marketing – How To Make Honest Money

Introduction To My Affiliate Marketing Blog Post
It doesn't matter who you are and what you are doing. You cannot escape from the reality of these trying times. The reality is that your business is not going to survive if you don't get involved with online marketing. In fact, online marketing has greatly diversified and is providing businesses with many different ways of online marketing.
Affiliate marketing is one of the most influential methods of online marketing. However, the history of it backs to the time the online world hadn't been created. So, what exactly is affiliate marketing? In this blog post, we will define affiliate marketing and then discuss how to make money with affiliate marketing. Let's get started.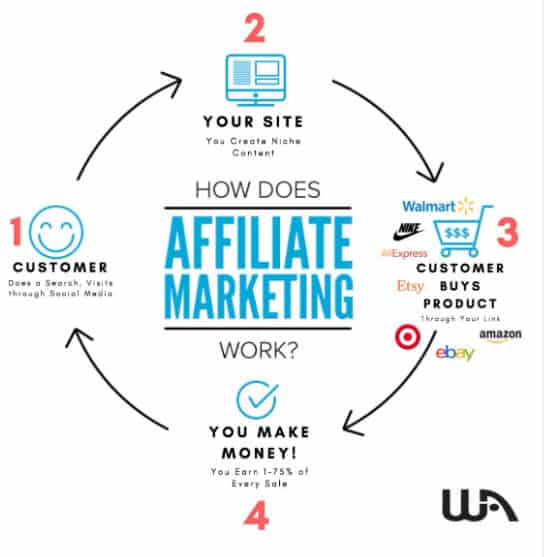 What is Affiliate Marketing?
To know what affiliate marketing exactly means, you have to start with absolute basics. What are they? Well, first, we have a company. What does a company want? This has something to do with the second basic of affiliate marketing.
Companies need more customers. Customers are everywhere, but the key to the companies' success is to find them at the right time and right place. So far, we have had a company and potential customers. The missing link is someone who can connect them. We call him/her an affiliate marketer.
Therefore, affiliate marketing comprises three main roles: a company, an affiliate, and customers. The affiliate advertises and promotes products and services for the company wherever they can. In return, he/she is going to get his/her commission per sale. An affiliate is responsible for introducing the products, explaining the benefits of buying them and encouraging more customers to buy. This is how affiliate marketing works. Thanks to the internet and social media, affiliate marketing has become one of the pillars of every company's economic growth.
Benefits of Affiliate Marketing
Here are the top five benefits of affiliate marketing everybody should know about:
Cost-Effective
Obviously, affiliate marketing is one of the easiest and cheapest ways of advertising your business. Not too many years ago, media such as national television and radio and tabloids on cities were the ultimate sources of inspiration for people to buy or skip a specific product.
Thanks to the availability of the internet and social media to practically everybody, you will definitely find your target audience. With paying a reasonable amount of money, many will be attracted to your business and start playing an affiliate role. Getting brand awareness and increasing your sales are followed by that. Interestingly, you can pay the affiliates when and only when they come up with a good conversion rate.
Home-based Business
First of all, you can be your own boss and get paid accordingly. Also, you can start your own business without too much money to invest. Financial freedom and self-employment will be secured by only one computer and access to the internet at home.
Good for Less Experienced People
Learning the basics of affiliate marketing will be enough for you to start your business. You will learn many other things while doing the work. Thanks to affiliate marketing's huge popularity, the internet has been literarily saturated with multimedia content produced to teach you how and where to start.
Measurability of Your Affiliate Marketing Impacts on Customers
Due to the presence of analytical software designed to evaluate how well you are contributing to selling something, you will have the chance to know your weaknesses more quickly and start fixing them so that your impact gets better. For example, it is very fruitful for you to see how much money you have generated over a specific period of time.
Disadvantages of Affiliate Marketing
Although affiliate marketing lets you start your business quickly, it has its own downsides too. Here are some of these weaknesses:
Selling Others' Products
Yes, it is good to sell something and get the share. However, you won't have control over the products you are trying to sell. Then, you might not be motivated enough to do it for a long time.
What if the Producer Decides to Terminate the Production of a Product?
You might spend time and energy encouraging people to buy something. Also, you have created an email list of people who are interested in similar products. If the producer decides to shut down the product, what will happen to all those efforts? They will be useless.
Too Much Competition Going On
Everybody accesses the internet and social media. So, practically, anybody can be your competitor when it comes to advertising a specific product. You have to be very consistent. Otherwise, you will be marginalized by more determined people in the business. Creating constant content and being online all the time might help you to surpass your competitors.
Too Much Self-Disciplines
If you are one of those people waiting to be told what to do, affiliate marketing is not for you! It requires someone willing to sacrifice free and resting time working his/her 'behind' off! You might need to do some stuff in the middle of the night or early in the morning. Nobody is going to notice it but you.
How to Make Money with Affiliate Marketing?
Now, we are getting to the interesting part. Here, we will discuss what techniques and methods you need to make a sale and keep progressing with time. There are three main steps that you want to keep in mind. You have to divide each of these three main steps into smaller tasks and progress with your work. Here are the main three steps you need to take to make money with affiliate marketing:
Step One: Joining an Affiliate Network
What does it mean? This might be the most important and, at the same time, obvious step in your way. Basically, here, you have to choose an affiliate network. This affiliate network has products related to your field of specialty, also called niche.
Step Two: Choose a Product
You choose a product and start working on it. You try so hard to sell this product to the customers and receive your commission from it. The product or products you decide to work on must have several features. For example, can you sell these products online? Or, do people in your target audience love these products? Or, when should you start selling them to make the best sale? These issues are all important when it comes to choosing the right product(s).
Step Three: Start Selling the Product(s) You Have Chosen
Here, you have to apply all methods and techniques you know to boost the product(s) visibility and sell more. There is a lot going into this step which we will review a bit later.
Ok! That's it? Is it that simple? Unfortunately, it is not. Each step comes with its own challenges and obstacles. You have to make tuff decisions throughout the way to boost whatever you are trying to sell. So, from now on, we will get a bit deeper and explore how each step really happens. For your easement, I'm going to dissect it into several steps. Don't forget! All these steps will eventually fall into one of those three main steps I mentioned a bit earlier. Let's get deep now.
Know Affiliate Networks 
The first thing you should do is learn about affiliate networks. Just google the phrase "the best affiliate networks," and you get hundreds of options. Ok! Which one is suitable for you to choose? For example, ShareASale, ClickBank, CJ Affiliate, Amazon Associates, eBay Partner Network, FlexOffers, Pepperjam, and Rakuten Marketing are eight of the most popular affiliate networks. Obviously, it would be silly to work with them all. You have to pick one or two and start selling their products.
How Does Amazon Work if You Want to be Their Affiliate? 
Let's say…Amazon and see how you can make money with affiliate marketing there. First, go to Amazon.com and scroll down to the bottom. There, you will see the option 'Make Money with us.' you can see that there are many ways to get involved and make money. There is an option called "become an affiliate." This is what we are trying to learn here. Now, you can freely join and start making money.
Do you have to sell the products on a website! If you don't have a website, you don't need to be worried about anything! Just make a Facebook profile or YouTube channel, and it acts for you as a website. However, you are not likely to earn a lot of money with Amazon because you earn between 1% and 10% of each item price. If you sell a book that is $20, you will get only 4.5% or 90 cents! Not very impressive, right? You can invest in more expensive stuff, which has its own challenges and obstacles too.
How Does ClickBank Work for People Interested in Being an Affiliate?
According to many experts, it is one of the most reliable and oldest affiliate networks around on the internet. There is an option 'Affiliate Marketplace' at the top of the page. When you click, you can see all the products you can start selling and receive a commission. ClickBank is awesome because of its great diversity. You know! It gives you thousands of options to sell. This is very important for your success!
If you end up selling products you have no connection with or don't like at all, you will quit affiliate marketing very soon. However, thanks to the great diversity of products offered by ClickBank, you will be able to follow your interests and sell them. ClickBank gives you different options. For example, if you sell product X, you will earn $Y and so on.
As you can see, every affiliate network has its own rules, so you have to search and see which one fits the best. Amazon and ClickBank were just two simple examples of affiliate networks. There is an endless number of similar networks for you to join. Although more networks mean more competition, you have the opportunity to find an affiliate network that you are passionate about. For example, you might enjoy flooring products. So, go and find networks that offer flooring services and start making money.
Three Simple Tips for All Affiliates
There is a lot to learn when you start making money. There are just three simple tips for you to bear in mind. I'm adopting them from one of the best-sellers on the Internet.
You Must Create Content in Between
What does creating content in between mean? Creating in between makes the potential customers sure why they should buy from your network. Writing articles about the products, producing short tutorial videos of the products, having Q&A with your customers, etc. help you boost your sale.
Buy the Products Yourself and Review Them
This will practically let your audience trust the products. If they accept you as a reliable person, they will be more interested in buying a product. They will see how you as an affiliate are satisfied with the product. These reviews work as a simple kick to encourage the audience to buy and try it themselves.
Take the Comparison Very Seriously
The market is hugely oversaturated with an endless variety of products. However, you always have the chance to compare your product and others to highlight the pros and justify the cons. By presenting a smart but honest comparison, you might navigate your customers mentally to follow your logic and buy the product you are trying to sell.
Conclusion
Affiliate marketing is considered as an alternative to 9 AM to 5 PM routine jobs. Many are interested in the idea but don't know where to start with it. Here, in this blog, we tried to explain what affiliate marketing is. In fact, affiliate marketing has been around for many years. However, thanks to the internet and the explosion of social media, it has become more competitive and easier at the same time.
You need to find a proper affiliate network. This choice will vary from person to person because everyone has specific interests. Then, you pick some products and try to sell them to people and get your share. The way you register to a network and determine your commission is going to be learned through the process.
There is no single answer for that. Every network has its own rules, commission rates, and regulations. We also talked about Amazon and ClickBank as two of the most popular affiliate networks on the internet.
I trust you enjoyed this article. Please stay tuned for more blog posts to come. Take care.
JeannetteZ
Please let me know which affiliate programs you are using. I would love to hear from you. Please leave me your questions, experiences, remarks, and/or suggestions about affiliate marketing in the comments section below. You can also reach me via email at Jeannette@WorkFromAnywhereInTheWorld.com.
You might also be interested in these blog posts:
How To Get Started With Affiliate Marketing
How To Become An Affiliate Marketer Step-By-Step