Internet Shopping – How To Safely Buy Online
Introduction To Internet Shopping – How To Safely Buy Online
This article is a tutorial about internet shopping and how to safely buy online. I will also provide tips on avoiding being scammed and showing you how to purchase products without any risk.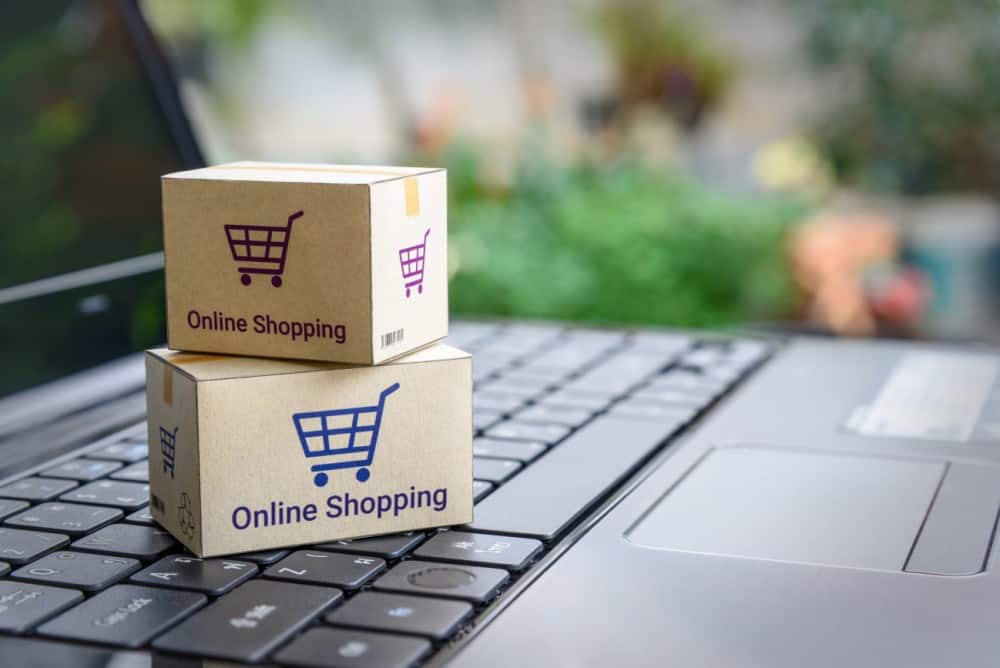 Why Is This Tutorial About Internet Shopping Important?
I know that you have purchased at least one product from the Internet. This could be a concert ticket, home appliances such as washing machines and freezers, nutrition, supplements for the gym, and travel tickets.
When you do your internet shopping, you always look for a certain brand you already bought or online stores you have visited several times before. They have always given you the product you desired. These stores could be eBay or Amazon, or other legit websites to find the brand and product you are looking for.
If it is your first time that you want to buy from an online website, you might be looking for some guidance.  This tutorial on online shopping will benefit both groups, beginners who are buying for their first time and those who have purchased from online stores several times.
This tutorial on internet shopping contains simple tips to help you buy safely online without any risk of scams. I added these tips because the number of scam websites has increased during the last few years, and I will help you protect yourself from these scams.
How To Buy Online
It is interesting to know that almost every online shop on the internet has the same shopping process that you can follow to buy your desired product. In the following paragraph, I am going to find my product using Google and eBay.
This process of internet shopping is straightforward and simple. It is imperative to note that those under the age of 16 should do their internet shopping under the supervision of their parents. And, I don't take responsibility for those who use this article for internet shopping with their parent's credit cards.
What Do You Need For Shopping Online?
To shop online, you will require two crucial items as follows:
The first thing is either your laptop or smartphone (preferably a tablet or phablet) that is connected to the Internet via WIFI or cellular data (I recommend 4G or 5G).
A Credit card or debit card. As mentioned, any individual under the age of 16 is not allowed to use a parent's card. In addition, it would be best if you use your own card.
The internet shopping process is as follows:
1. Using A Search Engine In Your Browser
Since Google is the most used search engine for internet shopping, I will use the Google search box. However, you can use other search engines to find your product. Then, the process will be the same.
As you can see in the above image, I typed "online shop PCs Dell eBay," and several websites appeared. However, I also added eBay to show me PCs on sale on this particular website.
2. To Add Specifics (Keywords)
If you also look at my search, you will see that I added the brand name "Dell," which means that the results will include PCs manufactured by the "Dell Company." However, if you are not looking for a specific brand, you don't need to include the brand name.
Do you understand what I did just there? I added two new words to my search, "online shop PCs," to limit my searches to only these two keywords. If you don't know about the keywords, these are the phrases or topics you enter into the search box, and the search engine will show you any website with content related to these keywords.
Now, if you look at the above image, you can see several links after I searched. If one of those links is related to what you want, you need to click on that link, and a new page will appear.
As you can see, I found an online shopping website using the search engine. However, if you already have their website link for the product you want to buy, enter their website address, and the website will appear.
Important Note: Trust is an important factor you must consider when buying from an online store. What you are looking for will always be shown on the first or the second page of the search engine, and you know that the most trusted and familiar websites will appear on the first page among the most searched websites. Don't stray from the right course.
3. Finding The Product
As you can see in my search, I haven't found their product I want. Do you know why? Because my search is a general one and I haven't added the exact model of the Dell PC I want. I have to dive into eBay (the website I entered on the search box). However, if you know the exact model or version of the product you want, add them to your search.
Now, I am going to find my products by searching on eBay's website itself. Every internet shopping website has its own search box. So, I click on the first link that Google showed me. Look at the following image of the search box for eBay.
As you can see in the above image, eBay has its own search box located in the upper section of the website.
Before searching for the exact model their PC, I am looking for, know that every website categorizes its products based on their application, e.g., cosmetics, home appliances, digital devices, health, etc. So, if you couldn't find the product you are looking for, go to the respective category and find the product. In addition, you can separate your products from each other based on price range, colour, manufacture, etc.
The exact model of PC I am looking for is "Dell OptiPlex 5070". Therefore, I added this to the eBay search box and then clicked on the "Search Box" (in some cases, it is a magnifier sign). As you can see, the following page appears: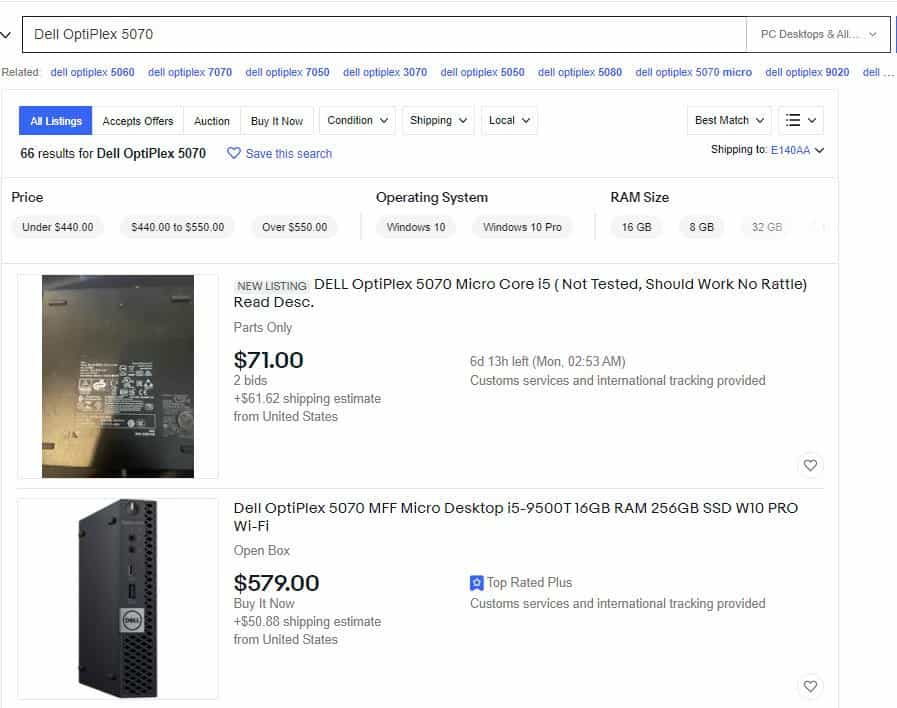 If you scroll down, you will see that there are more than 2 products on the page. If your product is not among the first 2 or 3 products, either this product doesn't exist on the website, or you are typing the wrong phrases. You will have 2 options here:
You can look for the product on another website
Or you can look for similar products.
Lucky me, the product I am looking for is the second option which is worth USD 579.00. So, the website will direct you to their product page when you click on the product. Look at the following image, where you can see the product image and price.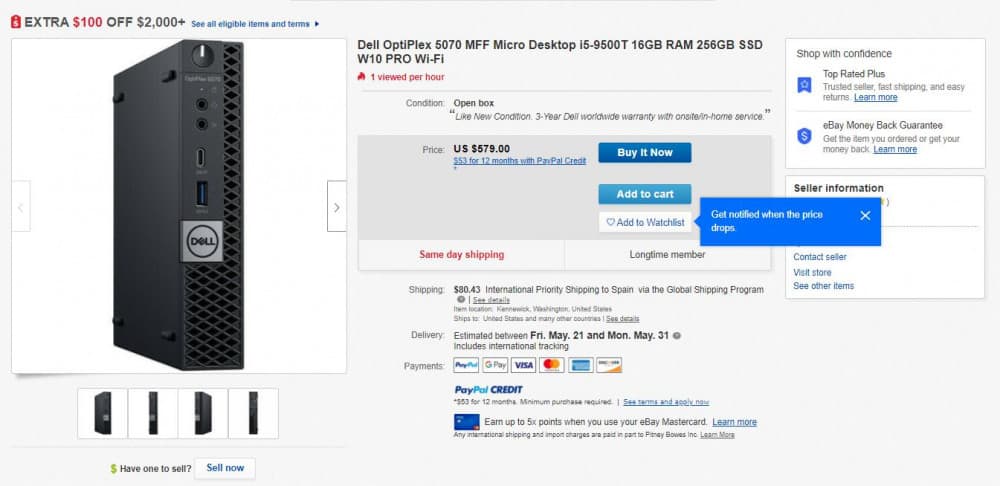 Normally, the specifications of the product will appear on the first sections of the page. However, you can scroll down to see other specifications if you couldn't find any.
Did you find your product? Congratulations. Now, it's time to buy this product from this online store.
Important Note: Never buy a product from websites that are not secure. You can also use the following link to check if the website is secure or not:
https://www.ssltrust.com.au/ssl-tools/website-security-check
In addition, you can actually find about the security of their website using your browser. The lock sign on the left side of the URL address on your browser will show that the website has SSL (secure sockets layer) encryption installed.
4. How to create an account and order the product
Creating an account is crucial to see what your online purchase status is. It is always recommended to create an account on that website to ensure that you will get the item after a certain period which differs based on the company you are buying from, delivery methods, and the country you are living in.
All internet shopping websites have the same process for registration and creating an account. On the eBay website, the registration option is located in the upper left-hand side corner of the page, just above the logo.
I clicked on it, and the next page appeared: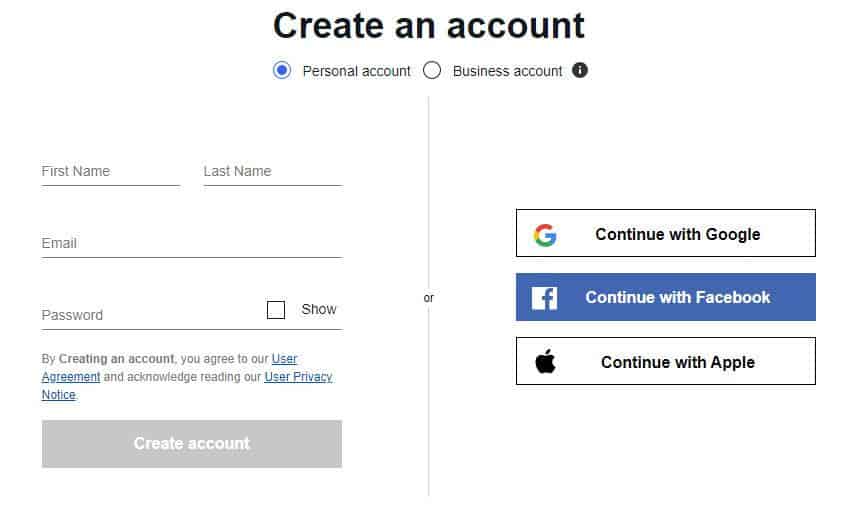 As you can see, you can either use accounts you already have, e.g., Gmail, Facebook, and Apple ID or enter your information with a different email address. I am going to use my Google account. Click on "Continue with Google," chose the account that you already have on the browser or add a new one, and then click "Next." The next image will appear:
Click on "Create Account," and then, if everything goes well, you have the account on your website, and you are ready for internet shopping. It is important to note that your account will be permanent, and eBay wants you to enter another account if you get back to this website to buy a new product.
Now, I want to order my product. To order, you must go back to the same page that you found the product on:
Here, you will have two options:
If you have only one product to buy, click on "Buy it Now."
If you want more than 1 product, you will click on "Add to Cart" and look for another product that you want to buy and do the same thing by clicking on "Add to Cart." Please note that every time you add a new product to your cart, a number (the number of products you chose) will appear on the upper right side of the page, on the "Cart" image.
You are almost finished with your internet shopping. Now, all you have to do is enter your personal information and then choose the payment method.
First, please enter your phone number and choose the country you are living in.
You will have to enter your personal information such as first name and last name, date of birth, current address, etc.
It is imperative to note that scam websites will ask you to enter your Social Security number. Hence, you will understand immediately that the intention of this website is malicious.
Once you finish all of the above steps, you will land on the page just like the following one in which you can see all your personal information, address, the products you have chosen, and total price of the product plus taxes plus shipment fees.
Look at this page carefully and see if something is missing or extra on that page. Everything looks cool? Click on "Proceed to Pay." Look at the following image: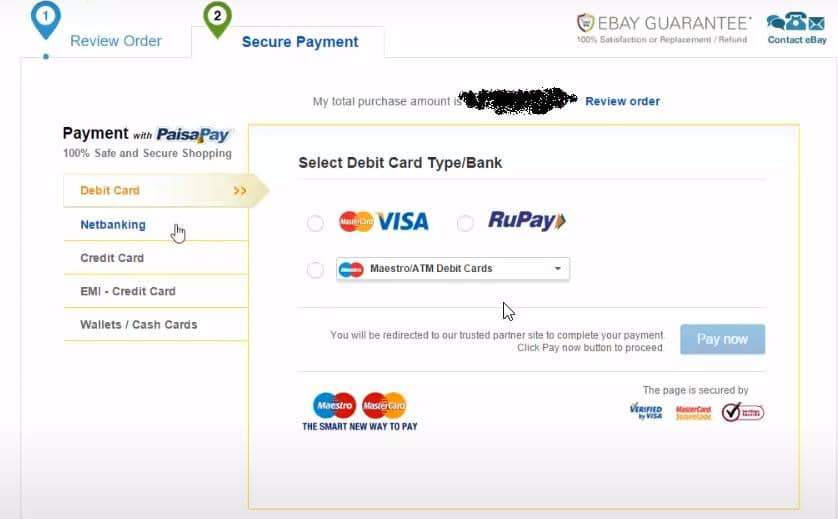 Before proceeding to this page, always remember to recheck your list and price before making any mistake.
On the above page, you must choose the payment method such as debit card, credit card, and all the other methods provided by the website. Did you choose the method? Click on "Pay Now."
After you are finished with the payment, the following page will appear: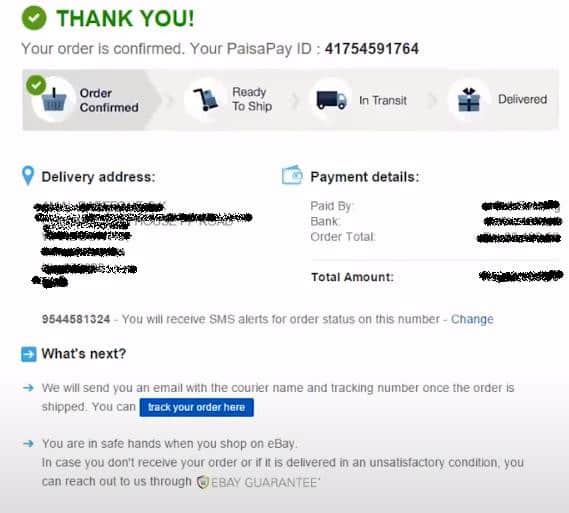 As you can see on the above image, your delivery address, payment details, and other related information are specified. As stated in the lower section of the page, You will receive an email with the tracking number as soon as your order is shipped.
Important Note 1: It is always better to use a credit card instead of a debit card for your internet shopping. Because if the website is a scam, the scammers will have direct access to your funds in your account.
Important Note 2: Do you feel that you were scammed? Most of us can access our bank statements online, and you don't need to visit your bank branch to get your account statement. Be cautious that scamming may occur to you during holidays when banks are not open. So, you better not delay what must be done to prevent a scam by checking your bank account online.
Conclusion
There is no doubt that internet shopping has developed during the last decade and quickly replaces traditional shopping at the physical markets. This can be a little difficult for beginners because you have to be aware of scam websites while doing your internet shopping.
This article gave you a detailed and true tutorial on the internet shopping on one of the known websites. In addition, I have provided you with a couple of tips that will help keep you away from scam websites during your internet shopping.
Please stay tuned for more articles. Take care!
JeannetteZ
I would love to hear from you. Please leave me your questions, experience, remarks, and/or suggestions about internet shopping in the comments section below. You can also reach me by email at Jeannette@WorkFromAnywhereInTheWorld.com.
You might also be interested in the following blog posts:
How To Spot A Fake Or Scam Website (in case you missed the link above)
Here are some reviews on internet shopping websites: