How to Choose The Best Colours For Your Home Office
Introduction To How to Choose The Best Colours For Your Home Office
Preparing your home office can be a fascinating task. Whether you start a new job or want to renovate your workspace, a change can enhance your energy and make you feel encouraged.
The right wall paint colours for your home office have a lot of influence and effect on your mood, productivity, and stress levels, especially today. Working from home is getting more common due to the pandemic, and freelancing is becoming more popular. Colour is an easy way to refresh a dated room. Besides that, the right paint colours for your home office can enhance productivity.
Also, some paint colours are supposed to convey beneficial psychological effects. Researches have shown that particular hues can stimulate people's brain and on the other hand some shades are believed to have calming effects that can decrease the stress levels.
You will select the best colours for your home office based on your work style, the amount of time you will spend in your office, and the type of work you will be doing. If you spend several hours each day in your home office and like bold colours, you can arrange a colourful accent wall or vibrant pops of colour. To evoke sharpness and clarity to focus on your job or school tasks, go for neutral or deep shades.
Interior designers believe that what people need in a workplace is productivity, so they should care about what paint colour they choose to help them concentrate, conserve their energy, and have a calming effect.
That is why selecting a paint colour for your home office is crucial. This can inspire you. A home office will be a place where you want to spend a considerable amount of time. Thus picking colours for your home office that keep you happy during the day is essential. If you are looking to reduce stress, blues and greens are soothing, earthy colours stimulating calmness. And, if you wish to make an environment without distraction, choose a light colour paint, such as warm white.
Are you not sure how to choose the colours for your home office? Here, we provide you with a guide to help you pick the best colours for your home office. We enlist everything you need to consider when preparing your ideal space. Here, we bring together well-known effects of some of the most popular office colours and unique colour combinations. If you wish to improve your productivity, generate creative ideas, or lessen stress, this guide will assist you in approaching your goal.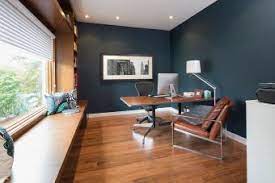 The Effect Of Colours For Your Home Office
Colours have a considerable impact on productivity, mood, comfort, and energy levels. As colour psychologists say, colour is one of the frequently used elements in the design to evoke certain emotions or change the feeling of a space.
If you wish your home office space to look bigger, then use light and airy colours because they make your room seem spacious. If you want your home office place to feel cozier, look for warmer shades on walls and décor, such as soft yellows and wooden frames.
Soothing and calming shades are encouraging to work faster, so pick such colours for your home office if you work in a fast-paced industry. To feel focused, you should attempt to have a highly organized office space. If you work for creative industries, pops of colour accompanied with fun shapes and textures can bring matchless ideas.
How To Get Started
It is better to note your aims and requirements for your home office based on the line of your work. When you are aware of your primary purpose, it will help you concentrate on the colours that fit you best. Here are some questions to figure out what the best colours for your home office are:
What Will Be The Primary Use Of Your Home Office?
Consider your regular projects and tasks and also the objects you need to complete in this environment. List three to five main uses. These would be studying, photo reviewing, working behind the screen, sketching, and writing. If you benefit from plenty of daylight that helps you make the best design, use light, invigorating shades.
What Is Your Principal Purpose For Your Home Office?
Students need an atmosphere to clear their minds and concentrate on their tasks. On the other hand, a seller who wants to make sales calls or establish ideas requires being energetic and optimistic.
What Is Your Working Style?
Many people prefer clean and minimal spaces to stay focused and centred. If minimalism suits you more, consider neutral colours for your home office and combine them with natural décor elements like green leafy plants. For some people, a full desk and office wall bring unique ideas to their minds, so they should try bold colour combinations and diverse décors, such as canvas prints and fun textures.
Best Colours For Your Home Office
Whether you are cleaning and improving your home office décor with fun pops of colour or altogether painting the walls, go through the following list to help you choose the colours for your home office that will create your ideal workspace.
White For Versatility And Openness
The most versatile shades could be white and soft neutral colours. A white-painted home office can increase concentration and organization by bringing in plenty of light. You could refresh the white colours for your home office with other natural dyes to create a minimalist appearance or bold pops of colour for a matching interior.
Warm White
To establish your home office, a little warm white paint can help a lot. A warm white paint such as orange-coloured can bring less visual distraction and clean space. This colour brings subtle warmth to your home office's atmosphere and works particularly well if your room is north-facing. Warm off-whites are visually soft and mild. They also create a perfect background to decorate with to spark creativity.
Black For Introspection
Black is a very grounding and powerful colour to have in your home office. However, I only recommend it for an accent wall or decor. The black colour is known to evoke confidence, self-analysis, and strength. It would be security boosting while adding a few black pillows to a white couch or mount wall art in black frames.
Red For Excitement And Strength
Red represents strength, too, just like black, but it also encourages conversation and creates excitement. Painting the workspace with red will keep you excited and working fast, so it is excellent for people who work in fast-paced or ever-changing industries. Combine this colour with neutral or muted shades, such as black, brown, or gray, to balance out its intensity.
Orange For Comfort
Orange is another colour known for enhancing your energy levels and stimulating enthusiasm. This colour is excellent for people who work in creative industries. The warm and vibrant tone of orange can create a cleaning and comforting sense. You can combine it with a contrasting shade of blue to make an attractive aesthetic. Painting your home office walls with white and pops of orange accents will help create a soft look.
Yellow For Positivity
The yellow colour represents positivity and friendliness, but researches have shown that a large amount of it can cause frustration. This colour also puts the most strain on the eye, so I suggest considering the right tone and wall while choosing this colour. Pale yellow can be applied to every wall in your home office, but when using brighter yellows, attention to limited to office décor or a fun accent wall.
Green For Focus
Green colours for your home office play a role in our eyes just opposite to yellow. Green is the least fatiguing colour for the eyes, and it is also known to improve reading speed and comprehension. Green is perfect for people who need to read a few thousand words every day as editors or students who constantly study complex material. They also have a calming impact while revitalizing the mind.
Earthy Green
A faint shade of muted green sets calming tone-type colours for your home office space. Peaceful, relaxed hues are soothing and versatile, and most importantly, are not disturbing. Such a shade will work as a comforting canvas. However, you might want to decorate or configure the workspace.
Blue For Productivity
Warmer blues are popular home and office colours that can encourage serenity and productivity. This colour has been used often in businesses to communicate reliability and honesty. So if you frequently bring clients to your home office, this colour would be perfect. Cooler blue shades look cold and unfriendly, so it is better to balance these colours with warm or rustic decor.
Dark Blue
If you are afraid of applying a dark colour in a busy area of your home, a place for studying or working is a great alternative. A dark, muted blue makes your workspace different and gives it an exceptional, luxurious quality that you do not want to leave it. Dark colours for your home office create a perfect background for computer screens or TVs because they can both minimize visual distractions and camouflage these media items a bit.
Navy also takes place in this group. It is neo-neutral in that every small part of it is versatile and refreshing. A warm navy colour comes from nature and creates a reflective atmosphere for maximum productiveness.
Pale Blue
If you seek an attractive wall colour that will also help you stay calm and collected during the day, a fresh shade of blue is the best of your choice. If your work needs long hours of concentration, pick a clean, new blue hue. Blues are well-known as productive colours for your home office. They assist you in staying calm, thus helping you remain focused on your task.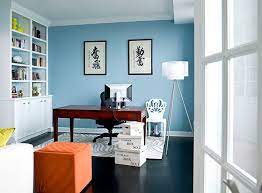 Blue-Green
Do you like having cool-toned colours for your home office but cannot decide between a calming blue palette and a refreshing hue of green? A coastal blue-green build a relaxing place for productivity and mindfulness. Instead of applying this colour to the wall, you can paint a bookshelf.
Purple For Creativity And Wisdom
Purple is a royal and majestic colour known to release your imagination and represent wealth, wisdom, and luxury. Dark purples are great for creative industries since they often produce a sense of mystery, but they are not suggested for those who wish their home office to convey clarity. Softer lilacs and lavenders are suitable to create a calming and soothing effect.
Grey For Tranquillity
Grey is also a great neutral and highly versatile shade to create a shiny look in your home office. It also can stimulate feelings of peace and tranquillity. Grey should be paired with the appropriate decor; otherwise, it can feel a little dim and potentially would stop creativity. Add natural objects and colours, such as an indoor plant or a wooden desk.
Warm Gray-Beige
Do you have a problem concentrating while working from home? Then we suggest you paint your home office in a rich, comforting shade of beige-gray to help stop your mind from wandering. Lovely warm gray-beige colours for your home office can make your mind relax and help you focus on the tasks during the day. It also matches everything so that it will become fade right behind your other office décor.
Pink For Calmness
A soft pink can be a great addition to an artistic office or study room. It will keep you relaxed and support creative and unusual ideas. This colour presents kindness and nurturing, so it can be great for teachers, social workers, yoga instructors, and even product developers.
Soft Pink
Some shades of pink are more than just visually pretty. Warmer shades such as peach and soft corals can increase focus and improve concentration and creativity, which is excellent for a home office atmosphere. Pale pink can provide an inspiring space for a home workplace.
Coral And Peach
People who have creative jobs or are otherwise visually inspired at work are recommended to apply a bold, playful shade of coral pink or peach on their office walls. The coral reef is a vibrant pink that will help you stay energetic during the day. White pops let the colour shine, but it matches perfectly with glamorous gold finishes, too or toned down with natural woods.
Brown For Reliability
If you want to draw out a sense of strength, reliability, and security, brown is a good choice. For the people who work in law or business, brown can help create the ideal circumstances. Darker browns bring a sleek and serious aesthetic, especially when paired with a glass or white desk, leather accents, or industrial office wall art.
Soft brown colours for your home office can complement any space with a soft feel. Same as white, they establish neutral shades, which you can easily refresh by adding a piece of decor like a hanging planter or a bookshelf.
Conclusions
Now that you went through this article, you can see that you can generate a fresh and inspiring workspace with some paint, fun office wall art, or colourful decor. Choosing the right tones and colours for your home office is closely related to your working style and the primary uses of your office space. Now you are ready to prepare the perfect environment to increase your creativity, efficiency, and comfort.
I trust you enjoyed this blog post about how to choose the best colours for your home office. Please stay tuned for more articles like this to come. Take care!
JeannetteZ
Your Opinion Is Important To Me
I would love to hear from you. Please leave me your questions, experiences, remarks, and/or suggestions about choosing the right colours for your home office in the comments section below. You can also reach me by email at Jeannette@WorkFromAnywhereInTheWorld.com.
You might also enjoy the following blog posts:
How To Set Up Your Home Office – 10 Easy Design Ideas
27 Ways To Create A Stylish Small Home Office
Your Own Home Business – How To Build It In 9 Easy Steps
Proven Ways To Earn Money From Home