How to Get Started with Affiliate Marketing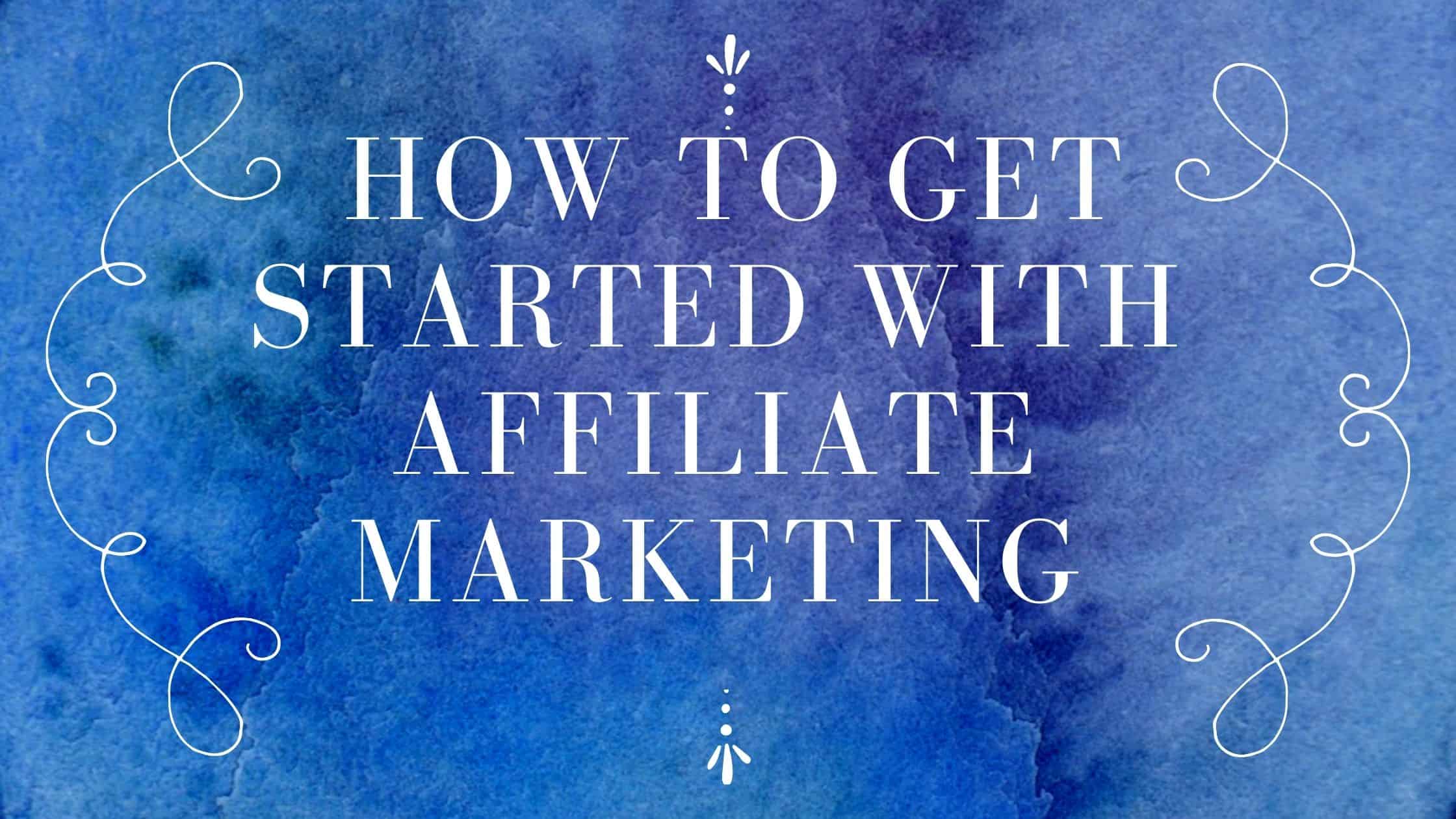 Introduction
Affiliate marketing is one of the latest ways of advertising and selling products and services. The producer or service provider itself does not do the selling. In fact, a bunch of people called affiliates sell the product on behalf of the company.
Then, they will get their share in the form of a commission. Everyone wins! How cool is this? However, just like every other business related to online marketing, affiliate marketing is getting oversaturated day by day. However, I'm going to convince you why it's worth investing your time, effort, and money into affiliate marketing. Although the atmosphere is extremely competitive, you can earn a lot of money if you are unique enough.
So, buckle up! Because I am going to share some exciting information with you. These pieces of information will definitely answer the question of how to get started with affiliate marketing.
The information provided here is a quick review of what affiliate marketing is and its basic elements and then sharing practical and doable techniques to get started and make money with affiliate marketing. So, let's start with a simple definition of affiliate marketing and its basic elements.
Affiliate Marketing is Selling Products on Behalf of a Company
Many call it performance-based marketing! What does this mean? The rule is simple! If you are producing products and have problems reaching your target audience, some people, called affiliate marketers, try to get the products closer to the target audience. If they successfully sell the products to the public, the company will share the benefit with them.
We call the company affiliate network and the seller affiliate. In fact, an affiliate tries to facilitate the process of production to the customer's bag. The affiliate network decides how much of the share is going to be for the affiliates. Also, affiliates have the right to accept or reject the producer's idea.
What Should an Affiliate Network Know?
There are many major and minor issues here. However, producers as affiliate networks must consider several factors before deciding to share their benefits with all those affiliates out there. Here are some of them:
How to Ask People To Be Your Affiliate?
It's hard to find an affiliate online! I know…there are many of them on the internet, but how does an affiliate network approach and adsorb them? Well, first, you have to be very competitive! Large affiliate networks such as JVZOO and ClickBank will determine for you how much money you should offer affiliates per sale or click. Another way is to go to affiliate marketing conferences! That's where you will learn how to price your products and price them to sell.
Optimizing Your Website is Vital to Your Affiliate Marketing
It happens a lot to affiliate networks when affiliates drive so much traffic and navigate potential customers to their website. However, most of them leave the website without buying anything. Why is that? There are two possible answers to that question.
One reason for not turning traffic into sales is that the affiliates are generating irrelevant links. This is very unlikely because most people in advertising and promoting other's products are good at their job.
The second scenario, which is more likely to happen, is that the affiliates are doing great in generating traffic to the affiliate network. However, the visitors don't get adsorbed because of the bad quality of your website.
You can conduct a survey and check what people like to see on your website for a starter. Or what deficiencies they have experienced. This way, your affiliate network will end up designing a nice and user-friendly website. The bottom line is that don't underestimate the power of your affiliate marketing website.
The details are essential to the customers and interpret your business or brand based on accuracy, excitement, and user-friendliness.
Get Help From Useful Software
Use practical software such as Crazyegg and keep analyzing people's behaviour with its help. It basically shows where and when the customers click more and where they don't. Accordingly, you can use this information to maximize affiliate marketing efficiently.
How to Choose a Suitable Product to Sell as an Affiliate?
Fortunately, there is a framework for that. Let's see how you can find the best affiliate marketing products to sell. Here are some steps you need to take before deciding what to sell:
If Your Information Isn't Enough, Get Some!
You might not know what your audience's needs and problems are, right? The best thing to do is to keep asking them questions and conducting surveys. This way, you will narrow your search down into fewer options. You can easily do this on social media and other chat tools without paying any money.
For example, perhaps, you realize that most of your audience is very professional in creating short advertisement videos. So, it would be a bad idea if you decide to sell them video production-related products because they already have them all. Instead, you can sell more professional products, and this is the point. More professional products are more expensive! So, don't think of the high price as an obstacle in your affiliate marketing program. If people need something, they will spend money on it!
Researching Other Affiliate Marketing Websites
It is very nice to be creative and figure out what your audience needs and eventually sell them something they have been waiting for. However, it doesn't mean you shouldn't peak from time to time and see how your competitors are selling.
Regardless of all the different tastes and styles people have, they have some basic needs. What are those things everybody is willing to spend money on? A quick search on your competitor affiliate marketers' websites gives you a rough idea of what the public likes. There is nothing wrong with an affiliate when he/she is specialized in a specific niche and sells more general products.

Find Out About the Top-Selling Products and the Top Sellers
You can get the information mainly from online shopping websites such as Amazon. If you go there, you will see what the best sellers in different categories are.
Amazon associates, eBay partner network, Jet Affiliates, Target Affiliates, and Walmart Affiliate programs are suitable if you are looking for selling retail products. For educational-based products or even software, you can get help from ClickBank, JVZoo, FlexOffers, ShareASale, and many more.
What Criteria A Product Should Meet To Be Chosen By An Affiliate?
First thing's first! The products you are trying to sell should be related to your content. If you are passionate about musical instruments, trying to sell sneakers, sports t-shirts, or balls will be a complete waste of time and energy, even though they are the best-selling products.
People are going to trust you when they feel you know about the products you are selling. If not, you will be just another guy on the internet looking for their money!
What about the second criteria? Look for products related to your content that make people's life easier. I mean, you shouldn't look like a person whose first motive is just trying to sell something. Instead, you can get inspired by your life and everybody else around you.
For example, you might have found a specific book very helpful in learning how to play the guitar? Even though the commission you will get from selling this product is meagre and doesn't make sense economically – go for it and introduce it to your audience. This is how you build up trust among them.
Top Four Affiliate Marketing Networks You Can Get Started With
You might have a hard time believing that you can earn more than $ 5,000 with only one sale! But, it is true! Here, we are going to introduce the top four affiliate marketing networks:
This network works with the biggest international brands like MBLshop.com, JILLIAN Michaels, and NBA stores. This affiliate marketing network, like other ones, asks for your website. You can use your social account profile as your website.
If you are interested in selling physical products like makeup, clothes, shoes, etc., in terms of commissions, you are not going to get paid very high. Their commission rate is from 5 to 15%. Working with the network is a bit easier since it works with big brands. So, people naturally like them, and they need a push.
This affiliate marketing network is more recent, but it's growing very rapidly. What is its main area of concentration? It is digital products such as software and online training products. The positive point about MAX WEB is their payout! You will receive a commission rate between 25 and 75%, which is very high compared to its competitors like ClickBank.
However, the products are not from well-known brands. So, it might be a bit harder to encourage people to buy. One thing you could do is to do whatever you can to boost the traffic. Writing essays, producing short videos and reviewing products are some of the famous techniques to adsorb traffic.
This is one of the best concerning commission rates per sale. It could go up as high as $ 5,400 per sale! That's amazing! On the website, you have access to top-sellers records. Interestingly, you could see all these top sellers have been ordinary people.
Now, they are a member of a great community of successful entrepreneur. The network's pay rate can be between 30 and 70%. The network has something called the car bonus! If you sell enough, you will be freely paid $ 2,500 per month, which gets you close to buying a Ferrari.
This network is one of the biggest in Germany. The good thing is that people from even the most isolated countries such as North Korea can join the network. The network has mainly digital products, usually under $100. However, the products are not as diverse as products on ClickBank.
Summary
What is the affiliate program? We learned that this is a marketing strategy widely used across the world. Affiliate marketing companies that have the same target group but are not competitive join together to create traffic. In return, all of these collaborating companies will share commissions. Imagine that you are a blogger writing about a musical instrument.
Thousands of people visit your website and read your content. This is an opportunity for you as a blogger and the company that produces musical instruments. You continue writing about your favourite topics.
In addition to that, you will start reviewing the companies' products and write about them. This way, the products are more likely to be sold, thanks to your involvement. In this case, you are an affiliate, and the company becomes an affiliate network. You are going to get paid every time somebody visits your website and buys something.
Affiliate networks and affiliates must do their tasks very well to increase the sale. In this essay, we explained what an affiliate network should do. Determining the commission rate is one of the key issues for affiliate networks.
It needs to be competitive and profitable for both the network and the affiliate. The next thing the network should take care of is optimizing the website. It doesn't matter if the affiliates are trying so hard to drive traffic when they lose interest once they enter the website. Also, affiliate networks can get help from software for analyzing the market.
Then, we asked the question of how to choose a suitable product to sell. The first thing is to gather information about the needs and demands of the public. There are many ways to obtain this information from your audience. It is good to be creative and have novelty.
However, it is advantageous to see what other affiliate networks are doing. Knowing about top sellers and top-selling products is vital and avoids damages to your business. Finally, we introduced four top affiliate networks for you to start with.
Please stay tuned for more blog posts on affiliate marketing to come. Take care!
JeannetteZ
I would love to hear from you. Please leave me your questions, experiences, remarks, and/or suggestions about affiliate marketing in the comments section below. You can also reach me by email at Jeannette@WorkFromAnywhereInTheWorld.com.
You might also enjoy these blog posts:
An Honest Wealthy Affiliate Review