Introduction To 27 Ways To Create A Stylish Small Home Office
Finding a free room and turning it into a home office may not happen in many houses. Many people have a space problem in their house, although they wish to have a workspace there. Having a home office sometimes needs you to put in some creativity and effort. Almost any space in the home can be transferred into a stylish small home office with wise planning and adding creativity.
Suppose your office area is tight try to utilize some wall or any other vertical space. Build shelving units right up the ceiling and use a pair of steps to access them when required. In case you order a build-in solution, do not forget cable management and task lighting.
We provide you here with 27 ways to create a stylish small home office. Go through this article, and you definitely will get some ideas that fit your space and situation.
1) Change Your Living Room Layout Into A Stylish Small Home Office
If you have a small living room, try to change the furniture to create the space you need for a home office. Put the sofa against the longest wall and place your desk in front of the window. This way, you will have square footage free space in the center of your living room that causes it looks open and airy instead of crowded and stuffed.
2) A Sit Or Stand Workstation
Sitting on your bottom all day is definitely not good for your health. Use some inexpensive wood and shelf brackets to transform an unutilized wall into a wrap-around, bar height desk, where you do your tasks or pay your bills while standing. When you need to sit down, a bar stool can be convenient. This stylish small home office idea also works for a basement rec area. You can then also use it as a bar.
3) Turn A Closet Into A Stylish Small Home Office
You can turn an extra closet into a home office. To use most of such a small space, pick a narrow, low-profile desk. Try to build some shelves above the desk. It will provide adequate space for your books and files plus your printer device. Orange painting is an ideal colour to brighten up this hidden corner. The best part is when your work is done, and you do not need the workspace until some other time, you can shut the door and keep the office out of sight.
4) Room Divider Curtain
Using a curtain is a great solution to carve out a nook for your stylish small home office. Use some bright coloured wallpaper or paint on the width of the space to make it seem bigger. Close the curtain to separate the office space from the living room.
5) Transform A Dividing Wall Into A Working Area
You can use a dividing wall in a large and open living room to create a computer station. Get a narrow tall desk with enough space to place a laptop and bring some shelves for storing office supplies. Use a breakfast bar stool instead of buying a dedicated desk chair. Install a pegboard hung above your desk to free up the desk space more. Voila, you have your own stylish small home office.
6) Make A Multi-Purpose Display And Desk Area
When you have a space shortage, and it is not easy to find a dedicated room or even a corner, try to build a multi-purpose space for your stylish home office area. If you have to place your desk somewhere in plain sight, make it a unique blend of accessories and trinkets. Use a chair underneath the desk and coordinate its fabric with a curtain or wall to make the space feel more like home. Here you go! You have your stylish small office.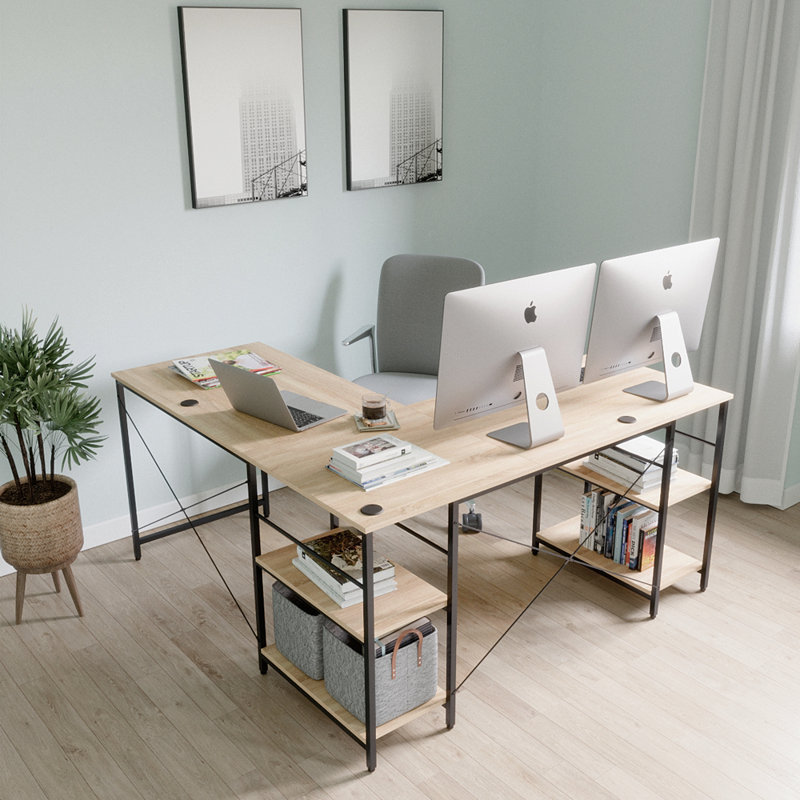 7) Create A Family Office In The Hallway
When you need a family office in your home but unused space in the hallway to work, an L-shaped desk can use most square footage. To open a space for gift wrapping stuff, a hanging pegboard will be a great option.
8) Work Under A Staircase
As mentioned earlier, having an entire room to use as a home office is impossible in many houses. A well-defined work area is a great replacement. Bring a small desk or build a simple one from a shelf or order furniture designed to work in inconvenient spaces. Open-plan workspace needs to complete the rest of the room. Thus a mix of neutral wood and painted finishes make a neat and stylish small home office.
9) Hide Your Desk Inside A Cupboard
Convert an old cupboard into a work area, and you can hide your desk when you are done. This way, you will have a shelf to store your office supplies and a board for a keyboard. Mount a pinboard to the inside of the cupboard door, and it will be a great place to help you track your to-do lists.
10) Wall-Mounted Furniture
An untapped wall can turn into a perfect place for a floating desk and wall-mounted storage unit. You will transform the odd corner into a stylish small home office with smart planning and creativity.
11) Colourful Bedroom Office
You can create a colourful, clean and simple but stylish small home office in your private bedroom. Fix a shelf as a floating desk and add some smaller shelves above it to store your books and colourful stuff. Paint each bracket underneath the shelves in different vibrant colours.
12) Utilize The Wall Space Beside The Bed
Every inch of bare wall space is valuable to use, and a wall-mounted unit that can double as a desk makes a stylish small office happen. Use a folding-designed tray-shaped piece of wood to hide the bottom half of the desk element. You can open it up when it is time to work. By dividing the storage space with drawers, a standard bedside unit is created to place a lamp, book, and some fresh flowers. Add a small stool to let you sit while working at a makeshift and stylish small office desk.
13) Keep Office Clutter Behind Closed Doors
If you do not like your home office space to violate your living space, hiding the clutter behind a closed door is best. Dedicate a cupboard for storing your office essentials and shut the door after a long day.
The unit in the picture below is our own stylish small home office cupboard. It is located in the corner of our living room. That's why we placed an antic horse on top of it.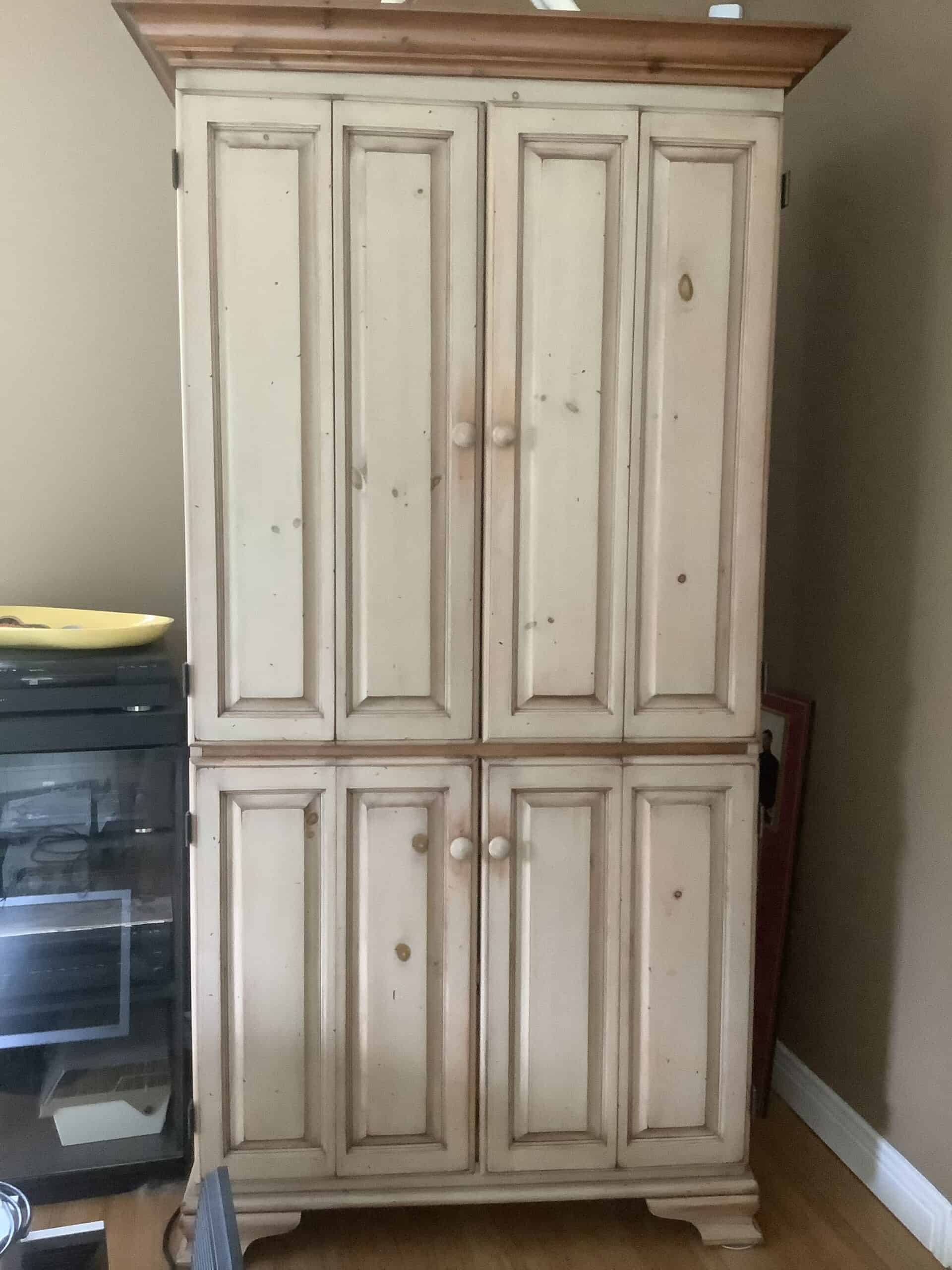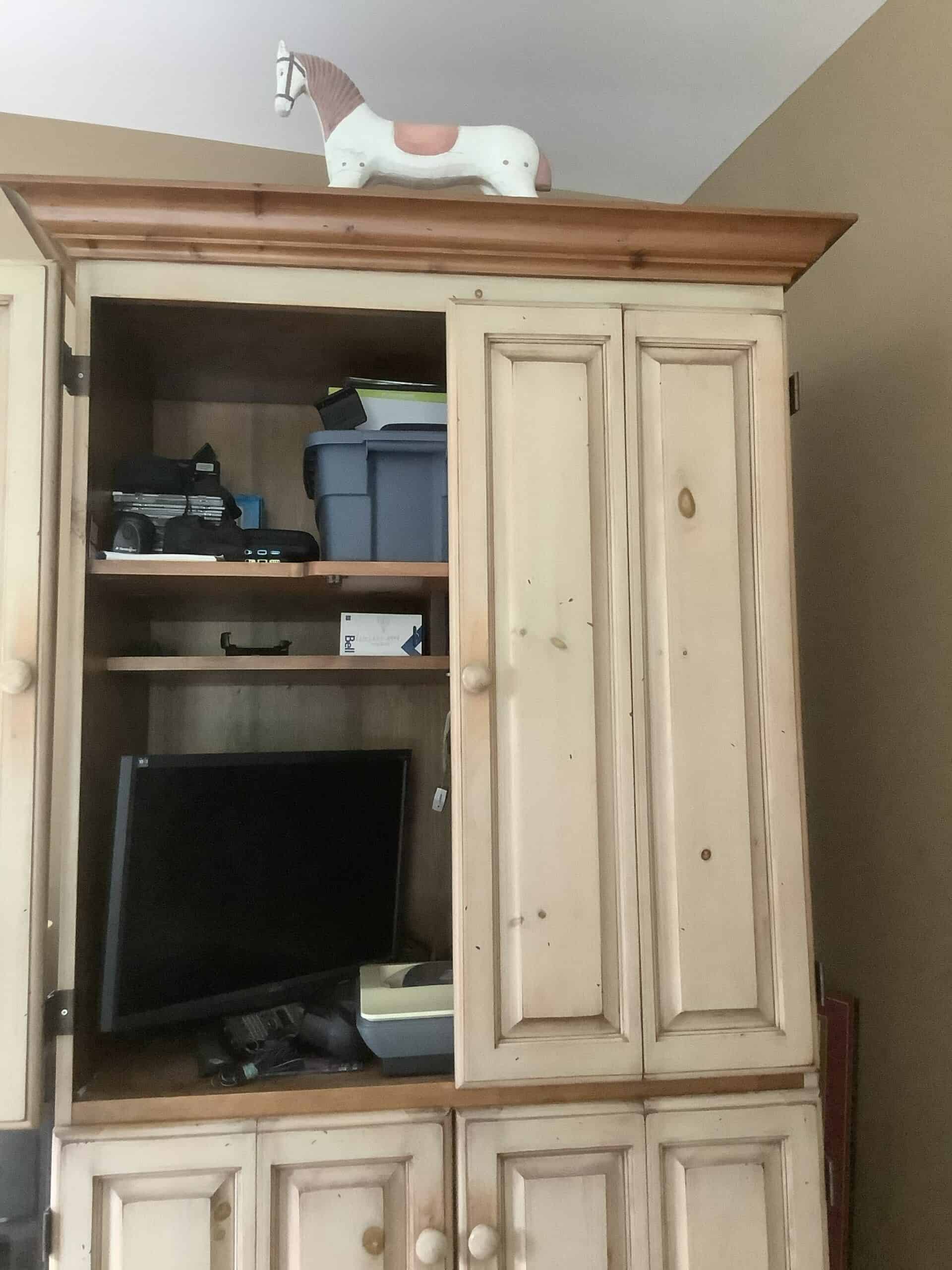 14) Soften The Look Of A Functional And Stylish Small Home Office
Your small workspace needs to match the interior style of your living room or entry. Make the space less business-like by adding home accessories and plenty of plants.
In varying sizes, leaf shapes, and pot textures, a group of plants can add an informal feel to a home office.
15) Corner Off Space To Fashion A Stylish Small Home Office
When you don't have a spare room, it is best to utilize a corner of your living room and transform it into a workstation. Office space is meant to keep you separate from the rest of the house, but social and work lives are more closely integrated today. Hang family photos to help space feel like part of the original office room.
16) Entryway Home Office
A spacious entryway can also be used as a home office. Use a narrow desk and place your writing stuff on it. Place a simple drawer unit on small wheels to keep office accessories hidden. Try to keep it in a minimal look, so you don't impose clutter on the entryway. This will make a very stylish small home office space.
17) Adopt A Theme To Give Your Stylish Small Home Office Personality
Make your home office lovely with statement wallpaper just on a single panel; the small space is better to handle the pattern. Use wallpaper that creates a library feel, perfect for turning the home office into a good mood.
Make use of all available wall space with shelving, especially if you have many books, files, and paperwork to store.
18) Turn An Outbuilding Into A Home Office
Using a garden shed and transform it into a stylish small home office is a great idea for keeping work and living areas separate. Especially if living space is limited, use one side for writing tasks and filing, such as writing letters, paying bills, and other paper works, and use the other side for more creative tasks. And looking out over the garden while working is really inspirational. I personally love this idea. It feels like you are very close to nature.
19) Make A Dressing Table Double Up As A Desk
Another solution for people with space shortage is using a bedroom as a home office. Share a desk with a dressing table is a good idea to use a piece of furniture for bedroom purposes too.
A narrow, floating desk will not project too much into the room. Place a mirror on it to transform it into a dressing table. To have less stuff to hide away, keep your home office essentials minimal.
20) Two-Tone Paint Job
A small storage room can create the required space for a home office. To prevent feelings like being in a large closet, paint the sloped ceilings with two shades.
21) Adapt An Alcove For A Clever And Stylish Home Office Space
Try to utilize every inch of space at your disposal. Opening a space in an alcove in your dining room or living room is a smart gesture to create a home office area. Using a notebook-sized computer helps you keep your desk tidy if you have to use a corner of your living space. A dark wooden desk will match the room's colour scheme, keep them look nice together.
22) Reuse Existing Furniture For A Make-Shift And Stylish Home Office
When you use your home office space infrequently, you do not have to invest in traditional office furniture, especially if you do not like that your workstation feels like a traditional office.
In this case, a bedside table can be used as a mini desk when space is tight elsewhere in the house. Also, you can put two bedside tables side by side to create more than enough room. Fit shelves above for storing your office accessories and keep the space clear for your laptop.
23) Pale Pink Walls
Rose quartz or pale pink walls are successful style ideas for your child's room. When you use pale pink walls, you're making the room childish style, but if you want to make the room feel more comfortable, adding colours like brown, cream or gold can do that for you. Now you can use a corner of this room as a stylish small home office.
24) Use Loft Space To Form An Intelligent And Stylish Small Home Office Space
Using otherwise dead space areas to create a workplace is an intelligent idea. Loft eaves are a great instance of an area that might otherwise be an unused space. Using a half-height ceiling with a sloping roof is a bit tricky. But this odd design gives the perfect place for shelving above a desk.
25) Use White As A Fresh And Calming Background
Paint the walls of your home office in white colour to display photographs and pictures to inspire you. Complete it with coordinating furniture and accessories, such as the desk lamp and shelf unit.
26) Decorate Walls To Define An Office Space Clearly
When the wall space is used wisely, it will define the corner as a work zone. A pinboard in the same width as your desk will create a space that does not violate other living spaces. Grey colours help to create comfortable feelings; besides that, they will easily coordinate with other tones.
27) A Stylish Small Home Office For Two
Today working from home is getting common for couples, especially for those who run a website together. They can transform a small bedroom into a stylish and very functional home office. Putting favourite books and houseplants feels inspiring. You can order a custom-made desk for two. Place several secret storage drawers inside the desk. Finally, a comfortable office chair is a must when sitting in front of a computer for long hours every day.

Conclusion
We provided you here with 27 ways to create a stylish small home office. Finding a free dedicated room as a home office is difficult for many. Using creativity and wise planning leads you to turn spare space in your house's corners into the workplace.
I trust you enjoyed this blog post on creating a stylish small home office. Please stay tuned for more articles like this to come. Take care!
JeannetteZ
Your Opinion Is Important To Me
I would love to hear from you. Please leave me your questions, experiences, remarks, and/or suggestions on creating a stylish small home office in the comments section below. You can also reach me by email at Jeannette@WorkFromAnywhereInTheWorld.com.
You might also enjoy the following blog posts:
How To Set Up Your Home Office – 10 Easy Design Ideas 
Choosing The Best Office Chair – A Definite Guide
5 Tips For Better Home Office Lighting